The Ultimate Pre-Listing Package Template for Real Estate Agents
A pre-listing package is one of the most important marketing materials in a real estate agent's portfolio. It can help you pre-sell your services before you actually meet clients and give them helpful insights into what you can do to help them reach their goal.
If you don't have a pre-listing package yet, we're here to help: we'll provide you with all the information you need to create the ultimate presentation and a free template that's proven to help you close more deals.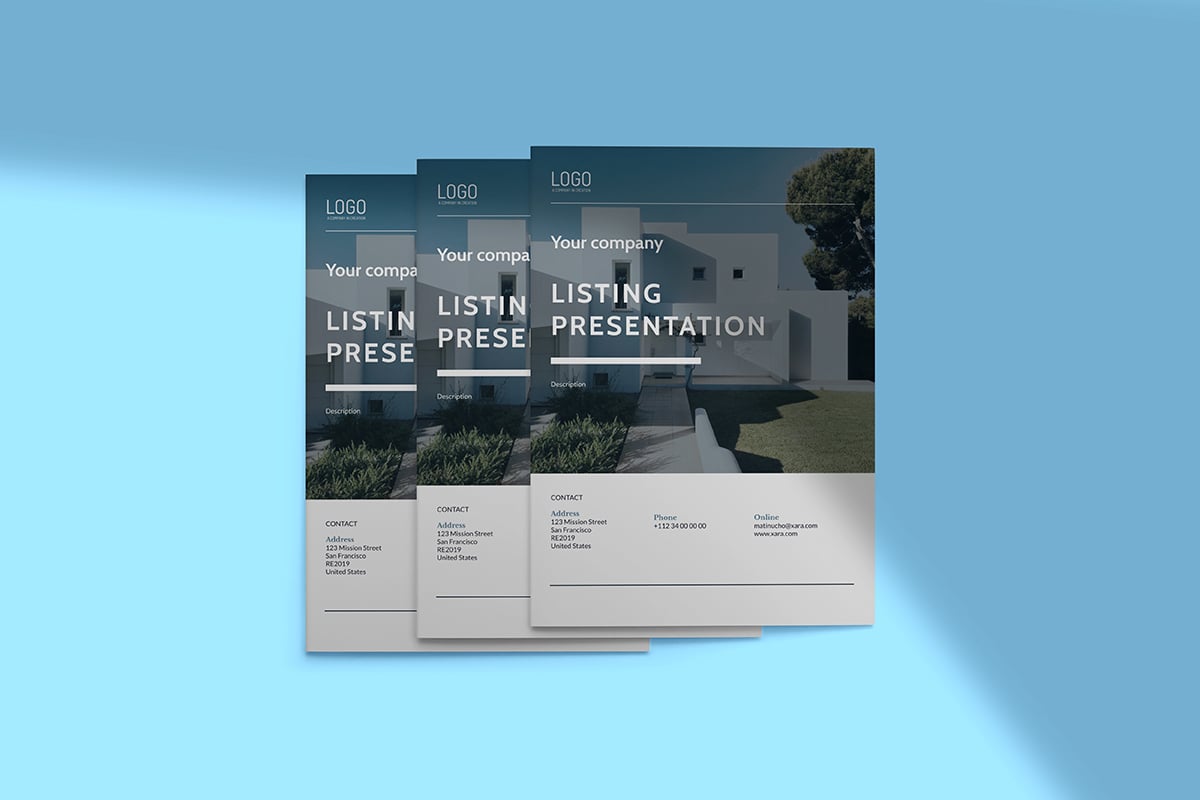 What Is a Pre-Listing Package
But first, let's see what a pre-listing package is and how it can provide value for both you as a real estate agent and your customers.
A real estate pre-listing package is a marketing material you share with your prospective customer to provide information about the process of selling a property and convince them to work with you. You should deliver this package before the actual listing consultation to provide some context and show your prospect how you work and what they will get.
This package should be informative, concise, and persuasive to help you sell your services in a professional manner.
What Should a Pre-Listing Package Include
Here are the main elements of a pre-listing package for real estate experts. You can adapt them as you see fit to ensure they provide the most valuable information to your customers.
Even if you use a template, the best approach is to personalize your pre-listing package for every client. Make sure all the information you provide is relevant and unique to ensure your customer you've done your research and you're the best choice for their needs.
Your Biography
The first thing you need to do in your pre-listing package is to introduce yourself or your team to your customers. Include relevant information about your real estate agent career, abilities, and qualifications. And don't forget to add a human touch as well.
Make sure your biography is not just a sum of your realizations but rather a story your customers can relate to. Feel free to sprinkle some details regarding your family, your passions, and your personality.
Client Testimonials
Client testimonials are among the most valuable assets in a real estate agent's portfolio, so make sure you include them in your pre-listing package.
Your customers need to know how you've gained experience and they would love to hear it from the clients you've had in the past. This will help you establish trust and build a lasting business relationship.
Your Marketing Plan
Your clients need to know that you've got a marketing plan that works for them; otherwise, they might as well sell their home without your help.
That's why including a marketing plan in your real estate listing package is a must. Make sure you add as many details as possible and personalize your project with custom details about their home.
Examples of Your Most Effective Marketing Materials
Market Statistics
Most customers might have little knowledge of how the market works, what are the real estate prices in their area, and how to find this information, so providing more information on where the real estate market stands at this point is a must.
As a real estate professional, you must assure them that you've got all the data and knowledge to sell their home fast, at the best price.
Make sure you choose the most relevant information for your customer but don't add too many numbers, which might confuse them. Use icons, charts, and graphics to provide some context for the data and make it easy to read and meaningful for your customer.
What Differentiates You From Other Real Estate Agents?
At this time, your customer probably received offers and pre-listing packages from your competition as well. Think about what can differentiate you from your competitors and how you can convince your prospects to work with you. In short, why should they choose you?
Sharing a success story similar to your customers can help them visualize how you could do the same thing for them.
Pre-Listing Agreement
You can save time for both you and your client if you fill out a listing agreement and share it within your pre-listing package.
You can pre-fill all the information you already have and leave the price section blank as you might need to consult with the client first.
Our Free Pre-Listing Package Template
If you already have a pre-listing package template but you're not getting the results you want, it's time to level up your game. If you don't have a pre-listing package template yet, but it's been on your to-do list for a long time, there's no better time than now.
Our pre-listing package template is proven to bring results and now you can use it for free. All you have to do is click on the image below and follow our step-by-step guide below to get started.

Try Xara Cloud for 14 days and discover
the results
No credit card or phone number required.
Start creating instantly — 1 minute signup.