9 Real Estate Facebook Post Examples and Templates for Your Inspiration
In the age of Social Media, stepping up your game and creating entertaining content for your Facebook page is a necessity. If you're looking for Facebook posts for real estate agents, you're in the right place.
In order to see the results of your work and get new leads from Facebook, you should post regularly and provide value for your audience. But coming up with new and engaging real estate Facebook post ideas can be challenging, especially since you still have to attend to all your realtor tasks.
Don't worry, though; we're here to help!
We've prepared a list with examples of good Facebook posts, templates, and ideas you can use right now to boost your reach, increase engagement, and grow your real estate business.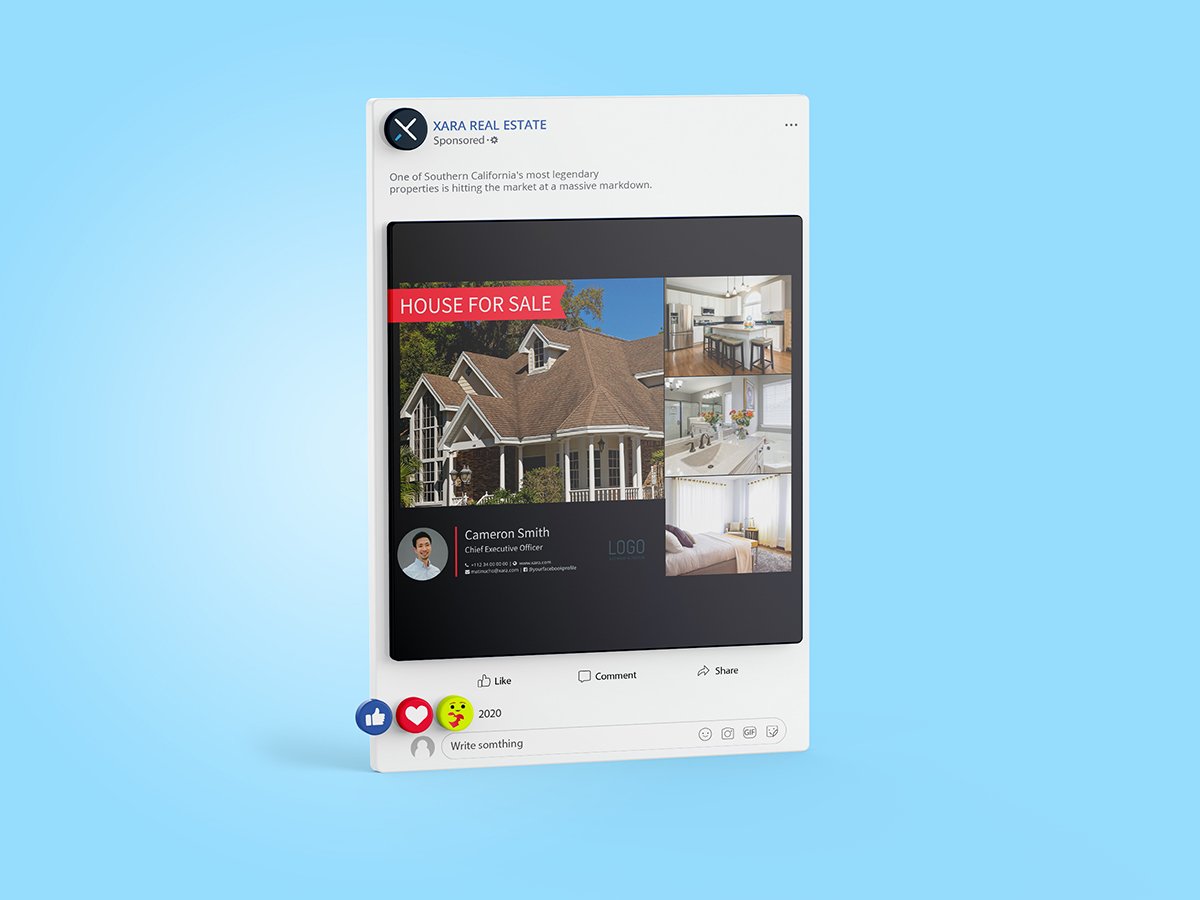 1. Just Listed Real Estate Facebook Post Example
Sharing your portfolio's most recent property is one of the most straightforward real estate Facebook post ideas. If shared with a large number of interested people, this type of Facebook post can help you close deals in a matter of days, not months.
Here's a beautiful Facebook post template you can use to promote your new, just-listed property to your Facebook contacts.
Pro tip: Don't go for overly promotional posts; focus on sharing visually appealing photography to attract your audience's attention.
2. Just Sold Real Estate Facebook Post Example
Facebook posts are a great way to share your success with your network. This way, you can establish yourself as an expert in your area and get new clients interested in selling their homes.
To use this just-sold template, all you need to do is change the images and texts to suit your own needs.
Pro Tip: Use bright colors and a clean, easy-to-read font to attract all eyes and make an impression.
3. Real Estate Statistics Facebook Post Example
Real Estate statistics are a great way to encourage people to take action, and posting them on Facebook can get you surprising results. When they look at the numbers and see the prices have gone up in the last months, they might be more willing to buy a house as fast as possible.
Here's a visually appealing real estate statistics Facebook template you can use to share helpful information with your network.
Pro tip: Go for a simple layout; don't share too many numbers, graphics, and icons on a single post, since they can have an opposite effect and make people lose interest.
4. Open House Facebook Post Example
Promoting an open house event can be difficult, but with the aid of Facebook, you can reach more people interested in buying homes with ease.
Use this real estate Facebook template to invite people to your next open house event. All you need to do is add the time and place, along with your contact details and appealing photography of the property.
Pro tip: Don't overshare; add an image with an appealing detail of the house and invite people over to discover the rest.
5. Real Estate Testimonial Facebook Post Example
Testimonials are great ways to share your customers' experience with new leads and help them decide to work with you. Ask your customers to provide you with feedback and use a simple testimonial template like this one to share it on Facebook.
Pro tip: Don't use fake testimonials; they are easier to spot than you think. Use honest customer feedback that your leads can relate to.
6. Inspirational Quotes Real Estate Facebook Post Example
Inspirational quotes can be a great way to motivate, inspire and engage with your Facebook audience. Use this Facebook visual template to share your favorite quotes on real estate.
Pro tip: minimalist Facebook quotes templates perform better, so try to keep it to a minimum: a quote, its source, and an image are more than sufficient for this type of post.
7. Holiday Real Estate Facebook Post Example
The approach of the Holiday season doesn't mean you should stop posting on Facebook. Actually, since people have more free time on their hands, you should encourage them to contact you if they want to buy or sell a property. Here's a Facebook post template you can use to do that.
Pro tip: Feel free to use images and icons that set the mood for the holiday season, such as pumpkins, Santa or Easter bunnies.
8. Real Estate Agent Facebook Post Example
Promoting yourself on Facebook as a real estate agent is a must these days. Feel free to use a simple Facebook post template like this one, and don't forget to change the picture and contact information to you own.
Pro tip: Choose a recent, professional, and confident-looking picture of yourself. People love to see they can connect with a real human being that can help them achieve their goals.
9. Real Estate Flowchart Facebook Post Example
Social Media is all about sharing useful information in an attractive and interactive way. Using a flowchart Facebook post template like this one can increase engagement on your Facebook page while educating your contacts simultaneously.
Pro tip: Don't make it a labyrinth; use arrows to direct the viewer's attention and help them navigate the flowchart.
Start Posting on Facebook Today
We hope you've enjoyed our real estate agent Facebook post ideas, and they helped you get the inspiration you need. Use our real estate Facebook templates to get even more inspiration and impress your audience. Remember, you could be closing your next deal on your Facebook page!

Try Xara Cloud for 14 days and discover
the results
No credit card or phone number required.
Start creating instantly — 1 minute signup.