10 Real Estate Just Listed Flyer Templates You Can Use Right Now
Just listed flyers are amongst the most efficient marketing materials you can use to promote new listings as a real estate professional.
A real estate flyer can help you promote new listings, build trust within your network, and establish yourself as a real estate expert in a specific area.
At this point, you might be wondering what should go on a just listed flyer. Here are the main elements of a real estate flyer that converts: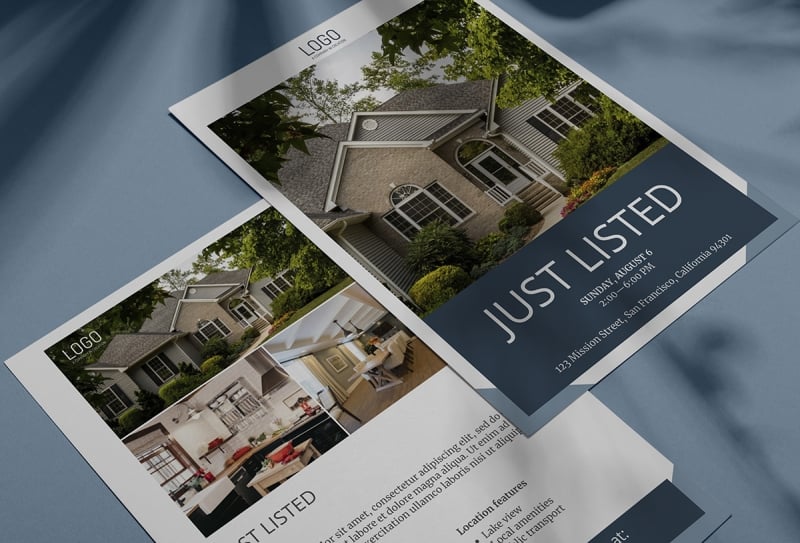 Quality pictures — They say an image is worth a thousand words, and it's true. When it comes to real estate, people need to see the best possible pictures of the property in order to show their interest.
Key information on the property — You should include all the information you find relevant for the property, but make sure you keep it short and to the point.
Your contact information — Always include your contact details to collect new leads.
A powerful call-to-action — People need to be told what to do next in a clear and concise way. Your call to action should prompt your prospects to contact you right away, so they don't miss out on any great opportunities.
With that in mind, we compiled a list of beautiful real estate just listed flyer templates and design tips you can use right now to promote your next listing and close deals faster than you think.
1. Go For a Minimalist Approach — Simple Just Listed Flyer Template
Simplicity is the ultimate form of sophistication, and that's true even in the case of the design you choose for your new just-listed flyer. A minimalist approach can go a long way to help you promote your new listings, as long as it keeps recipients engaged and incites their curiosity.
Here's a beautiful just listed minimalist design template you can use.
2. Invite People Over — Open House Invitation Flyer Template
Open house invitation flyers are highly effective when it comes to promoting new real estate listings.
To ensure your prospects will feel welcomed and curious about the new listing, don't forget to add the event's time and place, along with some attractive pictures of the property.
3. Get Creative with Fonts — Luxury Just Listed Flyer Template
When it comes to real estate flyer designs, fonts matter! Using fonts that complement the property's architectural style and interior design gives a sense of harmony and unity.
Here's a beautiful template you can edit and use to impress your prospects and get them excited.
4. Emphasize a Feature — Child-Friendly Real Estate Flyer Template
If a property has some highly required features, use them as a hook to target your customers.
Here's a just-listed flyer template you can use to promote a child-friendly property and make it stand out in a competitive landscape.
5. Go Bold and Colorful — Modern Just Listed Flyer Template
Bold colors, high contrasts, and edgy shapes are ideal for making your flyer stand out and get noticed. Make sure your flyer uses some eye-catching elements to highlight the most notable features of a property.
Use this modern real estate flyer template for free. Just change the text, pictures, and property features, and you're good to go!
6. Use the Black and White Effect — Monochromatic Real Estate Flyer Template
A black and white just-listed flyer suggests elegance, and it might be just what you need to attract your prospect's attention. The lack of color will also make them curious about how the place really looks and what's the property's color palette.
You can easily use this black and white flyer template to make an impression. All you have to do is change the pictures, tell the property's story in a few words and add your contact details.
7. Create Curiosity — Mysterious Just Listed Flyer Template
If you want to incite your prospect's curiosity, go for a blurry effect on the property's main photo. Leave just enough details to highlight the property's best features. Add a short text to describe the property and wait for the leads to come right in.
This just listed auction flyer template is a great example of how to use a blurry picture and clean, sharp typography to incite curiosity. You can use it for free, just replace the main picture and text with your own.
8. Highlight the Best Feature — Single Image Flyer Template
If the property has a nice view, you must highlight that in your just listed flyer. When the property has a view like that, you don't even need to add pictures of the interior design or appliances; a short text to describe them should be enough.
Clients can make subjective decisions when it comes to the property they would love to live in, and sometimes the landscape is the detail that can convince them at first glance.
9. Go Full Circle — Round Shapes Just Listed Flyer Template
Circles are design elements that suggest inclusion and warmth. You can apply this hint to suggest the idea of a lovely family property just by using a design that's based on round shapes.
Edit this just listed template to add the images of the next property you would like to sell and notice its effect on the viewer.
10. Show Some Atmosphere — Picture Collage Real Estate Flyer Template
If you want to showcase a property from more angles, a picture collage is the best approach.
Pro tip: to ensure a uniform color palette, you can apply the same filters on each image before adding it to the flyer template. This will also help you showcase the property's atmosphere.

Try Xara Cloud for 14 days and discover
the results
No credit card or phone number required.
Start creating instantly — 1 minute signup.