Real estate marketing meets speed and consistency
Reach buyers with high-quality content by letting your agents customize and market their listings without sacrificing speed, quality, or budget.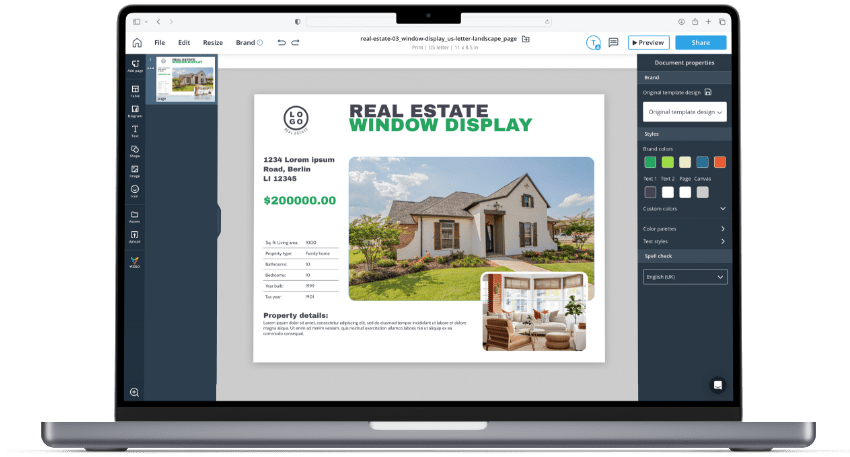 Realtors, agents, and designers in leading companies rely on Xara
Honestly now, is this how you attract buyers and sellers?
Making your agents to go through a slow, manual and uncontrollable process of marketing their listings typically ends up in… poorly designed material that hurts your brand, and waiting on graphic designers hurts your budget.
Make your real estate marketing stand out without slow-downs
Create your Real Estate marketing materials faster than a designer
Create high-quality content and materials for your listings in minutes. Start from scratch, import existing materials and PDFs or quickly turn templates into new listing materials that represent your brand with simple drag-n-drop tools.
Remove design steps and errors with MLS data sync
Create powerful marketing material from MLS listings, with your brand's unique look and feel with a few clicks. Marketing for real estate agents made easy with:
Automatically customize templates with MLS listings, their images, property and agent details by simply looking up your listing ID.
Create multiple-property materials automatically.
Make sure your agents have the latest assets at their fingertips
Save everyone time, effort by not having to look for creative assets. Centralize and distribute the latest version of templates, property images, icons, and important information organized in one place. Simplify finding and creating new marketing and sales material:
An organized asset gallery with all your property, agent and agency images and creatives.
Give access to specific content and creative assets or make them available team-wide. You set the restrictions.
Get assets on the go with direct downloads.
Scale your brand while protecting it from mishaps
Buyers and sellers work with unique and trustworthy brands. And that starts with sharing high-quality branded content consistently. Build a trustworthy brand experience:
Enforcing your brand guidelines by automatically applying them to your property's marketing materials.
Letting agents create new content from replicable templates and swap and edit defined images, text fields skipping design steps.
Using lockable templates to decide what elements can be edited, so no one goes rogue.
Automatically populate documents with your brand's most important details and contact info.
Create any type of Real Estate content with robust tools and many template formats
Increase the returns on your real estate marketing today. See why thousands of real estate teams use Xara.
No credit card or phone number required.
Start creating instantly — 1 minute signup.