Business Model Canvas
Create a tool that helps you understand the business model behind a company, simply and quickly.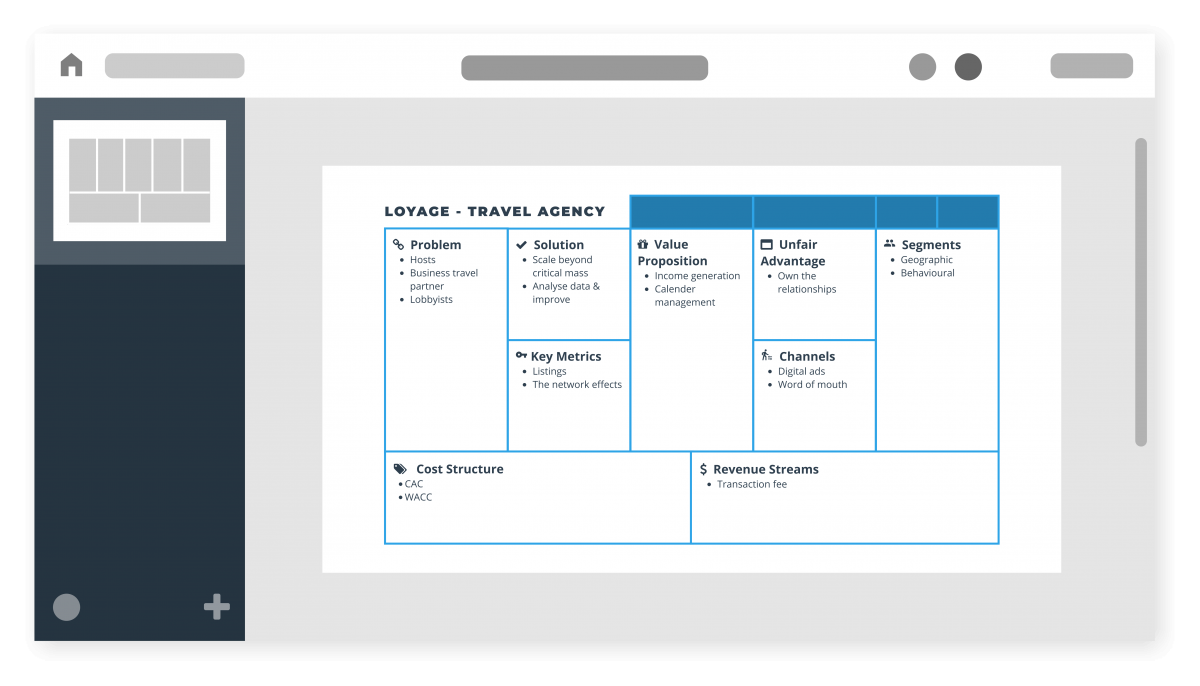 As seen on:




BMC can be an excellent way to better
understand your new project
Business model canvas forces you to ask yourself important questions, before you go in-depth into the details of each area of your business. Even if you are already working for or own an established company, it can help you to understand your business at a high level and explain it to others.
Benefits
Simple
format
A business model canvas should be just one side of a paper.
Helps to
prioritize
With one page format, you can add only the essentials, leaving all the non-important ideas out.
Easy to
understand
No need to read endless papers, reports and other documentation.
Business model canvas vs Business plan
A business plan is the written document that contains information such as a company's core values, mission and vision, targeted customers and goals, etc.
If a person has no idea about your business and what it does, then reading your business plan should make it all clear to them. Although we all probably imagine a business plan as a long multi-page document, it doesn't necessarily have to be this way. If you can explain your company in a couple of pages, that is enough!
On the other hand, a business model canvas is a visual representation of the main questions you should ask yourself when starting a new project: Who is the target audience, what are the channels, how will you monetize. It helps you to understand your business idea and explain it to others in a visual, simple way.
Business model canvas templates
Before you even open a template to create your canvas, you should ideally have answers to the key questions regarding your business. If not, it's a great moment to brainstorm with your team until you have some answers you're satisfied with.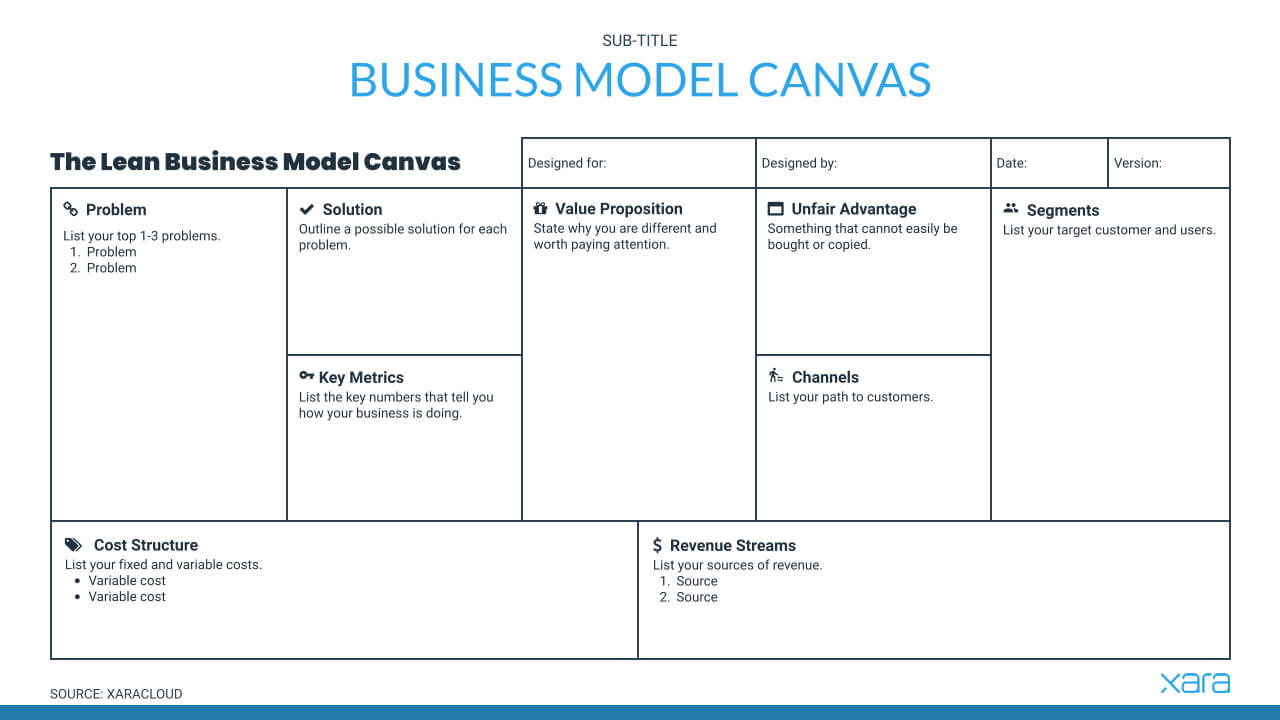 The building blocks of a business model canvas
1. Customer segments
This block will help you understand who the company is targeting. If you try to sell to everyone, the result will be a diluted message that will connect with no one, so this step is key. The goal of this block is to help you solve the question: Who is my customer?
These are the questions that will help you arrive at the answer:
Are you targeting the mass market or a niche?
Mass market — You don't have any specific target market. Common examples in this category might be consumer goods such as chewing gum or soap. The target audience is potentially anybody. But most businesses aren't in this category and they will instead select a niche to target.
Niche market — You are targeting a specific group of people. You can break down your market into niches by selecting demographics (age, gender, city, income, etc.), behavior or association (people who like a specific thing, person, etc.)
Are you a multi-sided business?
This type of business serves 2 or more segments that depend on one another. For example, a recruitment agency needs to target job seekers on one hand, and business in search of new talent on the other. Or a holiday rental website – they need to attract renters and property owners separately. Each segment will require a different strategy.
Who are my personas?
Persona is a representation of your ideal customer, and a company can have one or multiple personas.
When creating personas it's important to keep in mind the decision-making process; this might mean that the person who is buying the product isn't the final user (Example: a mum buying a cream for a teenage son). You can create your persona using information collected during interviews with the customers, or the target audience if the product or service is new. You might find that your business can serve multiple personas, but it's important to prioritize. If you could choose only one persona, what would that be?
What problem are you solving for that persona?
Understanding the needs of your audience is essential, so you can know how you're providing value. Every product or service helps to solve an underlying problem, so the better you understand the problem, the easier everything else will be.
2. Value propositions
Once you've understood your target audience and the main problems they have, it's time to think about how you're solving those problems!
Your value proposition is the answer to this question: Why should your ideal customer choose you over your competitors?
When answering this question, you will most likely come up with many different reasons. But not all of them will be equally important, so make sure you choose the truly important ones.
You will want to tie your value propositions to each of your personas. Maybe persona 1 cares about you being the safest option, but persona 2 wants a quick service.
3. Your marketing channels
Now you know who are your customers, what their needs are and why they should choose you over other competitors. Next you need to consider your channels.
Your channels are the means by which you deliver your value proposition to your audience. Some examples of channels might be Facebook ads, affiliates or email marketing. And of course the best channels are those that deliver your message in a fast, cost-effective way.
Channels can be divided into 3 categories:
Owed — You control this channel and can do what you want with it. For example your website or email list.
Earned — You don't have such direct control over this channel since it's created by customers, media or partners who decide to speak about your business voluntarily.
Paid — These are the channels you pay for, such as advertising or sponsorships.
4. Customer relationships
Once you have a new customer, how will you interact with them? There are different ways to meet the needs of the customer, both before and after the sale:

Dedicated personal assistant — Each customer will have a dedicated hands-on personal assistant to answer all their questions.
Personal assistant — An employee will assist the customer both during sales or after-sales.
Self-service — There is no direct interaction between employees and customers. The company provides the tools so the customer can solve their needs on their own.
Automated services — In this case, a system can identify groups of customers with specific needs and provide them personalized tools to solve these needs.
Community — The company creates, maintains and curates a platform where clients can help each other, solve questions, and share knowledge.
Co-creation — Here the customers give feedback and have a direct impact on the product or service itself.
5. Cost structure
You will need to determine the main costs associated with keeping your company running and delivering value to your customers.
Are your costs fixed or variable?
Fixed cost — They don't vary depending on volume, for example rent, machinery, licenses, etc.
Variable cost — They depend on the amount produced, for example wages or materials.
This split will determine how your costs change as you scale. Do they go up linearly or can you take advantage of economies of scale? This is an important distinction that will also have an impact on how big your market needs to be.
6. Revenue streams
How does your company make money from their customers?
The most common option is to sell your product or service, but there are other possible revenue streams such as advertising, subscription fees, etc.
Once you know your revenue streams, you should connect each of them to each customer segment and value proposition
(if you happen to have more than one).
7. Key activities
These are the activities that must happen in order for your business to work and earn revenue.
Firstly, what tasks are necessary to provide the value proposition to the customers? For example, for a manufacturing company
this might include researching improvements in the product or packaging design.
But there are other activities to consider too:
What key activities are needed for your distribution channels?
Which ones for your customer relationships?
Which ones for your revenue streams?
It's important to distinguish the true core of your business from something secondary. Your value proposition will determine what activities are truly focal and can't be eliminated or outsourced.
8. Key resources
What assets does the company need to perform the key activities and deliver the value proposition? And for the distribution channels, customer relationships and revenue streams?
Key resources might also be assets that help distinguish you from your competitors. Assets can be classified as:
Fixed cost — Employees are generally a key resource, especially in the service business where having the right talent is a huge differentiator.
Financial resources — This can be cash, credit or stock options.
Intellectual resources — These are intangible and include brands, patents, copyrights, knowledge base, customer
databases, etc.
Physical resources — Such as machinery, infrastructure, buildings, vehicles, raw materials, etc.
9. Key partnerships
When creating your canvas you will most likely identify important activities that the company can't perform on its own. What partners could support you in each these activities? Create a list of these partners and link them to the corresponding key activity. Partners can include suppliers, strategic alliances or joint ventures.
Create your Business model canvas
in Xara Cloud
We offer the Business model canvas for free!
Xara Cloud allows you to share and edit documents with your colleagues or friends.. live!

Add impacting visuals to your marketing and business content.