9 Real Estate Just Sold Flyer Templates & Tips To Attract More Leads
The best time to promote your real estate business is right after you make a sale. And that makes just sold flyers one of the most effective real estate marketing materials to attract more potential clients.
Handing out just sold real estate flyers and business cards in your neighborhood will help establish you as a thought leader in your area and support word-of-mouth marketing. It will also help owners understand what their property might be worth and encourage them to put it on the market.
Just sold flyers are an excellent way to collect leads in your area and establish a network of buyers and owners you can work with.
So, what are you waiting for? To help you get started, we've shared a list of real estate just sold flyer templates you can use and some marketing tips on why they are so effective.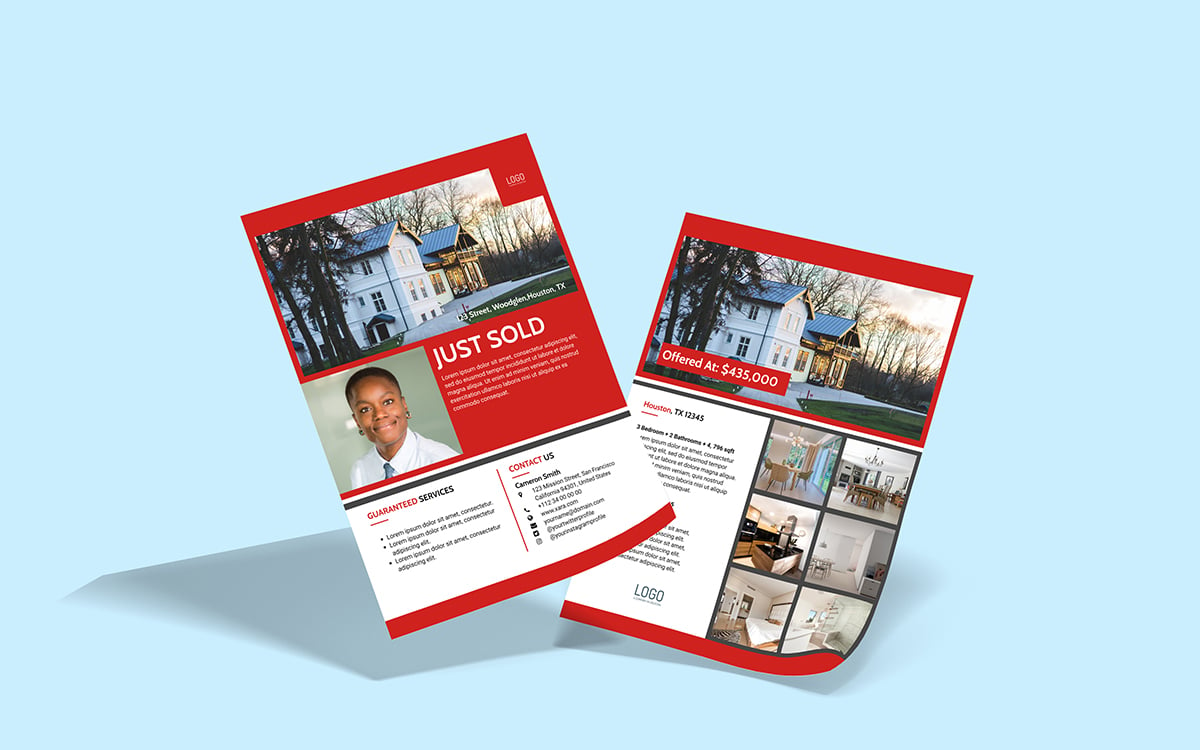 1. Include Relevant Facts and Figures About Your Recently Sold Property
Including high-quality images in your just sold flyer is a great way to attract potential buyers, but don't overlook the importance of facts and figures.
Use this just sold flyer template to ensure you include all the information relevant to your prospects, such as the price, the number of days in which the sale was made, and your contact details.
Pro tip: don't forget to add some icons to your design. They can help the viewer focus on the information without reading too many unnecessary details.
2. Target Property Owners in Your Neighborhood
By highlighting that more clients are interested in buying in a particular area, you can convince some undecided homeowners to sell their property too.
Here's a simple just sold flyer template to create flyers targeted at your farm area and collect more leads.
Pro tip: include your own picture to increase trust and familiarity.
3. Go for a Minimalist Approach and Incite Curiosity
You don't need to add every single detail on your last sale to design a just sold flyer that's effective. Sometimes, you only need to add a relevant picture and your real estate contact information.
Use this minimalist template to incite both buyers' and sellers' curiosity and get them to contact you for more details.
Pro tip: go for a black background to make the text stand out.
4. Give Owners an Idea of What Their Property Might Be Worth
In a dynamic real estate market, most homeowners have no idea how much their property might be worth these days. Sending out just sold real estate flyers that emphasize this information might give them an idea of what they could do with that money and help them decide to sell.
This just sold flyer realtor template is focused on essential aspects such as the property's picture, address, and price. Now, all you need to do is fill in your own details and contact information to get more leads faster.
Pro tip: use soft colors to make the property's picture stand out.
5. Choose an Eye-Catching Color Palette
Colors can affect decision-making, and that's why choosing a color palette that stands out and makes people want to act is a vital aspect of your real estate flyer.
Carefully choose your color scheme to create a professional and polished flyer. You can use this just sold flyer template and change the color combination to match your brand.
Pro tip: go for a combination of no more than 2-3 colors to ensure consistency.
6. Include the Number of Days Until You Closed The Deal
We live in a fast-moving world where time is money and speed is essential. Very few property owners can wait for months or years until they find a buyer; that's why including a line that shows just how fast you can sell the property will convince them to choose you over other real estate agents.
Pro tip: use the "sold in x days" heading to grab people's attention fast.
7. Use Your Just Sold Flyer to Collect New Leads
If you're already sending out just sold flyers, why not use them to collect leads directly? Here's a clever way to repurpose your real estate flyers to get more leads.
Use this real estate template to encourage house owners to complete it and ask you what their property might be worth using a virtual home evaluation.
Pro tip: leave a blank space or add a dotted line where you want them to complete their details.
8. Tell a Story About Your Last Sold Property
Storytelling is one of the most efficient marketing approaches out there. A great success story can increase your chances to get real estate leads and closing deals.
Let your prospects know that you understand their neighborhood and the real estate market to gain their trust. Here's a just sold realtor template to help you get an idea of how to write a persuasive and professional story.
Pro tip: go for a white, minimalist design to emphasize the story.
9. Create a Collage of Your Recently Sold Properties
If you've recently made more sales in an area, creating a photo collage real estate flyer with all the recently closed deals might be a good idea rather than showing them off individually.
This will help you overcome your competition by showing that you are the absolute go-to person for making a sale in a specific area. Here's a photo collage just sold flyer template you can use to include your recent deals.
Pro tip: use an even number of properties to get the perfect photo collage grid setup.
10. Repurpose & Download your winning real estate just sold flyer templates with Xara Cloud
Save time promoting recently sold properties using customizable templates to create eye-catching flyers.
Xara Marketing Center for Realtors provides a range of options for creating branded materials automatically and repurposing them into any other format. With our MLS integration, you can automatically populate your documents with your listing details. Sign up for Xara Cloud to streamline your marketing efforts and elevate your real estate business with winning flyers.

Try Xara Cloud for 14 days and discover
the results
No credit card or phone number required.
Start creating instantly — 1 minute signup.