How To Write Attention-Grabbing Real Estate Headlines That Sell
Oh, the challenge of writing a catchy real estate headline.
It might not be your strong suit as a real estate agent.
And yet, catchy real estate headlines can attract home buyers to your listings. They are certainly beneficial to your real estate business. Did you know that 80% of people read the headline of an article, but only 20% read the body?
A captivating headline is an essential part of real estate marketing. You only have one chance of making a lasting first impression. Learning how to write great real estate headlines is a must-have skill if you want to increase traffic and attract prospects to your real estate ads.
It all comes down to knowing your audience and what they want. Keep it short, make it benefit-driven, and make sure the tone matches the type of property you're selling. Once you understand those three elements, you can start writing headlines that will grab attention and make people want to learn more about your listing.
And we've gathered 10 tips and tricks to help you write great real estate headlines in no time:
Use Emotional Language In Your Real Estate Headline
Create a Sense of Urgency Surrounding The Property
Include Catchy Real Estate Phrases
Put Yourself In The Home Buyers' Shoes
Use Numbers
Make Them Share-Worthy
Give Them an Easy Fix
Lead With a Question
Use Keywords To Sell Your Properties FAST
Avoid These All Too Common Mistakes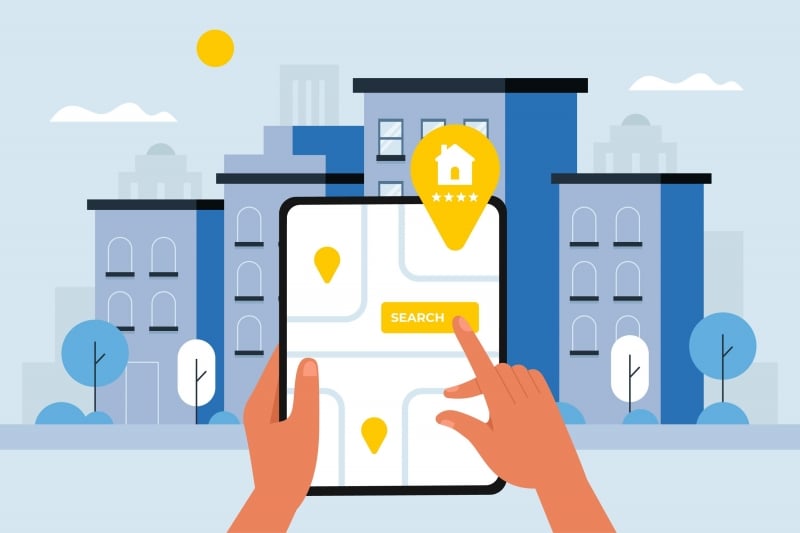 How To Write Great Real Estate Ad Headlines
1. Use Emotional Language Use Emotional Language in Your Real Estate Headline
You're selling homes, not stocks.
Therefore, appealing to emotion should be a key part of your real estate marketing plan. People are trying to find their dream home. A place where they feel at ease, comfortable, and aligned with themselves. A clever real estate headline should reflect that.
While features generate some interest, emotion appeals to the imagination. The real estate heading can give buyers a sense of what their future looks like. If you're confused about this, check out Facebook's Ad Library. See which real estate listings catch your eye.
This real estate headline by Re/Max appeals to the buyer's imagination. It gives them a feel of what their evening would look like in their new home. Do you have a fantastic new listing up for sale? Show clients what makes it so awesome.
2. Create a Sense of Urgency Create a Sense of Urgency Surrounding the Property
Fear of missing out is real. No wonder marketers use it to attract customers. Your real estate business could benefit from this as well.
Are you selling a unique property? Maybe it's an affordable luxurious cabin. Or a spacious home with a backyard patio on sale. The best headlines for real estate ads make use of that and create a sense of FOMO around it.
You can also add titles to your property flyers to draw attention and create urgency. Simply choose one of Xara's free real estate flyer templates and get started!
3. Include Catchy Phrases Include Catchy Real Estate Phrases
Catchy words spark interest. Not just that. Words sell.
The phrases and words you use in your heading could motivate prospects to check out the full property listing. A.k.a you could sell your properties faster.
For instance, real estate ads that contain words, such as luxurious or captivating, have more success, while generic words such as "nice" ‌bring listings down.
Choose your words wisely.
This property ad headline by Realtor uses catchy real estate phrases to lure buyers in. By using these phrases, they can attract the right buyers, and deter those interested in other styles.
4. Put Yourself In The Home Buyers' Shoes
Each property has its unique features. What is suitable for a single-family might not be suitable for a Millennial living alone in downtown NY. But as a real estate agent, you already know this.
The key to drawing attention to your real estate listing ad is writing headlines for potential buyers who would be interested in this kind of listing. Put yourself in the buyer's shoes.What are they interested in? What would seal the deal for them? What does this property offer that others don't? What words would attract these home buyers?
For instance, homes with a retreat space or she-shed ‌ sell for 2% more, according to Zillow's most recent report. Do you have a property like this in mind?
Include that feature in the real estate ad heading to generate curiosity amongst buyers.
5. Use Numbers
When possible, use numbers instead of text. Numbers are brain candy. They catch readers' attention.
That's the key to a clever real estate headline.
This real estate ad by LA's Luxury Real Estate appeals to the million-dollar lifestyle. They used numbers and power words to draw attention to these one-of-a-kind property listings.
We might have a winner.
Follow this process to come up with great real estate headlines. The key is to go from generic to specific. Use a mix of power words and emotional words to capture attention.
We promise you'll sell your properties faster this way.
7. Give Them an Easy Fix
Your job as a real estate agent is to solve your client's pain points. Real estate is all about helping people sell or buy their homes the easy way.
What better way to engage them than to mention the solution you bring to the table? Most prospects are probably stressed about the home-hunt. Ease their mind right off the bat. Here's an example of a Social Media real estate advertising that used this headline technique successfully.
8. Lead With a Question
Questions make readers involved. They make them part of the conversation. The question could intrigue or suggest that you have the solution to their problems.
This Facebook real estate ad example by Odurent nails it. They target students looking for off-campus rentals and market themselves as the solution: "We make off-campus housing Easy".
Here's another clever example by no one other than Century21. Everything about this real estate ad sparks curiosity and excitement. Would you go check it out?
9. Use Keywords Use Keywords To Sell Your Properties FAST
You could have the best property listing in the market. If buyers can't find them on Google, Zillow, or MLS, that doesn't matter.
To ensure that your listings rank first on Google and other platforms, ‌you need to include the right keywords in the real estate headline. We discussed this at length in our guide aboutlisting brochures.
Ideally, you would include a mix of generic and specific keywords in your ad headline. Take this example. "Home for Sale [Generic] in Los Angeles [Specific] with ocean-view [Super-specific]."
The key is to think like home buyers. What would they look for? You can also use free tools such asAhrefs to find the keywords that will help you create real estate headlines that sell.
10. Avoid These Mistakes Avoid These All Too Common Mistakes
Real estate agents know their way around selling, that's for sure. But writing real estate ad copy is a different ball game. We've surfed the web and found these don'ts in some of the listing headlines:
Too many exclamation marks. Exclamation marks should be used sparingly and only when there's a reason to.
All caps headlines. All caps are the equivalent of someone shouting at you. To draw attention, use title cases instead.
Repetitive headlines. All too often, real estate advertising headlines look the same. Find your voice. Be unique. Connect with your audience and stand out from the crowd.
1. "Surrounded by the Tuscan Countryside, overlooking the vineyards:
discover our villa in Gaiole in Chanti"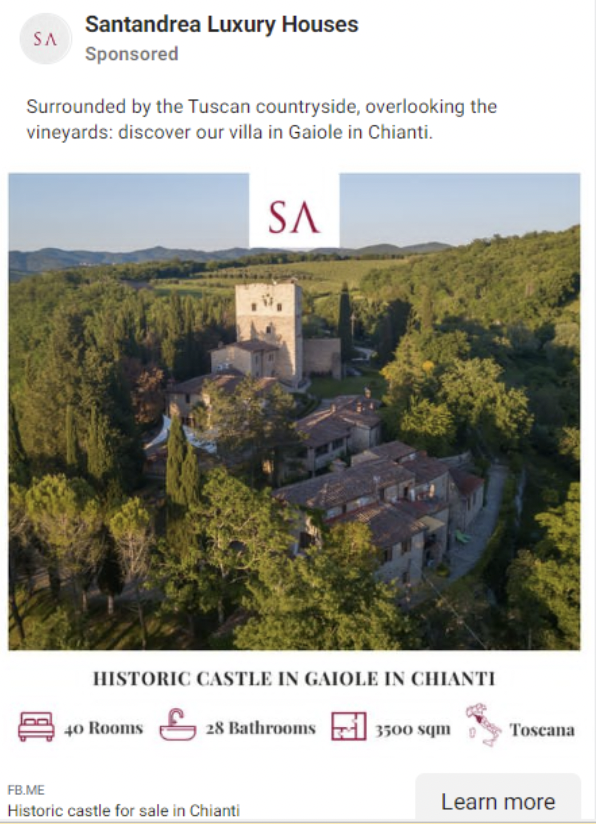 Why this works: This headline by Santandrea Luxury Houses caters to the imagination. It can be easy to imagine how you would sip a glass of wine on the patio admiring the sights.
2. "Escape To Your Retreat"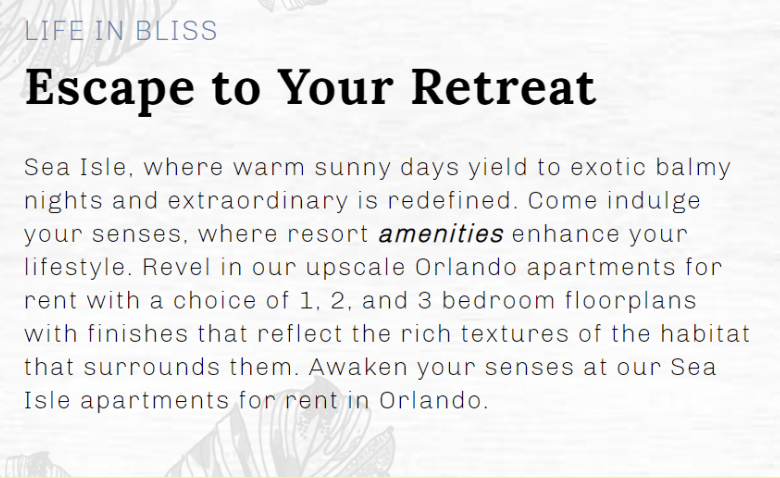 Why this works: This real estate headline example by Sea Isle Orlando makes use of the most sought-after feature in 2022: retreat spaces. Not only that, but it's short, powerful, and intriguing.
3. 10 Homebuying Tips to Help Cope With Stress"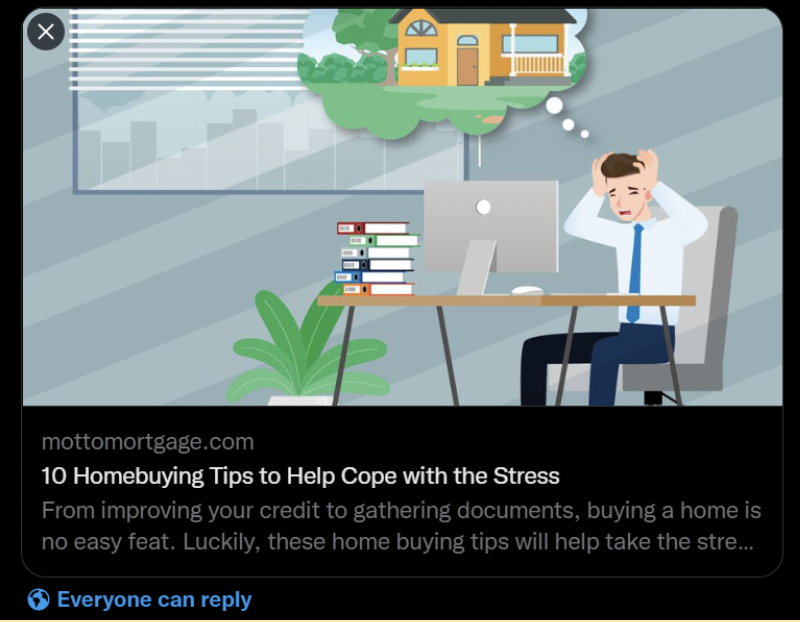 Why this works: Motto Mortgage's blog headline promises to solve a pain point: the stress of buying a new home. Not only that, but it tells you how many tips and tricks it will provide. It is shareable, simple, and useful.
4. "How Much Is Your Home Worth?"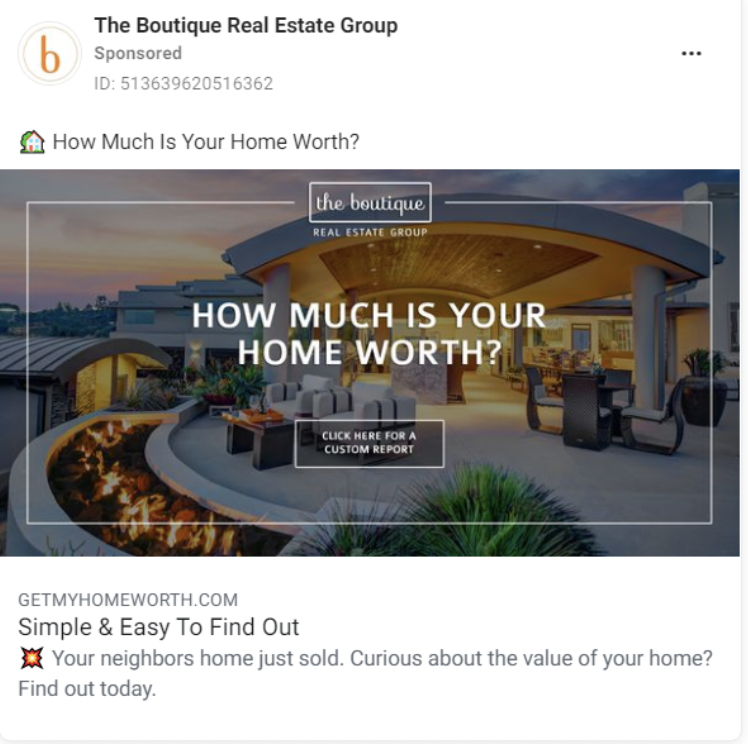 Why this works: The Boutique Real Estate Group's heading is simple. But it touches on one of the most poignant questions that sellers have: the value of their home. Then, they offer a hassle-free solution. This is what attention-grabbing real estate headlines are made of — careful consideration of clients' needs.
What Do All Great Real Estate Headlines Have In Common?
Attention-grabbing real estate headlines focus on the potential buyer. Addressing your potential customers' concerns, telling a story, and making them feel special can help you write the best real estate headlines to sell your properties.
Now that you know how to write attention-grabbing headlines that convert, you can level up your marketing game, outwit your competition, and close deals faster.

More than 2 million people have used Xara to create branded content
No credit card or phone number required.
Start creating instantly — 1 minute signup.