How to Write an Effective Listing Brochure
Part of a realtor's job is crafting an eye-catching and effective real estate listing brochure.
Not only can they make or break the sale of a property, but they also play a huge role in real estate marketing. An effective real estate listing brochure seals the deal and helps you achieve your real estate marketing goals.
And with 97 percent of buyers looking for properties online, real estate agents should consider posting them online as well. To increase your chances of finding potential buyers and future clients, the listing brochure has to be optimized for the digital world.
We promise it's not rocket science. You don't have to be an expert on design or marketing. There are a few tricks you could follow to create an efficient and appealing real estate listing brochure. Stick around to find out what these are.
In the following lines, I'll cover everything from real estate brochure content to design and photography tips. Without further ado, here are some tips to help you write a real estate listing brochure that sells.
Why a Leave-Behind Listing Brochure Is Still Valuable
✓ It shows that you're professional and involved. Clients will admire the effort you put in.
✓ A tangible product is eye-catching. Plus, there are no distractions. A prospective buyer or client can fully absorb the information without being distracted.
✓ They're visually appealing and easy to read.
✓ A listing brochure increases the visibility of your listings.
✓ They leave a lasting brand impression, and you can rely on them for future use.
Tips and Tricks for Effective Property Listings
The fact is, brochures are indispensable marketing materials for real estate agents. The upside is that you can upload them to social media as well.
But how do you craft a successful one?
Gather All the Information Necessary for Putting Together the Property Listing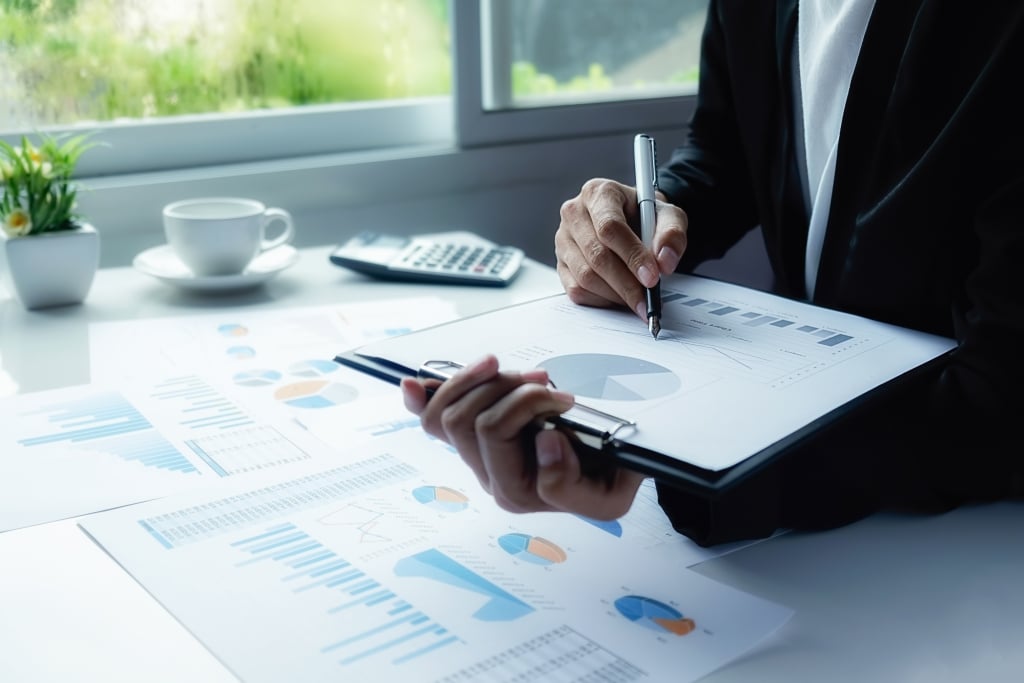 Source: Freepik
Every real estate agent wants to attract buyers at the end of the day. But to do so, you have to match the real estate listing descriptions to what the customer is looking for. And every customer group has different needs and pain points. That's why a tailored approach will give you the best results.
Before you start designing and writing the real estate listing brochure, you have to ask yourself: "What would the potential buyer like to know about this property?" and "What are the most important details about it?"
Think about your target audience.
There are different ways of grouping your target audience. For instance, you can opt for a customer-focused approach. Within this approach, you focus on who the customer may be. They might be first-time buyers, move-up buyers, or have certain professions.
Who are they? What are they looking for in a property? What are their pain points and challenges? How can you as a real estate agent help them reach their goals? Once you figured out who the customer is, you can think about the real estate content.
What would make prospective buyers invest in this house? The spacious living room, gourmet kitchen, beautiful patio, and quiet neighborhood may be perfect for a family, while a minimalist studio situated downtown might appeal to a younger audience.
These details will guide you through the process of writing the real estate listing description. Instead of going out on a limb, try this structured and targeted approach. It will be easier to create a real estate ad or brochure that generates sales and makes your real estate business stand out.
Add High-Quality Images to The Real Estate Property Listing
Photo by Ярослав Алексеенко on Unsplash
A picture is worth a thousand words. As a real estate agent, you know how true that is. While we cannot brush off the importance of high-quality content, including professional images in your real estate brochure is crucial.
While it may be tempting to rely on your smartphone for this task, don't. Hiring a photographer is in your best interest in the long run. Think about it. Poor quality images may keep the property on the market for longer, which may mean losing money.
Including high-resolution photos in the brochure design will convey the professionalism and trustworthiness of your real estate agency, and it will make the property stand out.
Find a Simple, Easy to Read, Yet Engaging Layout
First impressions last. When exposed to countless real estate professionals and property listings, people will most likely skip the dull or overcrowded brochures. Simplicity is key when designing a real estate listing brochure.
While creating marketing materials is part of the job description as a real estate agent, you don't have to be a designer to do it.
We have a wide selection of real estate brochure templates you can use. All you have to do is create an account, select the real estate brochure template of your choosing and play around. It's quick, easy, and fun!
Here are a few real estate brochure templates that you can choose from: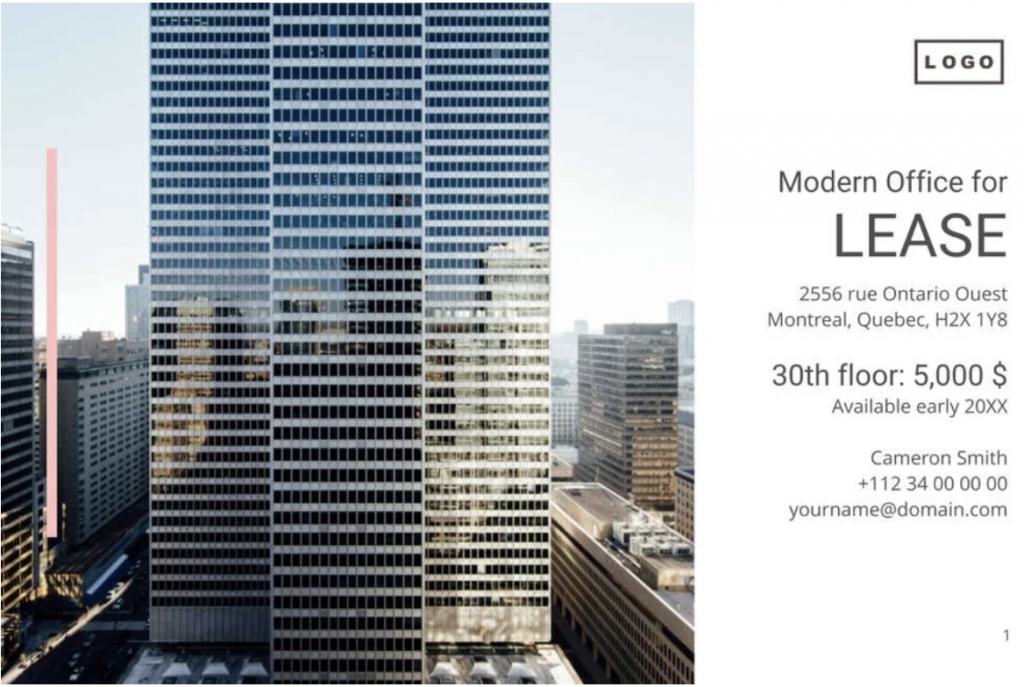 Source: Xara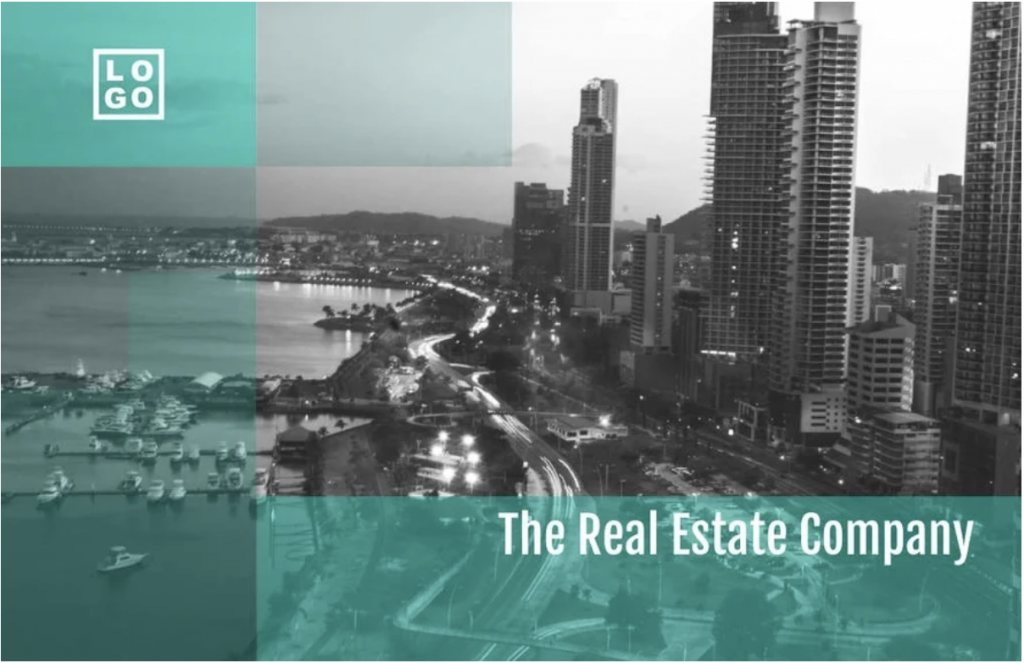 Source: Xara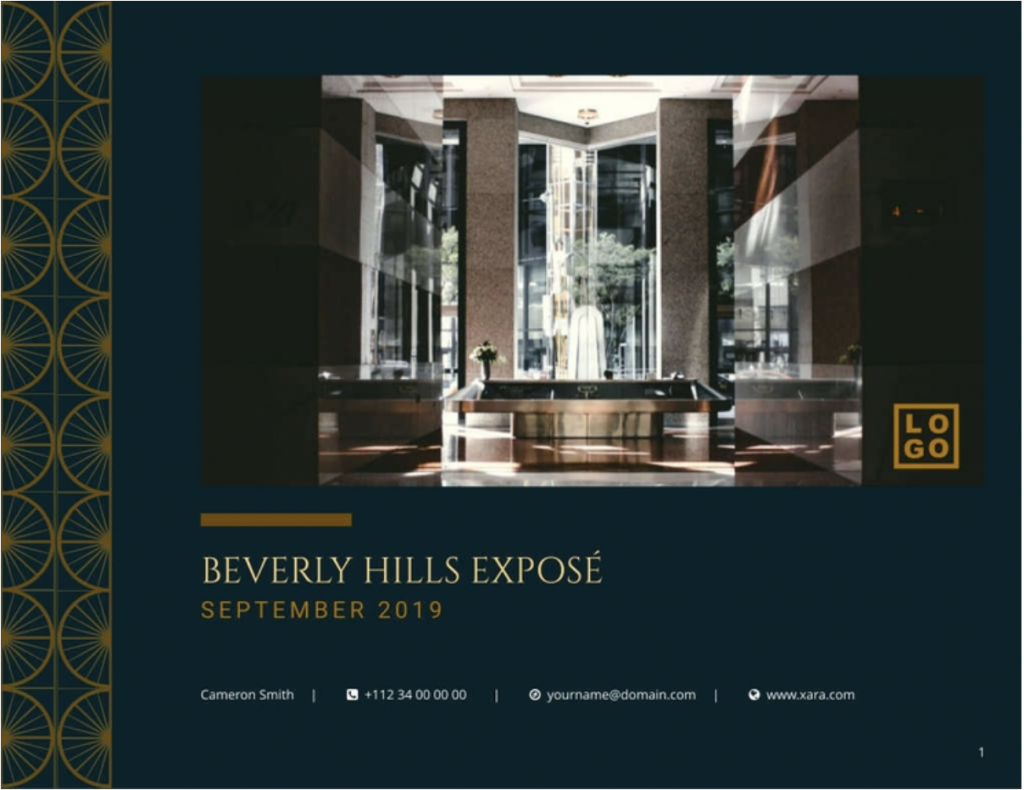 Source: Xara
Our real estate brochure templates are versatile and they can be used for listing any property, be it residential or commercial. You can personalize these real estate brochure examples, so they fit your brand vision or appeal to targeted buyers.
Keep the Copy Clean and Straight to the Point
Once you picked the real estate brochure template, you can start crafting the property description. When it comes to content, less is more. There's no need to include lengthy sentences or paragraphs.
Your real estate brochure content should focus on key property details, such as the listing prices, open house details, square footage, and other information about the house, such as amenities, upgrades, and unique features.
You want potential buyers to be attentive to the property description and answer the call to action, not to bore them with unnecessary details.
Include Your Website and Social Media Profile in the Property Listing Brochure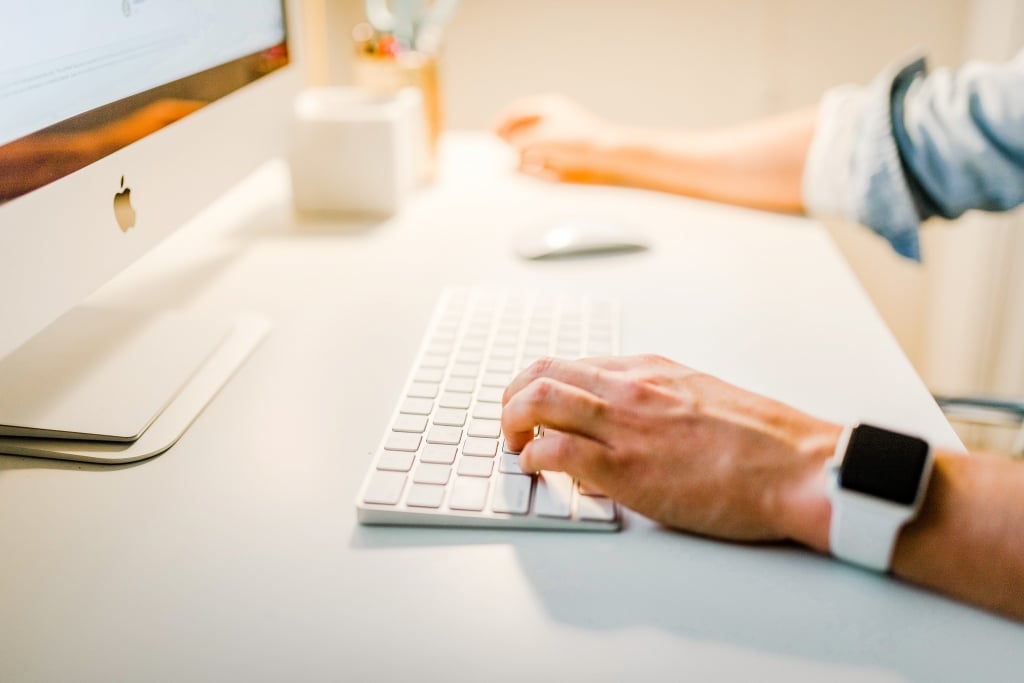 Photo by Austin Distel on Unsplash
While listing brochures are an excellent way of generating sales and gaining brand awareness, a cross-promotional strategy should be a part of your real estate marketing plan.
For instance, you can send interested buyers to your website or blog. You can provide more detailed property descriptions on your website, so homebuyers get a better feel of the property.
Another crucial element of an effective real estate marketing strategy is leveraging social media. Including your profiles in the real estate listing brochure is great for growing your engagement and reach. You can even include QR codes which people can use to find the open house events.
There are plenty of creative real estate marketing ideas which leverage social media or personal websites. It's all about finding the right approach for you and your marketing goals.
Include a Clear and Unique Call-To-Action
You want to find prospective buyers, right? Well, don't keep them hanging. Give them a clear call to action. Well-crafted real estate listing descriptions can be rendered useless if they don't include a compelling call to action.
Without a persuasive statement, which convinces prospects to take the action you wish, your chances of generating sales drop. After all, they need to know how to take the next steps toward their dream home.
What are the ingredients of an effective call to action?
Start with the desired action. Use command verbs to get your point across, such as "Call", "Book", "Get", or "Check".
Appeal to their emotions and enthusiasm. How? Mention what's in it for them, use emotional words, or use an exclamation point at the end of your call to action.
Make the call visible and accessible on the listing brochure. You can do so by using a larger font or different colors to make it stand out.
How to Write a Real Estate Listing Description for the Web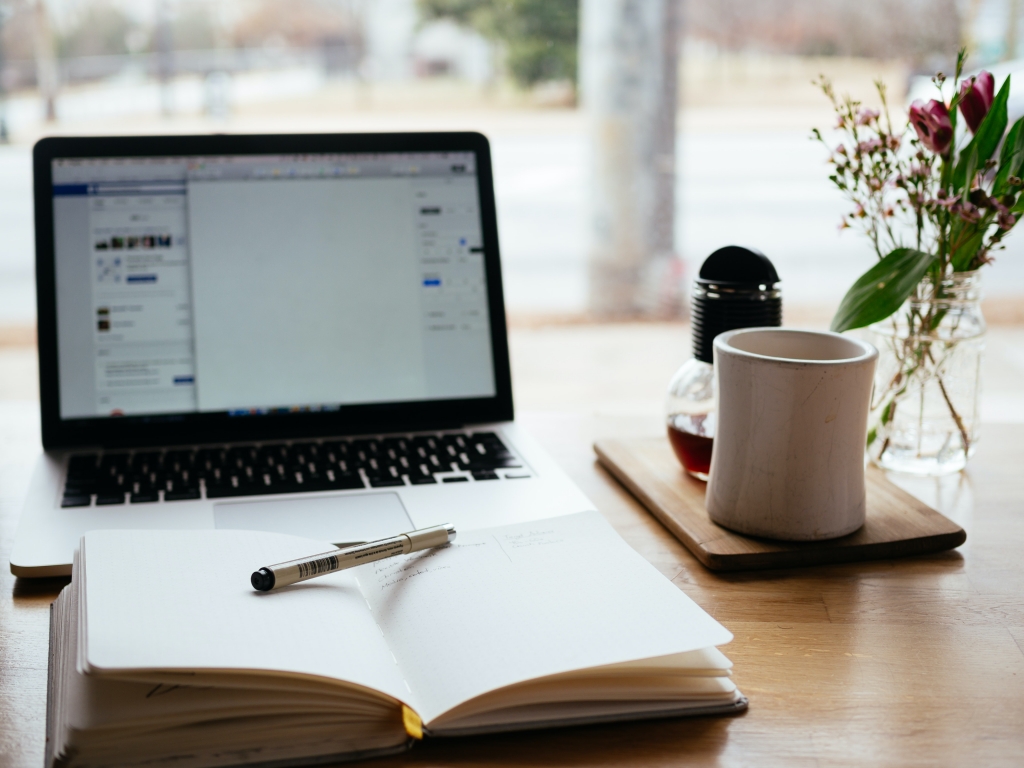 Photo by Nick Morrison on Unsplash
If you want to upload your real estate flyer or brochure on social media or on real estate search engines, you have to learn how to write a real estate listing description optimized for the digital world. The rules are a bit different in this case, yet quite simple.
Here are a few tips to help you learn how to write a real estate listing that actually sells.
Opt for an Eye-Catching Headline for your Real Estate Property Listing Description
Whether we're talking print marketing only, or you want to post your brochures online, attention-grabbing headlines should be a part of your real estate marketing plan.
On average, we have an attention span of about 8 seconds. Thus, you have eight seconds to engage homebuyers and encourage them to read the rest of the listing description. It's important, therefore, to choose an engaging headline.
A catchy headline can generate leads and make your real estate ads more effective. The secret is to craft headlines with the target audience in mind. How on earth do I do that, you ask?
Well, you can go about it in different ways. The goal is to opt for creative real estate headlines.
One way to craft these is to spark the imagination of your prospects. You can start with phrases such as "Imagine coming home to…" or "Imagine waking up to…". Then, highlight unique features which appeal to your audience. Does the property have an ocean view, or maybe it's a three-bedroom house? Mention that in your headline.
Another way to craft an attention-grabbing headline is to focus on the challenges that the homebuyers are facing. Are they on a budget? Are they flooded with options? Lead with that.
A killer headline should be short and sweet. Aim for five to seven words. Another general rule is to use words that evoke emotion. Worry not, there are tools that help you analyze your headline.
What you should avoid:
Using too many exclamation marks.
Using all caps to get your message across. Opt for titlecase instead.
Being too generic or abstract. Words such as "nice" or "amazing" don't convey much about what the property has to offer.
Too many abbreviations. While they do help you save space, they might be confusing to read.
Start Your Real Estate Listing Descriptions with a Punchy Opening Statement
This is a tried and tested strategy used by content writers. Opening with a hook keeps readers engaged and eager to find out more. You can do so by mentioning one of the unique features in the opening statement — that one detail that makes the property stand out.
Mentioning the unique or upgraded features might catch the attention of some homebuyers and encourage them to keep on reading the listing description.
This is a small detail. One that could make your listing description generate sales.
Here are a few desired home features, according to the National Association of Home Builders' report:
Patio
Energy-efficient home
Near public transport and school districts
Laundry room
Ceiling fan
Walk-in pantry
Front porch or rear deck
Eat-in kitchen
Walk-in closet
Exterior lighting
Ocean, lake, or river view
Master bedroom
After your opening statement, you should focus on including key property details and other unique features that make the home stand out from the crowd.
You don't have to write a novel here. Stick to the essential information and use bullet points to structure the information. This will prevent the description from becoming overcrowded.
Some Words Sell, Others Deter
Research points out that some words sell, while others ‌drive buyers away. An analysis in "Zillow Talk: Rewriting the Rules of Real Estate" showed that property listing descriptions that contain certain words tend to drive more sales.
For example, here are some words that drive sales:
✓ Luxurious
✓ Captivating
✓ Stainless
✓ Granite
✓ Basketball
✓ Impeccable
On the flip side, some words, particularly cryptic ones, have been found to decrease the sales price. These red-flag words include fixer, potential, opportunity, or bargain. For instance, the property listings containing the word "fixer" sold for 11 percent less than anticipated.
It's pretty mind blowing how one word can change the sale price, right?
Write Your Real Estate Listing Descriptions with SEO in Mind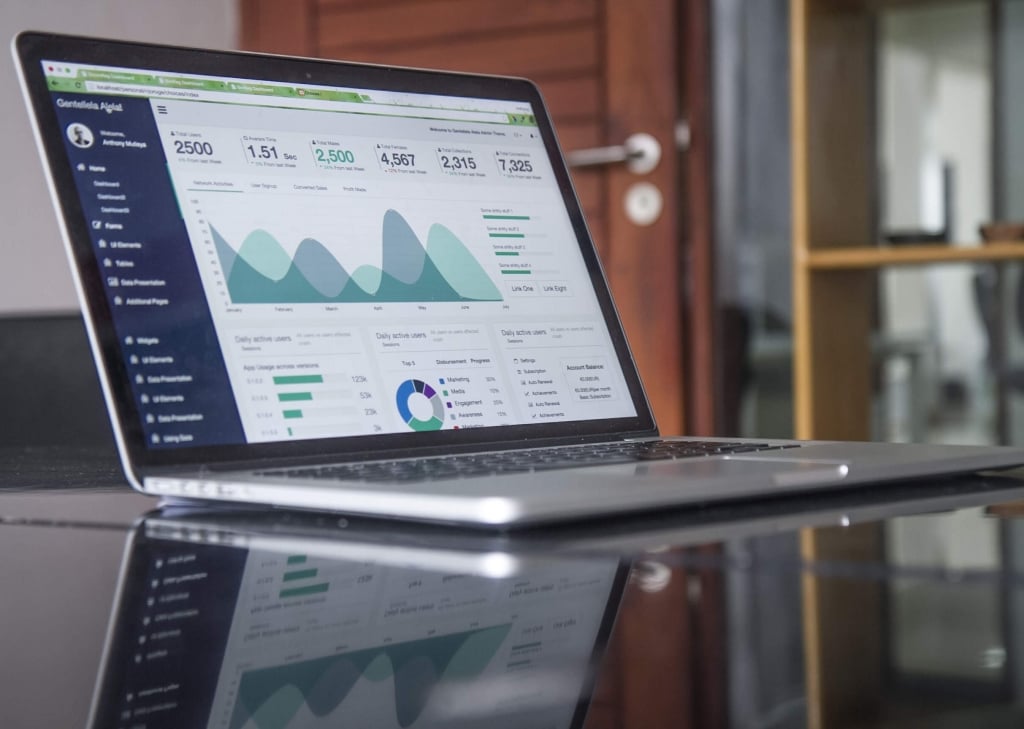 Photo by Carlos Muza on Unsplash
Bear in mind that the words used in a description determine whether it will reach buyers or not. Engaging and informative descriptions that read like poetry are particularly effective at generating interest.
Yet buyers have to find them on search engines such as MLS or Zillow. By typing in certain keywords, buyers can find property listings that mention those features. That's why making your real estate listing descriptions SEO-friendly is crucial.
Now, keywords fall into three categories: generic, local, and hyperlocal. For an optimized description, you should aim for a mix of all three.
Generic keywords include words and phrases such as "sell home", "for sale", or "buy home". Local ones refer to locations, while hyperlocal keywords point to specific features, such as: "two-bedroom", "luxury", "ocean view", and so on.
Here are a few examples of top real estate keywords that you can use:
Best places to buy in [insert location]
Apartment [insert location]
Houses for sale
Luxury real estate
Sell house in [location]
Condos for sale
Townhouses for sale
Best schools near [area]
Long-tail keywords are also worth mentioning. These are the most detailed ones. Here is an example:" homes for Sale In Los Angeles under $500,000 with ocean view".
These bring most of the global traffic, so using them helps you rank at the top.
Think of your target audience. What are they most likely to look for on Google? Use tools such as Ahrefs or Ubersuggest to find potential keywords that make your website and real estate listing descriptions rank at the top.
Where should you place these keywords? Well, you should add them to your headlines, to the property description, and even to the alternative texts accompanying the images.
Lastly, make sure to share your property description on social media. This will further increase your brand's visibility and your chances of selling the property.
Achieve Your Real Estate Marketing Goals and Create Beautiful Listing Brochures with Xara
So, there you have it: your complete guide to creating a listing brochure and description that help grow your business. We've covered everything, from content to design tips. You are now well-equipped to start writing your next listing description.
Whether you want to choose a real estate brochure template or create flyers that stand out, we are committed to making the task easier and quicker for you.
This way, you can focus on what you excel at, helping people find their dream homes. Try out Xara Cloud for free and start creating your own real estate marketing materials. With no fuss.