8 Best Real Estate Agent Introduction Flyer Templates
If you're a new real estate agent and you are looking for fast and effective ways to promote your services and get new clients, you should not neglect the power of an excellent real estate agent introduction flyer.
In any new domain, real estate makes no exception; the beginnings are often the hardest. You might be uncertain about how to make your entrance and get noticed in this highly competitive domain. But don't worry; we've got you!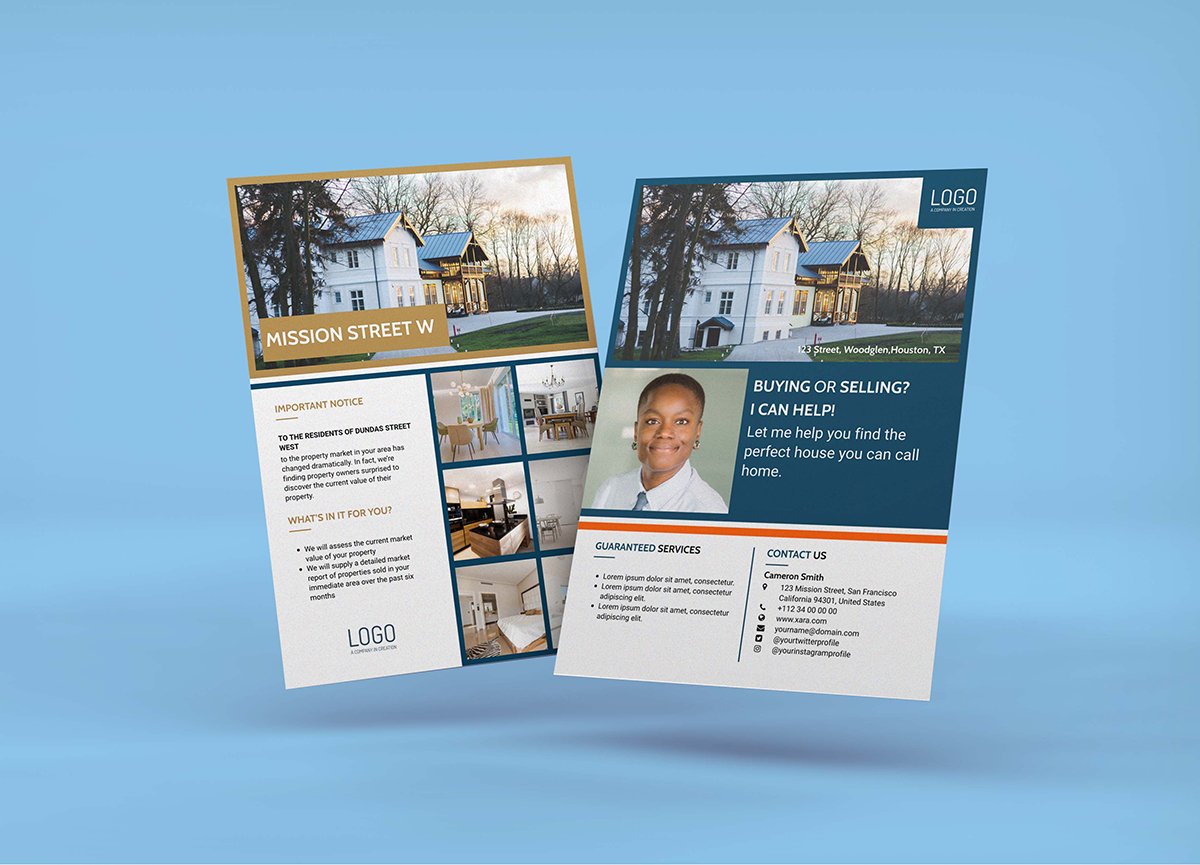 What Are The Benefits Of Real Estate Agent Introduction Flyers?
Real estate agent introduction flyers are a great marketing tool for expanding a client base. They highlight experience and expertise, showcase unique selling points, and provide valuable information. Agents can establish themselves as trusted authorities, attract new business, and introduce themselves to potential clients in their local market with introduction flyers.
We advise using real estate flyers to collect as many contacts as possible in your area. This way, you can start creating a network of people working with you or referring you to their friends or family. Here are some other key benefits of using flyers for new real estate agents:
Create a great first impression: showcase your expertise and professionalism.
Help build your personal brand and gain trust and credibility in your neighborhood.
Easily communicate your achievements and past success stories.
Share helpful information about the local market and the buying/selling process.
With this in mind, we've prepared a list of the most valuable real estate introduction flyer templates for new agents, including those with eye-catching graphic design, and some tips and tricks on using them for the best results.
1. New Real Estate Agent Flyer Template
Sending out a realtor promo flyer might be the best way to make an excellent first impression and introduce yourself as a real estate agent. This flyer lets you get noticed even if you are not the most experienced real estate agent out there.
Feel free to use our template, but don't be shy to use your photography, including your own photo, even if it feels weird initially. Buying or selling homes is a personal matter to most people, and they need to know they can connect with a real person, not a company name or a brand.
2. Important Notice Real Estate Flyer Template
This real estate flyer template has one goal and one goal only: to help you get contact details from people that might be interested in selling their homes in the near future. This real estate flyer template checks all the boxes to help you close deals sooner than you think, even if you're starting your career.
Don't limit yourself to one street area to maximize your chances of getting noticed. Personalize this flyer template for all the essential streets in your neighborhood.
3. Property Snapshot Flyer Template for Real Estate Agents
The property snapshot or housing stats flyer template is another great tool to get leads as a new real estate agent. It's one of the most informative flyers for real estate agents out there, and it's packed with valuable data to help you build credibility in your area. You can easily download this template and customize it to fit your brand and target audience.
You can use our template and send this type of flyer monthly to help buyers and sellers from your area stay up-to-date with the latest real estate stats and necessary information to satisfy their curiosity.
4. Just Listed Real Estate Flyer Template For New Listings
If you have a new property in your portfolio and want to close a deal fast while getting as many leads as possible simultaneously, there's nothing more effective than a just-listed real estate flyer. This flyer can be distributed to interested buyers, helping you to reach a wider audience and increase your chances of a successful sale.
You can use our template to create your just-listed flyer in minutes: all you have to do to make it your own is to add some attractive pictures and share the property's story and main selling points.
5. Just Sold Real Estate Flyer Template
The just sold real estate flyer is one of the best ways to communicate your achievements to the community in your area. It's useful because it can help grab the attention of house owners that might not have been aware of the demand or prices in the area. This can help them decide to sell. Moreover, you will be the first contact on their list.
You can use this just-sold template to collect leads from potential clients, including potential sellers, and increase your network, which is especially important if you're new to the real estate business.
6. Open House Flyer Template
The open house flyer template allows you to creatively promote your best offers by inviting potential buyers on-site. You can also host an online open house event to show them around without losing time. Additionally, you can share the event's details through social media posts to reach a wider audience.
Here's a beautiful open house flyer template you can use for free. All you have to do is add your best pictures of the property, and don't forget to update the time and place of the event.
7. Coming Soon Real Estate Flyer Template
If you want to incite your potential buyer's curiosity, sending out coming soon flyers should be your go-to strategy. With this type of real estate flyer, you can start collecting leads even before listing a property. All you have to do is promise your contacts that they'll be the first ones to know when the listing goes live.
With this type of flyer, it's ok not to give all the information on a property; add just enough data to capture the potential buyer's interest. Use this template to create your own coming soon flyers today!
8. For Rent Flyer Template
Real estate rentals are one of the most dynamic niches that most newbies ignore. Commissions might not be as high as in buying or selling niches, but rentals might be a great place to start, gain experience, create a reputation, and increase your network.
Here's a real estate rentals flyer you can customize to promote your rental offers.
Realtors – Find, customize, and download your marketing materials with Xara!
In conclusion, real estate agent introduction flyers are a crucial tool for new real estate agents. They help establish your brand and build credibility in your local market. By highlighting your experience, unique selling points, and valuable information, you can attract new business and establish yourself as a trusted authority.
We hope you found our list of the best real estate introduction flyer templates helpful. Customize them to fit your brand and target audience for the best results.
And if you're looking for an easy and efficient way to create and customize your marketing materials, check out Xara's Marketing Center for Realtors. You can create high-quality flyers, brochures, and social media graphics in minutes with various customizable templates and intuitive editing tools. Sign up for Xara today and take your real estate marketing to the next level!

Try Xara Cloud for 14 days and discover
the results
No credit card or phone number required.
Start creating instantly — 1 minute signup.