11 Tips & Templates to Create Real Estate Just Sold Postcards That Work
If you're looking for new ways to promote yourself as a real estate agent, look no further! We're here to show you how to create just sold postcards that work wonders to help establish you as the best real estate expert in your area.
Just sold postcards for realtors are also highly effective for getting new leads, increasing your portfolio of listings, and even attracting new buyers through direct mail. So if you think they're just for bragging about your latest selling, think again!
We will not only provide you with some of our favorites just sold postcard ideas and templates but also share expert tips to help you with your real estate marketing strategy.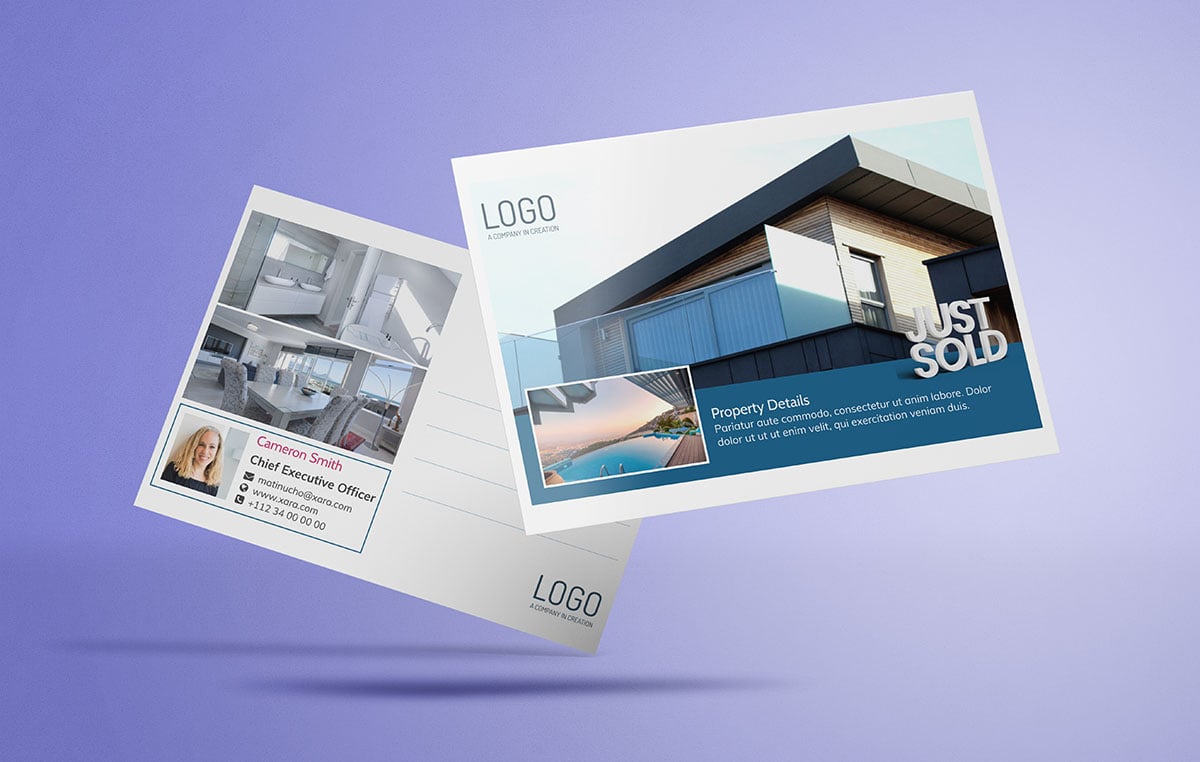 1. Think Local — Tailor the Just Sold Postcards to Your Area

Real estate just sold postcards are great to help you create a buzz in your local area and get new listings from people that aren't 100% decided to sell. They work by showing there's demand for properties in your area and revealing that people might be able to sell their homes for a higher value than they guessed.
Here's a template you can use to spread the word about your latest sales in the neighborhood. Don't forget to mention the exact location and why it's attractive to buyers: this will help motivate sellers to give you a call.
2. Promote a Special Offer
Everybody loves to get gifts, and that's why special offers are great for grabbing the attention of potential buyers. In addition, offering an incentive such as a free home valuation can increase your chances of getting new buyer leads and listings.
Use this just sold postcard template to promote your next special offer, and the leads will come pouring in.
3. Use Fabulous Photography

They say an image is worth a thousand words, and that's especially true when it comes to the real estate market. A great image can make your just sold postcard stand out and get noticed while helping you attract both buyers and sellers.
With the use of great photography, your just sold postcard can actually attract people who want to buy beautiful homes like the one you just sold, not just people interested in selling.
Here's a just sold postcard that works great to showcase stunning photography and graphic design that can help you get more leads.
4. Reflect Your Prospects Type of Home

For your just sold postcard to work and get the results you want, you have to highlight that you understand the unique challenges of each type of property. Personalization is key. For example, you should not send out real estate just sold postcards with country houses to apartment owners.
Use this template to send out just sold letters tailored to the specific type of home you are targeting. It will help establish you as an expert in selling this property type and eventually close similar deals.
5. Promote Yourself as the Area's Expert
To succeed as a real estate professional, you must market yourself as the go-to expert in a specific area. This way, when people decide to sell, they have already heard of you and feel they can trust you to close the deal fast, at the best possible price.
Using this just sold template will help you promote your knowledge and expertise in the real estate market in a specific area. Don't forget to include your picture and contact information so people can reach you to buy or sell. You can also include your website, blog, or social media channels, such as Facebook, so they can follow you online.
6. Include Testimonials
Testimonials are a great way to promote any business, and real estate is no exception. After all, a recommendation will always be more valuable and trusted by your audience than a commercial message.
A great way to make your real estate just sold postcards stand out is to include a testimonial from the former owner of the property you just sold. Here's a template you can use to tell the story from the seller's perspective and highlight their positive experience with your services.
7. Capture Emotions
Emotions sell, and most of our decisions are based on emotional factors rather than rational ones. That's why capturing the joy and excitement of finally selling a house on your just-sold postcard can be a great idea.
With this template, potential sellers will get the chance to envision themselves as the happy couple that's portrayed and decide to give you a call.
8. Show More With Less

In today's fast-paced world, people rarely have the time to focus and read all the details. That's why it's important to ensure that your real estate just-sold postcards capture the attention of your prospects and can be understood at a glance. This will make the property and your brokerage logo more memorable.
Here's a real estate postcard template that delivers its message quickly and efficiently without the need for many words.
9. List the Selling Price of the Just Sold Property
People are curious by nature and will always want to know how much the property got sold for, so don't be afraid to put a price tag on it! Your postcard is not the place to be shy since putting your name right next to an impressive price will also increase your value as a real estate agent.
Use this template to celebrate your sale, and homeowners will contact you, assuming you can do the same for them.
10. Include a Clear Call to Action
Whenever you work on marketing materials, you should be mindful of including a clear call to action. For example, your promotion will be so much more effective if you adapt your real estate just sold postcards wording to let people know what they should do next.
Here's an inspiring template to help you craft your next postcard with a clear call to action in mind.
11. Realtors - Automate Your Postcards!
As a realtor, automating the creation of postcards can save you time and improve productivity and efficiency.
Xara is the perfect solution for creating professional and attractive real estate just sold postcards. With Xara, you can easily customize your postcards to showcase your message and images while being automatically branded.
Xara even automatically fills the template with your listings' details from MLS using your listing ID. Moreover, you can choose from pre-made templates or create your own designs from scratch.
Try Xara today and see for yourself how easy it is to create high-quality real estate just sold postcards that will catch the eye of potential clients!
What size should I choose for my real estate just-sold postcards template?
For a professional and attractive real estate postcard, choosing a standard size of 4×6 inches or 5×7 inches is recommended. This size allows for enough space to include eye-catching visuals and important information while still being cost-effective for printing and mailing.
Conclusion
In conclusion, just-sold postcards are a powerful tool for real estate agents looking to establish themselves as experts in their area and attract new leads. By tailoring your postcards to your local market, using great photography, and including clear calls to action, you can create a buzz and generate interest in your services.
Try Xara's Marketing Center for Realtors if you're looking for an easy way to create professional and attractive just-sold postcards. With pre-made templates and the ability to customize your designs, Xara makes it simple to create high-quality marketing materials. Sign up for a free trial today and see how Xara can help take your real estate business to the next level.

Try Xara Cloud for 14 days and discover
the results
No credit card or phone number required.
Start creating instantly — 1 minute signup.