How To Use SMS Marketing For Real Estate
The success of your real estate business depends on how well you nurture relationships with prospective clients. Real estate marketing is all about this. And one way to connect with your audience is through SMS marketing for real estate.
Around 6.64 billion people worldwide own a smartphone. It would be a missed opportunity not to give SMS marketing a shot. While brochures and social media posts are crucial nowadays, we would argue so is text messaging marketing.
So, today's article is all about leveraging real estate text message marketing in your best interest. We're gonna go through:
What Is SMS Real Estate Marketing?
7 Versatile Real Estate Text Message Ideas And Strategies
The Benefits of Real Estate Text Message Marketing
How to Get Into SMS Marketing for Real Estate
4 SMS Examples for Real Estate Marketing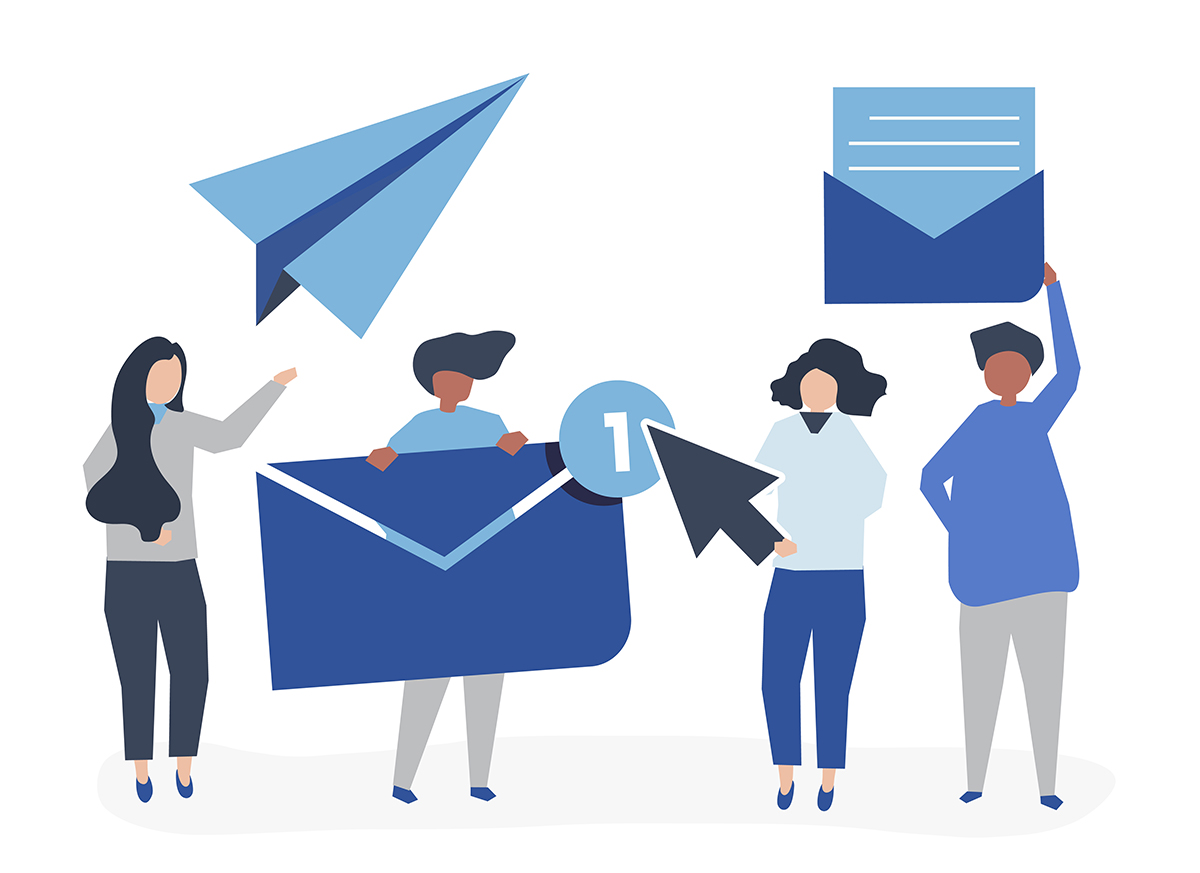 What Is SMS Real Estate Marketing?
Wait, SMS what?
SMS marketing is pretty much marketing through text messages. It's a method of staying in touch with your clients, getting new leads, and promoting your business.
It's quick, low-cost, and effective. Here are a few statistics that reveal the potential of real estate text message marketing:
We are glued to our phones. And the force of habit prompts us to check our phones, without opening any other apps, such as email or social media platforms.
It's easier to get noticed and attract potential clients with a text message. If text messaging real estate marketing isn't part of your growth strategy, it should be.
Here's how you can use SMS marketing for real estate in your daily interactions with clients.
7 Versatile Real Estate Text Message Ideas And Strategies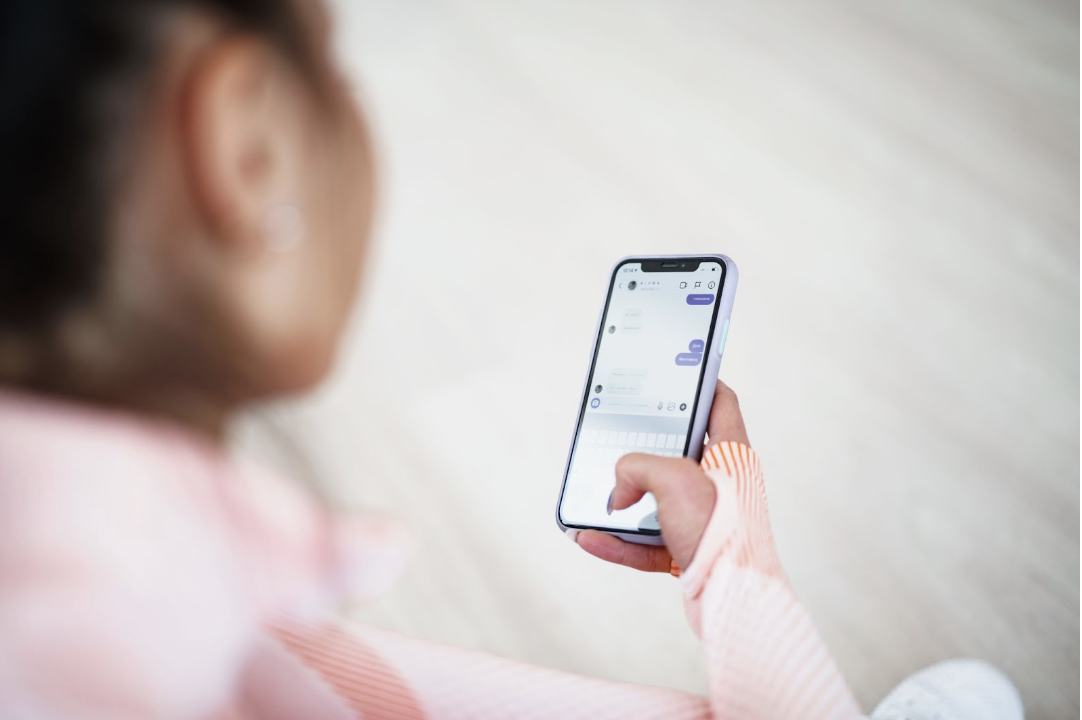 Think of SMS real estate marketing as an add-on to your current marketing strategies. There's no need to get rid of other techniques you're using.
Rather, use them to inform your real estate text message marketing game plan. Think of what your lead generation strategy is lacking. Could SMS advertising help with that?
SMS techniques have many uses, but here are 7 simple real estate text message ideas to help you get started.
1. Set Up Meetings with Home Buyers
Sure, you can set appointments in person, by phone, or through email. You can also do it through text messages. It's quick and easy. Plus, you can send follow-ups so clients don't forget about your meeting.
If you want to be even more efficient , you can use an app that sends automatic texts to your prospects.
2. Update Prospects On Listings
To capture leads, real estate agents have to stay in close contact with their target audience. They send out property info, print open house brochures, and update their social media channels on a regular basis.
With real estate text messaging, it's easy to keep interested buyers and sellers informed. Write your message and send it in bulk.
Plus, you can reach a wider audience, since not everyone spends their time on Facebook or checks their mail regularly.
3. Invite Home Buyers To Events
Real estate agents are all too familiar with the hustle and bustle of organizing a real estate event. There are so many things to get done, and time is limited.
One way SMS marketing for real estate can loosen your workload is through event invites. Instead of struggling to find everyone's emails, you can send bulk sms to those interested.
And if you really wanna go agile, you can use an invite app to automate texts and check in real time who RSVPd to your event.
4. Show Off Open Houses
In real estate, as in many other businesses, those who succeed are those who manage to capture the audience's attention.
While you can easily promote your open house events with text only messages, why not go the extra mile and include pictures or a digital open house flyer? With the MMS function, you can do it via SMS.
5. Collect Contact Details
All too often, the contact details of our real estate prospect get lost. With SMS communication, you can avoid all that.
Ask those who have opted to get texts from you to send out their contact details, such as name, budget, city, details about the house they're looking for, and email address.
6. Follow-up With Clients
Real estate agents probably know the importance of good timing when it comes to follow-ups.
A late reply can lead to lost clients. To avoid that, many agents go for real estate text messaging to follow-up on client communication.
7. Send Keyword Codes
Keyword codes help you communicate efficiently and fast with your real estate prospects. These are short codes that you assign to property listings.
This way, if a prospect texts you a keyword code, you'll know which property they are interested in and what kind of information to provide to them.
The Benefits of Real Estate Text Message Marketing
If you're like most real estate professionals, you're constantly looking for ways to improve your marketing game. And you don't have thousands of hours to waste.
What if we told you there is a way to stand out in the real estate industry without spending endless hours on creating ads?
By sending marketing text messages, you can increase your revenue and grow your real estate brokerage firm without a massive budget.
Here are just a few of the perks of using text marketing as a real estate agent:
Affordable For Every Real Estate Agent
Gets Repetitive Tasks Out Of Your Way
Crazy Conversion Rates
Versatility and Customizability
1. Affordable For Every Real Estate Agent
If you're just starting out, SMS marketing for real estate is a great tool. Even if you send bulk messages, it's generally more affordable than Facebook or Google ads.
This makes it a great alternative for small businesses or for those on a budget.
2. Gets Repetitive Tasks Out of The Way
Real estate text message marketing comes in many flavors. For instance, you can manually send each text or you can use real estate text message scripts and automate the task.
Say you are busy, and a client reaches out to you. With a subscription to a real estate texting service, you can automate replies with ease.
Just think of all the time you'll save and all the potential buyers or sellers that you can convert into customers.
3. Crazy Conversion Rates
No wonder that SMS marketing is the next big thing in the marketing industry. Converting people is the hardest goal to reach. Well, the data shows that campaigns run through texts have a conversion rate of about 29%.
That's crazy.
For reference, the CTR (click-through rate) is 9.21% for Real Estate Facebook Ads and 3.26% for email marketing.
So, if you're looking to attract more real estate clients, this is the way to go.
4. Versatility and Customizability
Perhaps the coolest benefit of SMS marketing for real estate is its versatility. You can use it in a myriad of ways to promote your business.
For instance, you can promote open house events or follow up on client meetings. Plus, each text message can be tailored to the target audience. While this is true for most marketing strategies, the short and snappy nature of a text makes it easy to tailor according to the reader.
How to Get Into SMS Marketing for Real Estate
If you're like most people, once you find out about the power of SMS marketing, you'll want to incorporate it in your business strategy plan.
Even though it may seem overwhelming to get started, don't worry. We have gathered the best practices of SMS marketing.
Ready to start your first SMS real estate marketing campaign? Check out these tips.
Get Interested Leads
Don't Send Unsolicited Messages
Know Your Audience
Give Them What They Want
Introduce Yourself
Make Sure The Timing Is Right
Mind Your Tone
Add a Call To Action
1. Get Interested Leads
Before you can even start thinking about texting prospective buyers, you have to figure out how you'll find subscribers for your SMS plan.
You'll have to get creative about it, but there are many ways to get contacts. For instance, you can set up a gift card giveaway at real estate events. Those interested can sign a coupon with their phone number and name to enter the contest.
You can also advertise your phone number on other channels and let prospects know that if they text a unique code, such as "Yes", they can get access to open house invitations or property listings.
2. Don't Send Unsolicited Messages
Nobody likes a pushy salesman. As a real estate agent, the customer's needs always come first. So, before you get all excited about sending prospects a bunch of updates about new listings, ask for their permission.
Send only one text to check if they want to opt-in to your SMS campaign. If they don't reply, don't bombard them with texts.
3. Know Your Audience
The more you know about your real estate prospects, the better you'll be at converting them into clients.
Text messages are a way of connecting with your audience. In order to have a successful campaign and capture leads, you must understand their desires intimately. Otherwise, they will opt out or worse — ignore your messages.
To understand the audience's pain points, needs, and wants, sketch out your ideal customer with a buyer persona report.
How old are they? What's their budget? Where do they live?
After you've collected these details, it's time to collect their information. The most effective way to do that is by asking users to fill out a form with their express consent – either on your website, during viewings, or through targeted ads.
4. Give Them What They Want
Your prospects signed up for your SMS communication for a reason. Don't send messages unrelated to what they signed up for.
This will make you come across as pushy and unprofessional. Rather, send those interested in buying a house any property listings available and suitable for them and send sellers any real estate events they might be interested in.
5. Introduce Yourself
Don't assume that your prospects have you in their phonebook. Rather, treat this text interaction as you would treat a first meeting.
Would you skip introductions?
Probably not. If you want to get prospects to interact with you, identify yourself. Otherwise, chances are you'll be left on seen.
6. Make Sure The Timing Is Right
Trust me, nobody likes to be woken up at 3 am by marketing text messages. To avoid that, make sure you check the time zone before sending a text.
7. Mind Your Tone
It's easy to misinterpret texts. They lack other contextual cues, such as body language or tone of voice.
To promote your SMS real estate service, make sure you stay positive and cut straight to the point. Here are a few tips:
Always start with a greeting. This will make the interaction flow naturally and prevent you from looking like a pushy marketer.
Don't send one-word responses. If you've ever felt confused or rejected by a friend's "ok" reply, you'll know what I'm talking about.
Keep it short and to the point. You only have 160 characters to impress.
End on a polite note.
Double check all your texts. The last thing you want is to send out the wrong address for an event.
8. Add a Call To Action
A well-crafted call to action will raise your conversion rates.
After all, you're sending out texts because you want to prompt prospects to choose you as their real estate agent. Let them know what they have to do.
Do you have an awesome upcoming open house event? What do they have to do to make a reservation? Here are some ideas: "Book here" "Give me a call to book a viewing".
4 SMS Examples for Real Estate Marketing
By now, you should be well-versed in the art of crafting SMS for real estate marketing.
Still, we've gathered the best SMS examples for real estate marketing we could find on the web. Take a look.
1. Confirm Appointments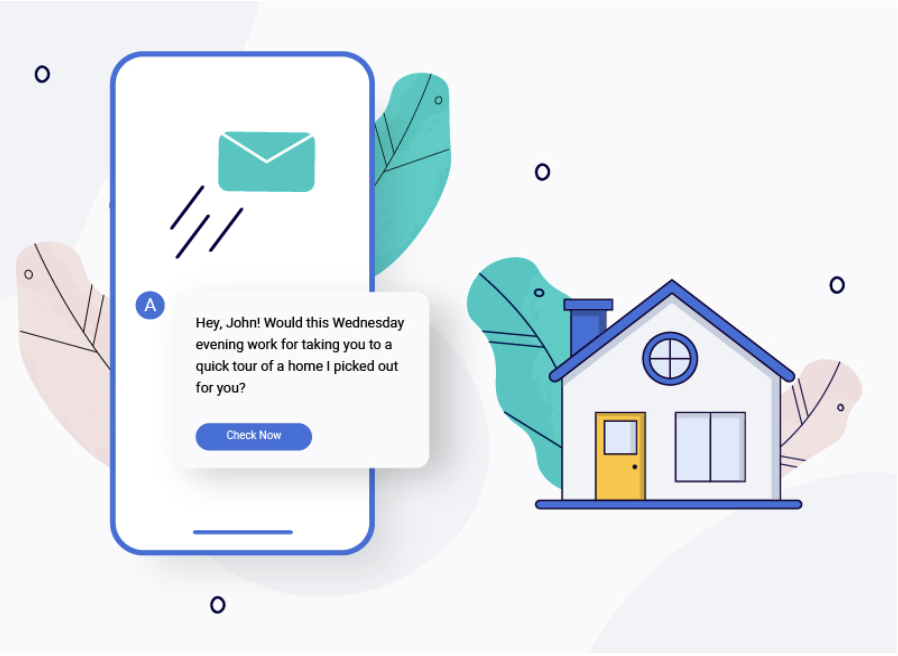 2. Set Out Shortcodes To Provide Property Information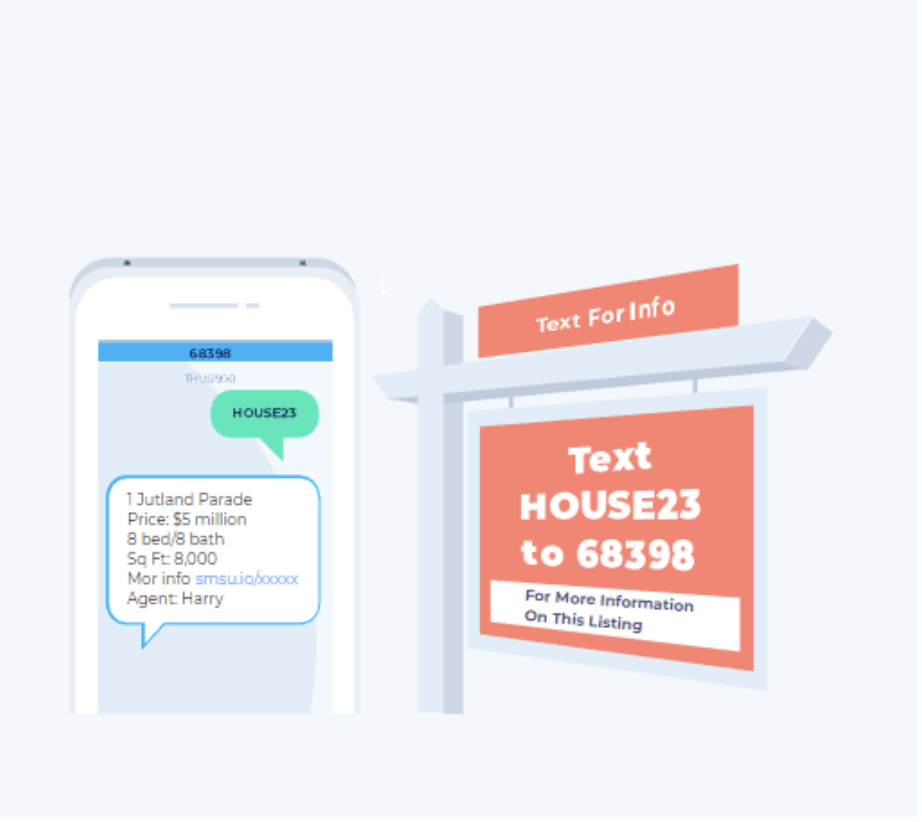 3. Provide Quick Updates To Clients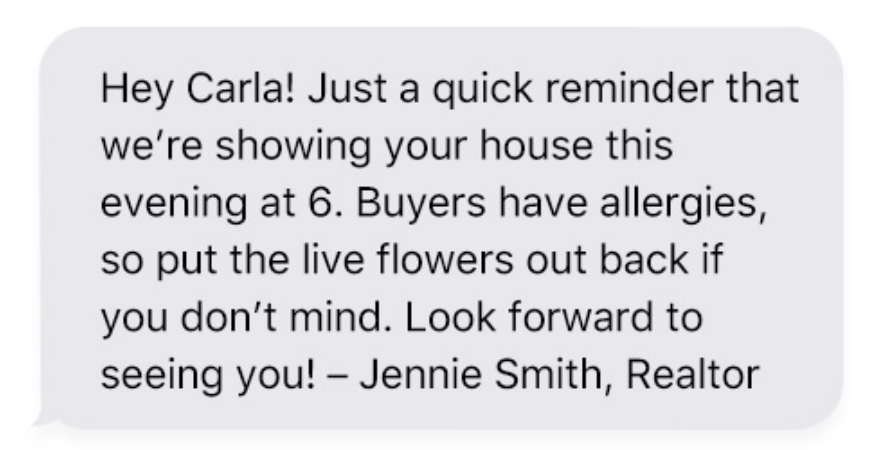 4. Show Off Open House Events By Including Pictures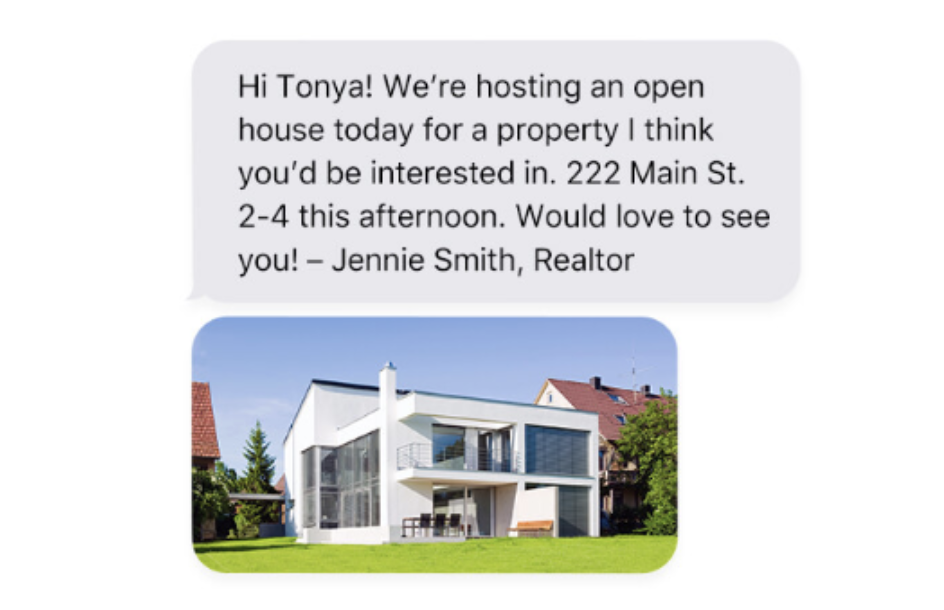 Try Xara Cloud for 14 days and discover
the results
No credit card or phone number required.
Start creating instantly — 1 minute signup.