9 Tips and Templates for an Open House Brochure That Sells
The primary goal of an open house brochure is to pique the interest of potential buyers and make them want to attend the open house event.
For people to show up, the brochure needs to stand out and catch the attention of homebuyers. After all, someone who is looking for a better home has already gathered enough flyers on their office desk—enough for life. So aim to be unique and communicate that you are the best realtor on the market.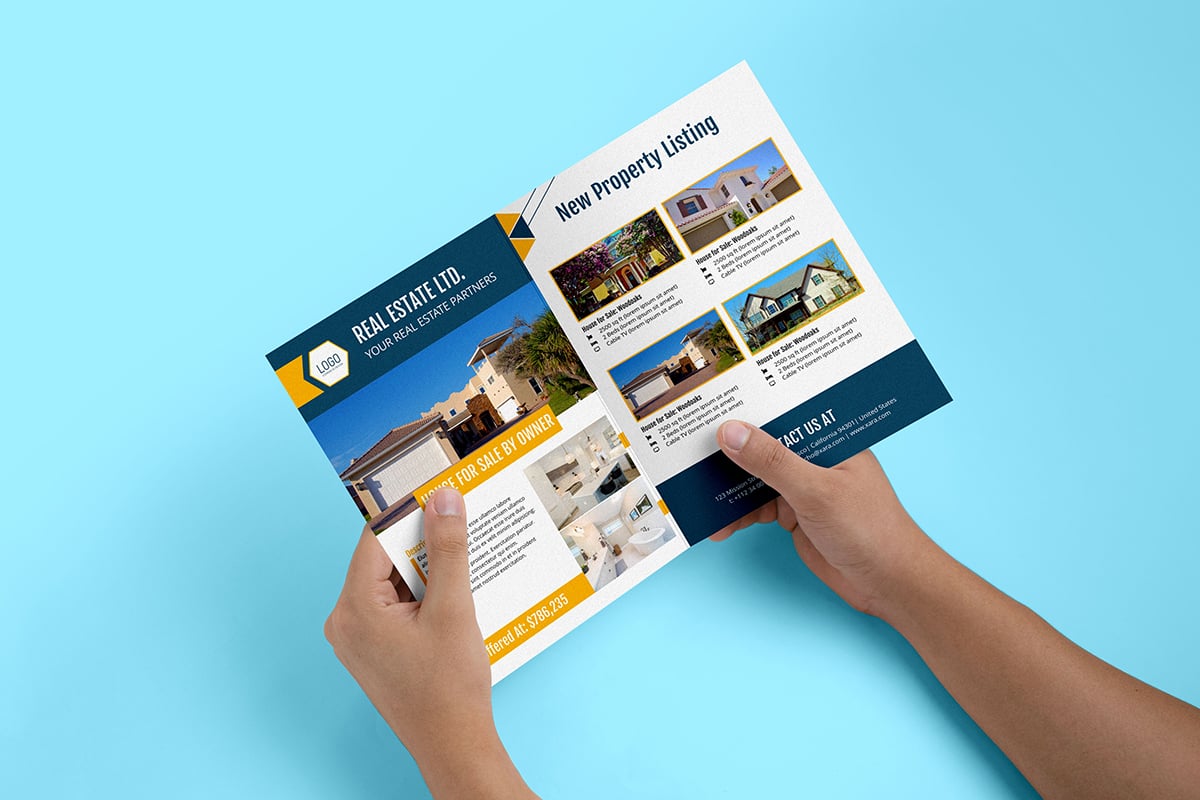 For example, a professional-looking brochure, such as a bi-fold or trifold brochure with eye-catching photography conveys a clear message that you're willing to go the extra mile.
To help you achieve this, we've put together a few practical tips to design open-house brochures that turn the eyeballs in your direction and boost your home sales.
1. Gather the Relevant Information and Make it Visible
Like any poster for an upcoming event, an open house invitation needs to contain all the relevant information as well. And you want it to be seen and remembered, correct?
Below, we've listed some of the essential details you need to include and a template showing where to put them.
House Features
Highlight the best features your home has to offer to entice your viewers to attend the event. Additionally, consider listing facts like the proximity to the city center, airports, schools, parks, and even malls (everyone loves to go shopping).
Put some serious thought into it, as these could be your selling points. And don't forget to mention the latest upgrades, such as a new jacuzzi or the new kitchen island.
Event Details
How you set the date and time for the open house event is vital to boost attendance numbers. Should it happen on a Saturday evening, or maybe Sunday afternoon? Read this article to learn how to schedule the right time and day for a result-oriented open house event.
Real-Estate Agent Details
Your details are important. It's how your potential buyers can get in touch with you or field your inquiries. Include your name, the best headshot, and contact information.
2. Choose Bi-fold or Trifold Brochures
Advocate your upcoming open house event with a bi-fold or tri-fold brochure. They could make a huge difference.
You can include even more photography and other relevant details and it won't look overcrowded. More than that, your customers will appreciate the extra mile.
3. Choose the Right Open House Brochure Style and Follow It
While there are hundreds of brochures, we recommend customizing each one of them to capture the personality of each home.
Let's say you're organizing an open-house event for a modern home decorated in a more minimalist style. The best way to showcase it is to design a brochure in a similar style to the house.
If your customers are looking for a modern, minimalist home, this template will catch their interest in a glimpse. Not to mention that setting the right expectations leads to an increased chance of selling the property.
4. Showcase Your Best Photography
"A picture is worth a thousand words," right? Follow this principle when choosing your photography. Keep in mind to always pick the images with the highest quality and the best angles. These are the vital elements that transform your brochure into a piece that sells.
But most importantly, high-quality photos will help you achieve a more professional look and prevent your brochure from ending up in the trash can. Raw photos offer the best resolution quality. Don't over-edit them. A more natural look is always better.
Make sure to set your document in CMYK with 300 dpi. CMYK stands for Cyan, Magenta, Yellow, and Black. As a general rule, the CMYK format is best for printing color images. And 300 dots per inch are considered more than enough to get a high-resolution print.
5. Walk Your Clients Through the Property Before They've Seen It Live
Now that you've gathered the best photos, tell a story with them. This way, your potential buyer will feel like he's already walking through the house before even setting foot into it.
Brochures can do this for you, as you'll have more pages to embed the information you want.
Weave a beginning, middle, and an 'almost end' into your open house brochure. The 'almost end' represents the cliffhanger that triggers the need to discover more.
Start at the front door, go through the living room and other places you would like to be in the spotlight. But leave enough room for a mystery to keep the buyer's interest. This strategy will trigger the need to see more of the house. See the example below:
6. Be Bold and Colorful
Grab your buyers' attention with originality. Whether you have in mind a bold color that will catch your customers' eye or a statement that will arouse their interest, exploit it. For example, purple means royalty and luxury and will surely attract all the attention.
Be sure, though, to always match the color palette. Use the color wheel to guide yourself in your designs.
8. Subscribe to an Online Design Tool
Designing your open house brochures doesn't have to be expensive and time-consuming. And certainly, you don't need to become a master of Adobe suite, either.
Some online tools help you craft professional-looking templates in minutes. And Xara Cloud is definitely one of those tools. Our intuitive and easy-to-use platform allows you to create branded templates for any use case. Plus, you can get started with a free account to explore hundreds of real estate open house templates ready to be customized.

Try Xara Cloud for 14 days and discover
the results
No credit card or phone number required.
Start creating instantly — 1 minute signup.