6 Real Estate Letterbox Drop Ideas and Templates to Get More Leads
Real estate letterbox drops are one of the most well-known promotion techniques out there. Their effectiveness has been proven, and they've stood the test of time. Most successful real estate agents still use them to find their way into their prospects' mailbox.
But in this age of digital marketing, you might be wondering if it's still worth doing letterbox drops as a real estate agent. It's understandable that you might think they're outdated, but the truth is they're still one of the best ways to win new leads.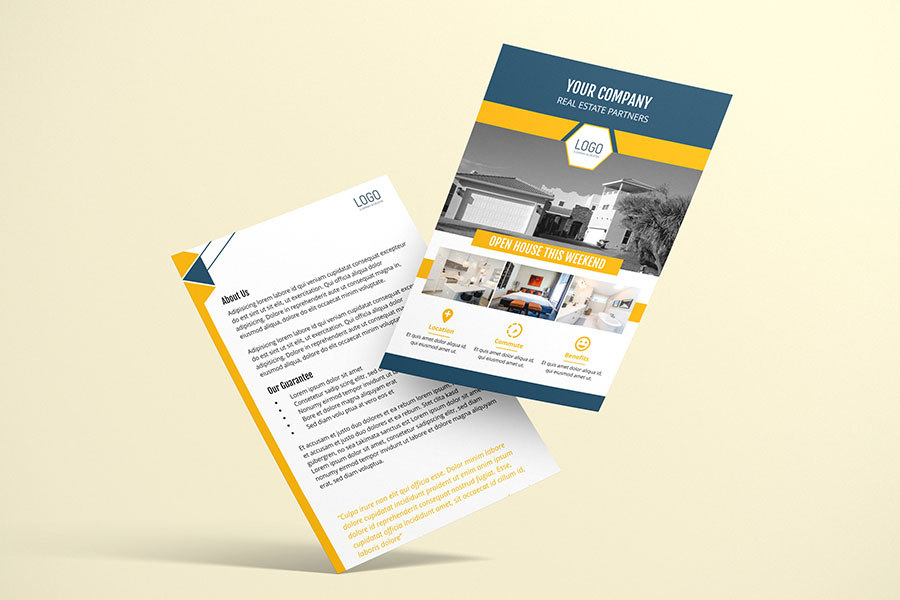 Let's take a look at the main reasons why mailbox marketing is still a relevant and effective way to promote your real estate business:
Cost-effectiveness
Hyper-local targeting
Direct placement into the prospect's view
But there's a catch: if you want the best results, you can't use the same old letterbox templates everybody else uses. Instead, your real estate flyers have to be creative, express a clear message that stands out, and use an innovative and appealing design.
While everyone else is doing digital marketing, we advise you to think inside the box (the prospect's mailbox) and stand out using our creative real estate letterbox templates.
1. Hyper-Local Prospecting Letterbox Template
One of the most important benefits of sending out letterbox drops is that you can hyper-target them to a specific area, a neighborhood, or even a street. This way, you can grab your prospect's attention with ease and start a conversation about their needs and how you can help them reach their goals.
This street notice letterbox template is one of the most successful real estate templates out there, and for a good reason: it allows you to micro-target down to the street level and show you understand the unique challenges that come with a particular area.
2. Agent Profile Letterbox Template
The agent profile letterbox template can help you stand out in today's competitive real estate market and get new listings in no time.
Be sure to include specific reasons why sellers should work with you and not your competition. By using this template, you can address the pain points of sellers in your area and offer them an easy solution.
3. Sellers Market Notice Letterbox Template
As a real estate professional, you have to share your knowledge of how the real estate market works in a given area.
With this template, you can easily let your area know when it's the best time to sell and why. This way, you can convince sellers to act fast if they don't want to miss out on emerging opportunities.
4. Just Sold Letterbox Template
The just sold template is already a classic when it comes to real estate letterbox templates. It works by showing your potential customers you've got what it takes to close deals fast, at the best prices.
By using our template, you can also add some value to the classic just sold letterbox template by adding a free evaluation offer to collect more leads from potential sellers.
5. For Sale Letterbox Template
While it's far more used as a technique to get more sellers interested in your services, you can use a letterbox drop to get the word out on your newest listing as well. For example, you can target people that are ready to make a lifestyle change and move to a new location. This way, they will feel like they saw your flyers at just the right time and decide to give you a call.
Here's a beautiful template that can help you sell a home by promoting a lifestyle that people in a certain area desire and dream of.
6. Property Evaluation Letterbox Template
Offering a free evaluation is one of the best ways to collect new leads as a real estate agent. Initially, people might contact you out of curiosity or just to get a glimpse of the prices they could get for their homes. But if your evaluation sounds attractive enough, they might decide to sell right away.
Use this property evaluation letterbox template to collect new leads, increase your network and get more listings fast.

Try Xara Cloud for 14 days and discover
the results
No credit card or phone number required.
Start creating instantly — 1 minute signup.