25 Real Estate Business Card Quotes and Slogans to Make the Best First Impression
Real estate business cards are a great way to keep in touch with your prospects. But how can you make sure your business cards make an excellent first impression and encourage your prospects to follow up?
Using real estate business card templates to design your own is a good start, but you don't want your business card to look exactly like your competitors. That's why you need to go the extra mile and add some value to your business card design to make it stand out.
A great way to personalize your business card is by adding a personalized quote or a slogan to it.
Here's why you should be using real estate business card quotes to promote yourself and stand out in this competitive industry.
Build trust within your prospect base
Ensure your business card is kept and remembered
Showcase your values and expertise
Show empathy and passion for what you are doing
To help you find your own business card slogan, we've compiled a list of catchy real estate business card quotes you can use today.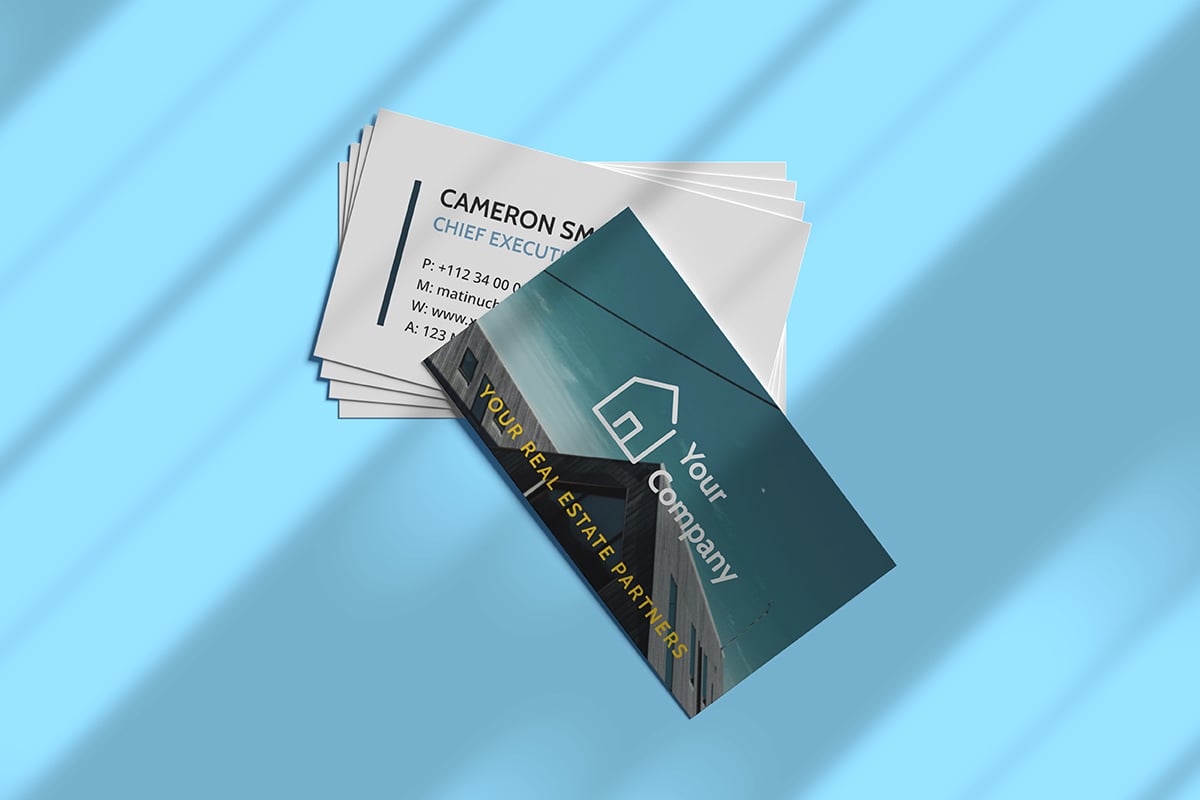 Inspiring Real Estate Business Card Quotes
Buying or selling a home can be emotionally overwhelming for anybody. Using an inspiring real estate business card quote can reassure your prospects that they are on the right path, helping them dream of a better future.
Here are our favorite inspiring and motivational real estate quotes you can use to reassure your prospects that you understand their needs and you're there for them.
"Home is where your story begins."
"A house is made of bricks and beams. A home is made of hopes and dreams. We'll help you find your home."
"I'm not a salesperson, I'm a matchmaker. I introduce people to houses until they find the one they love."
"Matching the right homes to the right people."
"Where dreams come home."
"Home is a place where you can be you."
"Live where you are inspired."
"Your dream home awaits."
Funny Real Estate Business Card Quotes
It's always a great idea to showcase your personality on your real estate agent business cards. If you're the kind of person who always tells jokes to make people smile, there's nothing wrong with adding one to your business card as well.
Remember, a little fun can go a long way when it comes to making sure your prospects remember you.
"Keep calm and call a realtor."
"Buy land, they're not making it anymore."
"The best time to buy a home is always five years ago."
"If at first you don't succeed, I can get it sold for you."
"Everything I touch turns to sold."
"Go BIG or go homeless."
"Been there. Done that. Sold this. Bought that."
"You only list once when you list with me."
Attention-Grabbing Real Estate Business Card Slogans
In the competitive real estate marketing world, getting people's attention and making them act is the ultimate prize.
Using actionable quotes or slogans on your business cards for real estate can encourage people to grab the phone and call you immediately. Here are some examples:
"Don't wait for the right opportunity; create it."
"Price is what you pay. Value is what you get."
"Find your place."
"Move to what moves you."
"I'm your REALTOR. Welcome home."
"If time is of the essence, call."
"The hunt is over."
"You will be moving in the right direction with (name)."
How to Add Quotes to Your Real Estate Business Card
If you loved our ideas, here are some additional tips to help you choose and design the right slogan for your real estate business card.
1. Keep it Simple
A business card has limited space, and besides your slogan or tagline, you still need to spare some room for your contact information as well. Go for a simple, catchy, and easy to remember saying and try to keep it under ten words.
2. Fonts Matter
If you include a quote on your business card, make sure you use a font that's easy to read and print. Remember that it only takes a few seconds to make a first impression, and in order to be successful, your quote needs to stand out immediately.
Consider using slightly different fonts for your tagline and contact information to differentiate them at first glance.
3. Be Original
Choose a quote that feels like you've written it yourself, and if you can't find one, create your own. Don't settle for a vague business card quote that could work for any real estate agent. Go for something unique that people can connect to your person.

Try Xara Cloud for 14 days and discover
the results
No credit card or phone number required.
Start creating instantly — 1 minute signup.