52 Catchy Real Estate Business Card Quotes to Make You Stand Out
Never underestimate the power of a realtor's business card. Passing them around is like planting the seeds for your future business. You may not always see the benefits immediately, but those rectangular-shaped paper advocates do a great job in the long run.
Real estate business cards encourage people to act while growing brand awareness. They help people who attended your open house events know how to contact you. They position you in the mind of those who one day find it in their wallet and decide to hold on to it. Then, some people may not need their services but remember that they have your card and recommended you to a friend.
Regardless of the situation, if you want to promote your real estate agency, your business card will play a major role. So, if you want to leave a lasting first impression, ‌create real estate business cards that reflect your style and brand, then add a twist.
Now, the question is, what do you write on real estate business cards besides contact information? What's the twist, the catch, the hook that will help me sell real estate?
We have an idea! How about real estate business card quotes and slogans?
How Can Quotes and Slogans Make You Stand Out as a Real Estate Agent?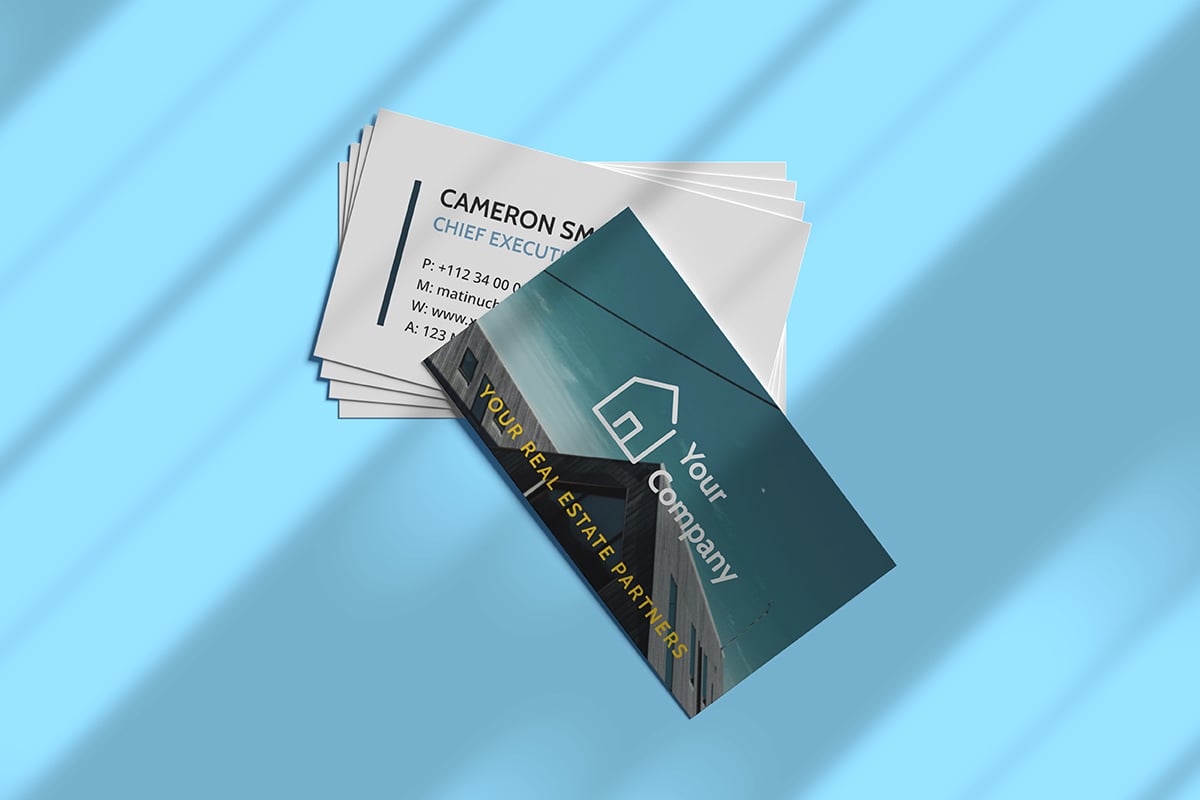 Every provider of reliable real estate services has a business card. But how many of them have the winning card? The one that actually helps them sell properties?
If by now you realize that your real estate agency will stand out by using catchy real estate slogans and adding creative details, you're on a good path.
Here's why catchy real estate slogans matter:
They motivate prospective buyers to find their dream homes.

They attract more homebuyers and sellers by offering a personal touch and

helping people remember you

.

They showcase what you stand for and what your identity is.

They reveal your passion for real estate services (if crafted well).

They give you an advantage over many agents who don't use them.
So, let's explore 52 quotes and slogans from the real estate industry to help inspire your new and improved business card!
Attention-Grabbing Real Estate Slogans and Taglines Examples
1. "The Right Agent Can Lead The Way." Re/Max
Why this works: Home-seeking is troublesome for buyers because of the stress that comes with it. This realtor slogan by Re/Max hits the spot, as it simplifies home-finding hassles.
Knowing that a client-focused agent will guide them on their way to their dream properties, buyers gain peace of mind and assurance. Since a person investing in a real estate solution is looking for a hassle-free way to gain extraordinary results, this slogan is a great example.
2. "Love Where You Live" – RealNY

Why this works: RealNY knows that the best real estate slogans are the ones that inspire and reach the emotional side of clients. They know that a home should be an oasis, a joy ride, a place that reflects our values, style, and personality. 
They make it clear that they're on a mission to help buyers find a place they love. This realtor slogan appeals to the audience's needs and motivations.
3. "Make Yourself at Home" – Corcoran

Why this works: Corcoran hits a sweet spot for home seekers and provides trusted real estate services aimed at families. They help people find a cozy place that they can call home. 
Everyone knows that finding a house is not easy, and many people worry ‌it might not feel…well, homey. This tagline eliminates the fear of missing out on exceptional properties, as it already promotes a state of coziness in your future home.
4. "Properties of Distinction" – Aston Chase

Why this works: This tagline is geared towards a niche audience interested in luxurious properties, and it does so successfully. This premiere real estate agency offers the finest properties and services in London. Aston Chase's catchy slogan draws viewers interested in exquisite partners who can help them find luxury real estate.
5. "We're Here to Guide You Home" – Rew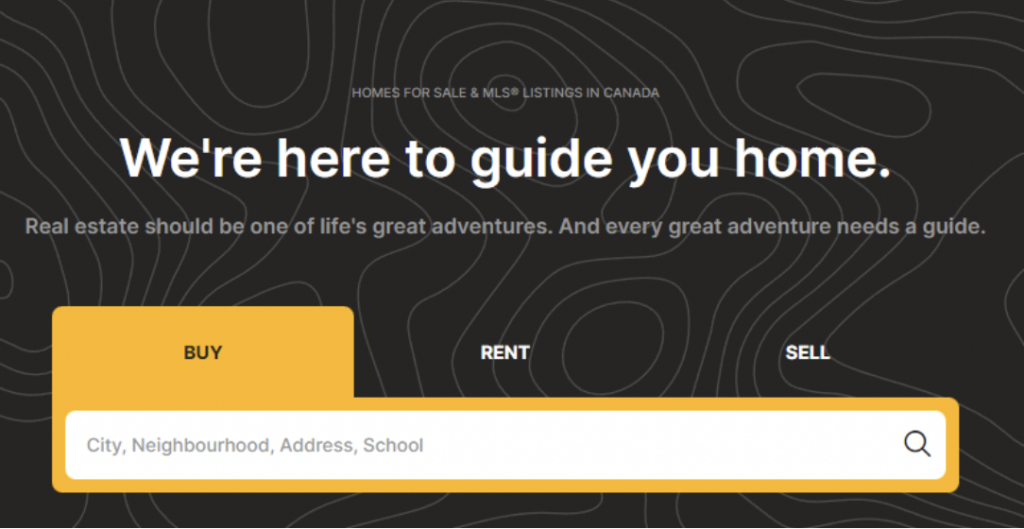 Why this works: When we're looking for realtors, we want trustworthy, reliable, full-service agents to guide us through the process of finding our home. That's exactly what Rew promises. Plus, it reminds buyers and sellers that real estate it's changing lives, and it's exciting, which makes people feel inspired.
6. "Life's Taking You Places. We'll help You Get There." – Engel & Völkers

Why this works: This realtor slogan that taps into excitement and guidance. Engel & Völkers show commitment to helping buyers find the right home solutions, no matter where they're at. This real estate company clearly has an extraordinary reach if they can help you in your home find problems 'around the globe,' which increases trust. 
7. "Your Move." – The Agency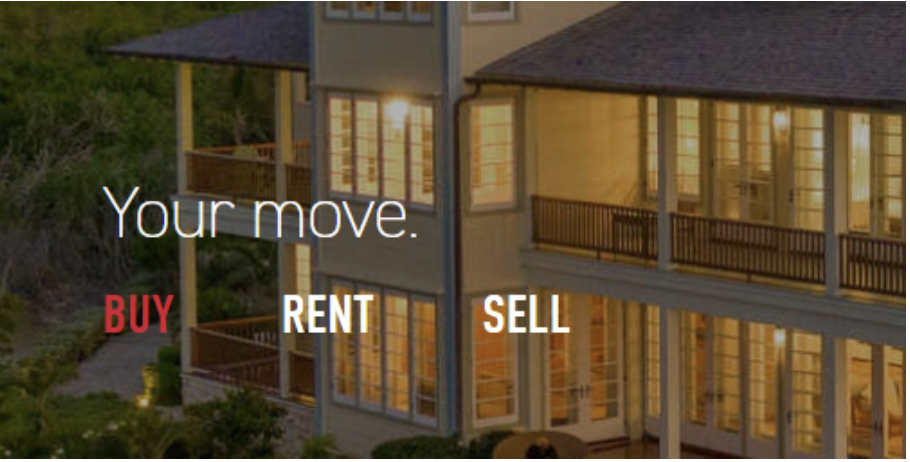 Why this works: We really like this real estate slogan by The Agency. It's simple, yet inspiring and action-driving. Prospective buyers and sellers are looking for someone who knows the industry and has proven experience. Being bold, confident, and taking charge shows unmatched excellence.
8. "Find Your Happy" – Right Move

Why this works: Realtor slogans that focus on emotion are bound to attract customers. Happy is a positive emotion. Thus, redefining real estate to match this emotion is a great idea for brokerage marketing.
Inspirational Real Estate Quotes For Business Cards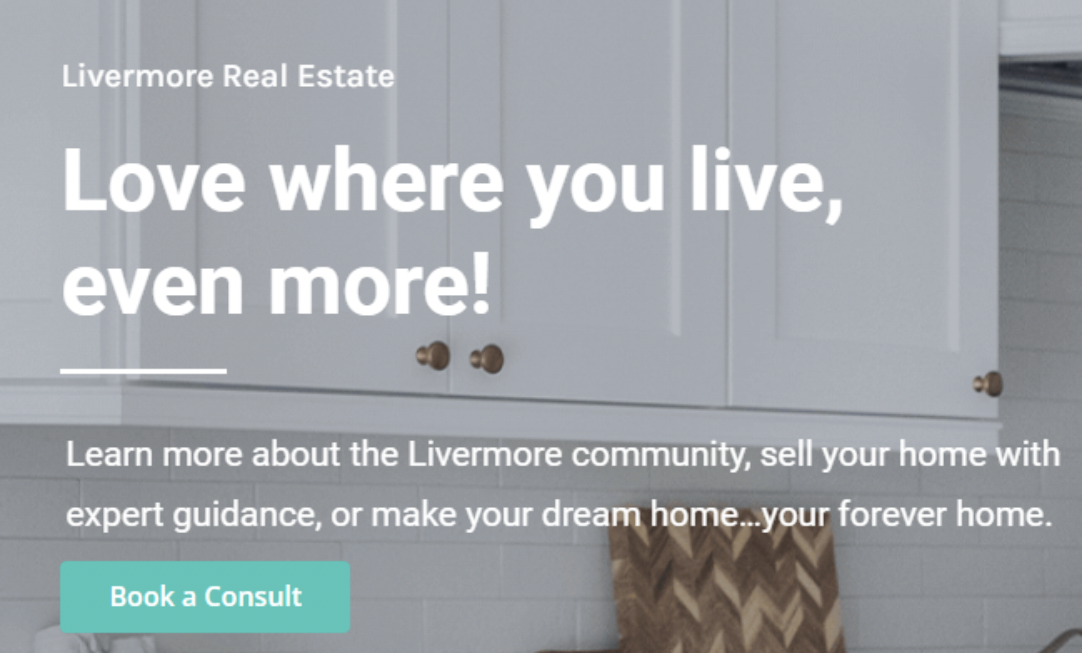 Buying or selling residential real estate is a challenging business. Dream realtors understand the challenge but guide the customer in such a way that switches the burden on their shoulders.
Using inspiring real estate business card quotes can reassure your prospects that your trusted real estate services will help them achieve a better future.
Thus, here are our favorite motivational real estate quotes to show prospects that you can help them find their dream properties today:
"Wake Up In a Home You Love."
"Making Realty Dreams a Reality."
"Your Dream Home Awaits"
"Because Real Estate Doesn't Have to Be Complicated."
"Matching the right homes to the right people."
"Home is where your story begins."
"Unlock the Door to Your Dream Home."
"Making Your Real Estate Dreams a Reality, One Home at a Time."
"Your Home is Our Passion."
"Opening Doors to Your New Beginning."
"Creating Connections Between You and Your Dream Home."
"Real Estate, Real Possibilities."
"Finding Your Perfect Place to Call Home."
Catchy Real Estate Business Card Quotes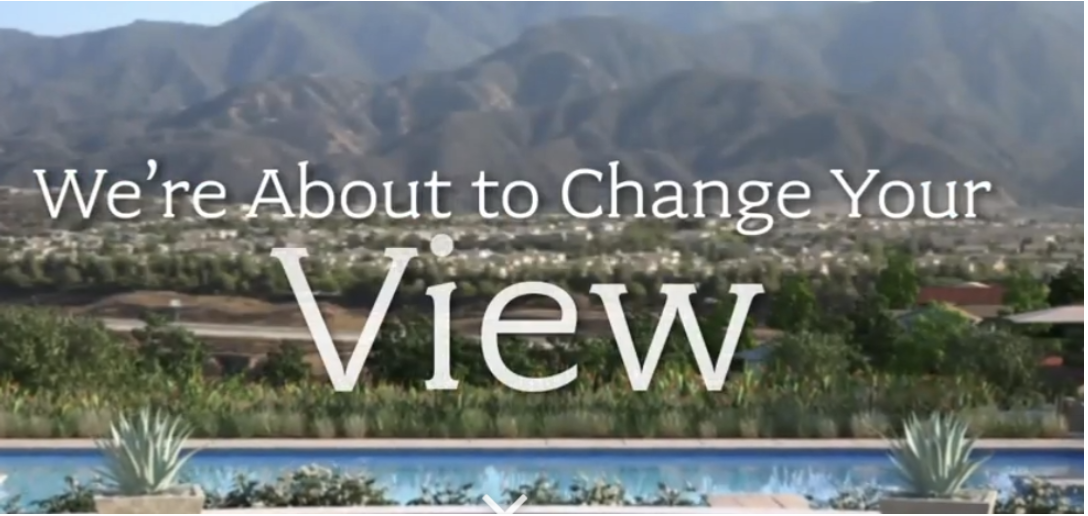 In the competitive real estate marketing world, getting people's attention and making them act is the ultimate prize.
Real estate quotes for business cards in their greatest form are actionable. They encourage people to grab the phone and call you immediately to sell or buy real estate.
Let's see some examples:
"Don't wait for the right opportunity; create it.
"Price is what you pay. Value is what you get."
"Find your place."
"Move to what moves you."
"I'm your REALTOR. Welcome home."
"If time is of the essence, call."
"The hunt is over."
"You will be moving in the right direction with (name)."
"I'm the key to your new home."
"The World's Luxury Marketplace"
"Making your dream home a reality."
"Your satisfaction is my priority."
"I will find your perfect match."
"Take the first step to your new home."
"Your home is your story. Let me help you write the next chapter."
"Opening doors to your dream home."
"Find your happy place with (name)."
"Selling with heart. Buying with confidence."
"I sell homes, not houses."
"Where your story meets your home."
Funny Real Estate Business Card Quotes
A business card should showcase your personality too. If you're the kind of person who always tells jokes to make people smile, it's a good idea to add one to your business card as well.
A little fun can go a long way when it comes to making sure your prospects remember you. Don't be shy. Use funny real estate business card quotes.
Here are some funny real estate business card quotes to amaze and amuse your target audience:
"Happiness is eating tacos in your dream home. I can get you both, so let's taco 'bout it!"
"I need your listings. I sold all of mine."
"Keep calm. I'm your real estate agent."
"Been there. Done that. Sold this. Bought that."
Everything I touch turns to sold".
"I'm not just a real estate agent; I'm a matchmaker."
"I'm not just selling homes; I'm selling dreams."
"House Whisperer."
"I'm the Beyoncé of real estate."
"I'll find you a home that's worth the mortgage."
"I'm not just selling homes; I'm selling happiness."
5 Real Estate Business Card Design Tips To Make Your Realtor Quotes Pop
We hope this list of real estate slogans inspired you to write your own. If you loved our ideas, here are some additional tips to help you choose a real estate business card design that puts your slogan in the spotlight:
1. Keep it Simple.
A business card has limited space. Besides your slogan and a memorable tagline, you still need to spare some room for contact information. Go for a simple, catchy, and easy-to-remember structure. Try to keep it under ten words. 
2. Fonts Matter.
If you include a quote on your business card, use a font that's easy to read and print. Making a first impression takes only a few seconds, so your quote must stand out immediately.
Consider using slightly different fonts for your tagline and contact information to differentiate them at first glance.
3. Be Original
Choose a quote that feels like you've written it yourself; create your own if you can't find one. Don't settle for a vague business card quote that could work for any agent. Go for something unique that people can associate with your person or identify with themselves.
4. Include a Professional Photo
Make your business card stand out with your best-looking photo. It will help establish credibility and trust with potential buyers and sellers. A picture can also make your business card memorable; potential clients will put a face to the name and identify you easier. 
5. Don't Forget About the Contact Information of Your Real Estate Company
Ensure that your business card includes your name, phone number, email address, website address, and other contact information. Also, you can add your social media handle if you're active on social media. It will help you foster relationships and strengthen your network.

Try Xara Cloud for 14 days and discover
the results
No credit card or phone number required.
Start creating instantly — 1 minute signup.