Instagram Bio Ideas to Grow Your Brand
Images attract people. That's why Instagram has become the go-to platform for posting and sharing engaging images. Add your filter, use a caption and hashtags, name your location and your visual will be worth 1,000 words.
But most of the time, you won't need 1,000 words to make your brand stand out. Just like adding all the pretty pictures to your Instagram grid might not be enough to build a brand. You need some initial content to spark a conversation with your audience and determine them to scroll down your Instagram feed.
A good Instagram bio is that conversation starter. It helps you deepen relationships and makes your visuals come to life in the eyes of your audience. It also sums up what your brand is all about, so you can make a great first impression.
What makes a good bio for Instagram? Let's find out! In this article, we'll share the best Instagram bio ideas out there, with a brief focus on what an Instagram bio is and how you can make yours stand out.
Your Instagram Bio: The Key to a Lasting First Impression
An Instagram bio is the section right below your username that you can use to let your followers know a few things about you or your brand. Why is it important? Well, it's the first thing users see when they land on your profile. To make them explore the rest of your feed, here is what you can include in your Instagram bio:
A short description about you or your brand
A brand tagline that sums up what you stand for
A trust indicator (press mentions, awards, testimonials etc.)
A link to your website or other channels for users to get in touch
Hashtags and emojis
And choose your words wisely. That is because the Instagram bio character limit stands at 150 characters — no more, no less. If you want to see a good Instagram bio example, let's have a look at the profile of Sadia Badiei, or @pickuplimes.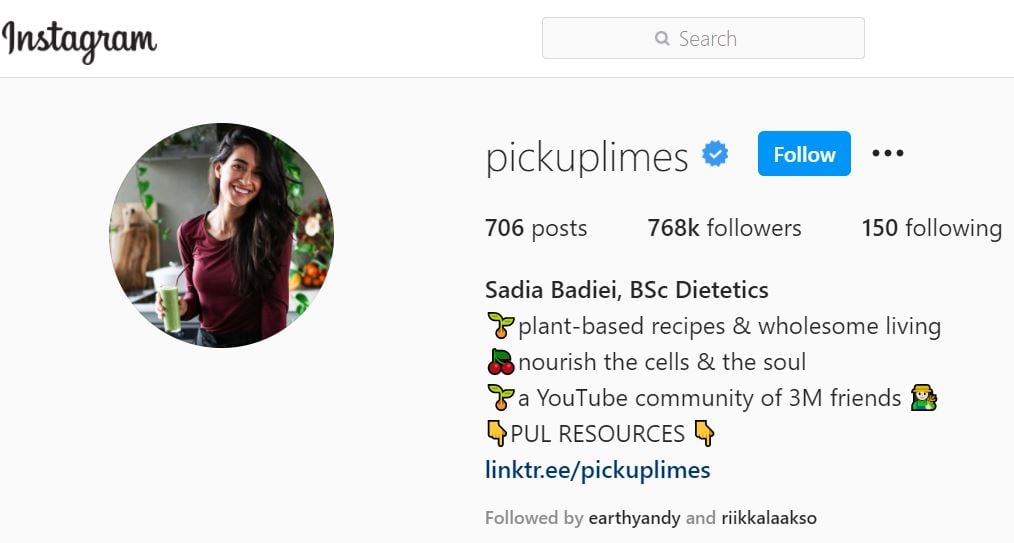 In the first line, we find what the Instagram page is all about — plant-based recipes & wholesome living. In the second, we get a sense of what the brand is all about — to nourish the cells & the soul. Then comes the trust indicator, which proves that the account is worth following. In this case, it's a YouTube community of 3M friends. And last but not least, we have the bio link, which prompts users to explore some of the recipes.
Sadia Badiei's grid looks pretty and delicious, but it's the 154-character bio that tells the whole story. We find that we are not just looking at pictures of food, but at healthy recipes that 'nourish the cells & the soul.' Luckily, the emojis complement that story quite nicely, reflecting the plant-based direction of the account.
Need more Instagram bio ideas for business? Explore our options and get inspired.
Instagram Bios — Ideas to Help You Get Started
Funny Instagram Bio Ideas
Everyone loves a good laugh. That's why a funny Instagram bio will help you lighten up the mood and make you more approachable towards your audience. However, there's a fine line between humor and offense. So you'd better choose your jokes wisely and makes sure your audience will resonate with them before you opt for a humorous Instagram bio.
The humorous reference to Grimace used by @McDonalds might be lost on some, but most will get a smile out of imagining the purple anthropomorphic being, or someone similar, taking over the brand's Instagram feed. @AnnaKendrick uses humor to humanize her celebrity status. To some she is an award-winning actress, to her Instagram followers she is an emotional eater.


💡 Tip: If you opt for a funny Instagram bio, make sure humor is part and parcel of your branding strategy. Otherwise, your jokes might come across as inauthentic or off-brand.
Instagram Bio Ideas with Emojis
Sometimes, it's best to let the emoji do the talking. It's clear, it's straightforward, and paints a good picture of your product offering. @Wendys Instagram bio consists only of emojis and an external link. @Forever21 and @DearKlairs use emojis to organize the information in their bio. Both highly effective strategies to save space and highlight important information.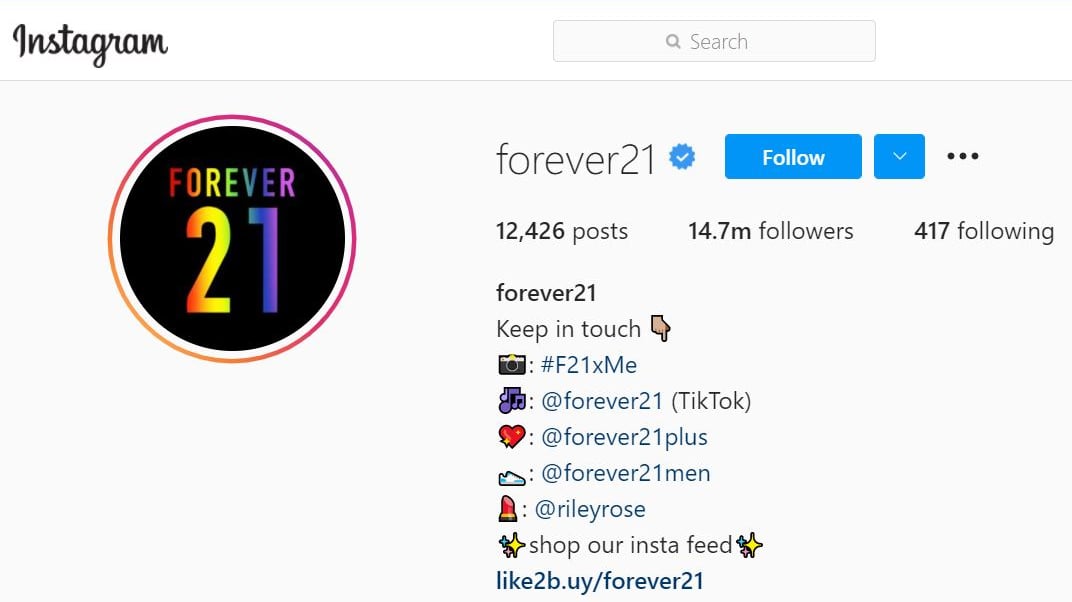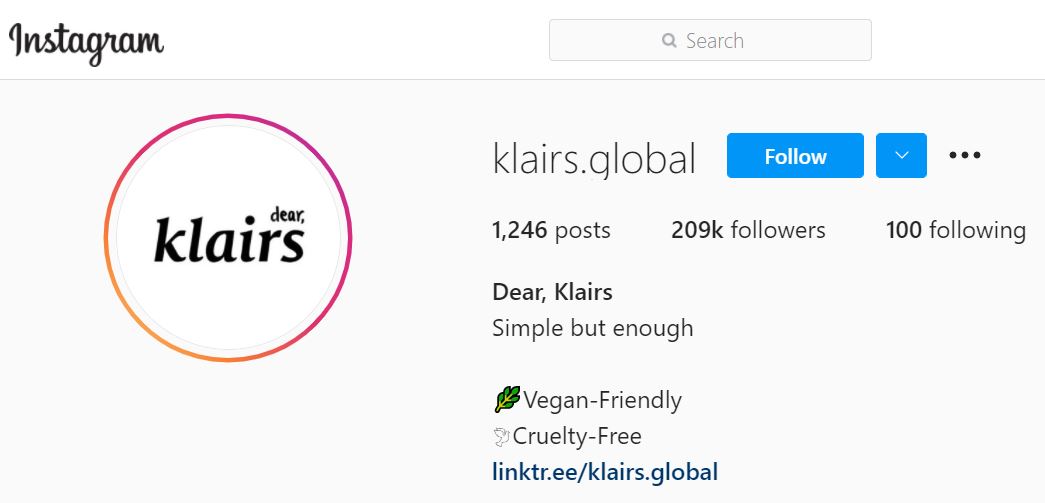 💡 Tip: To find the right emoji for your Instagram bio, you can either add them from your smartphone or explore them on your desktop at Emojipedia. If you own a MacBook, an emoji panel will appear if you press Control+Command+Space at the same time.
Instagram Bio Ideas that Highlight Your Brand Values
Some Instagram bios are descriptive, while others go beyond that. So is the case with @Slack or @Ikea that put their brand values to the forefront of their Instagram profile. In doing so, users see that the brand goes beyond their product or solution and focuses on a real need: to elevate everyday life or simplify working life.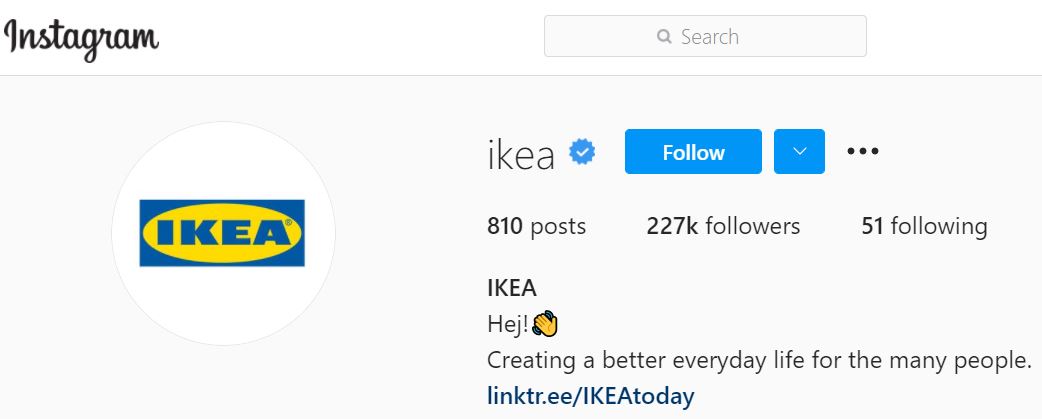 💡 Tip: Opting for a value-driven Instagram bio implies actually embodying those values in the brand at large. To help you craft your bio, you might want to revisit your brand manifesto and get a general refresher on the 'why' behind your brand. The resulting insights can help you inform the Instagram bio and also drive greater awareness towards your manifesto
Instagram Bio Ideas for Cause Branding
Cause branding has come front and center for businesses seeking to raise awareness regarding important environmental and social issues. As such, the Instagram bio is the perfect opportunity to highlight these causes and make them more visible in the eyes of their audience.
For @Patagonia, @Nike, or @Dove, the causes they stand for are more important than their products. And this is visible in their Instagram bios as well.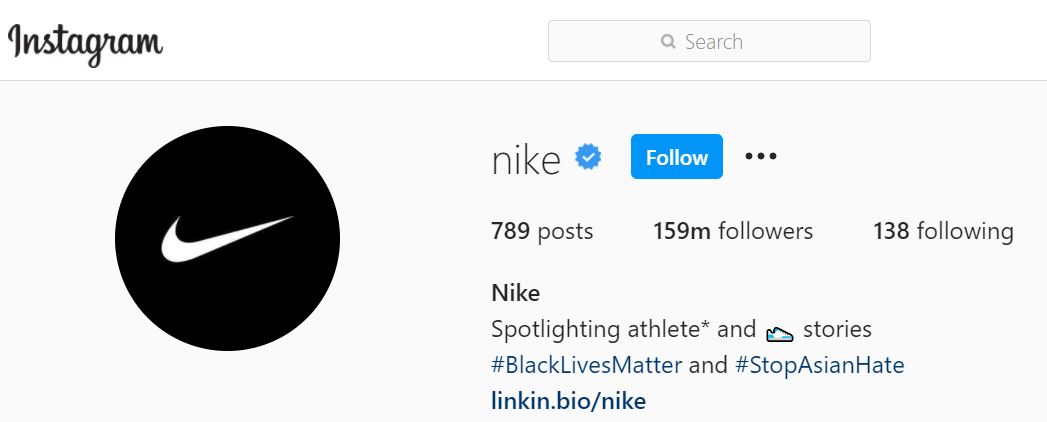 💡 Tip: Cause branding does not work unless you are a purpose-led brand. This means that you take social and environmental issues seriously and you have proper policies in place to prove the commitment to your cause. Stating your cause in your Instagram bio without doing anything to advance that cause might attract significant reputational damage to your brand.

Try Xara Cloud for 14 days and discover
the results
No credit card or phone number required.
Start creating instantly — 1 minute signup.