Brand Imagery and Mockups
Polish Your Brand Image Using Brand Imagery and Mockups.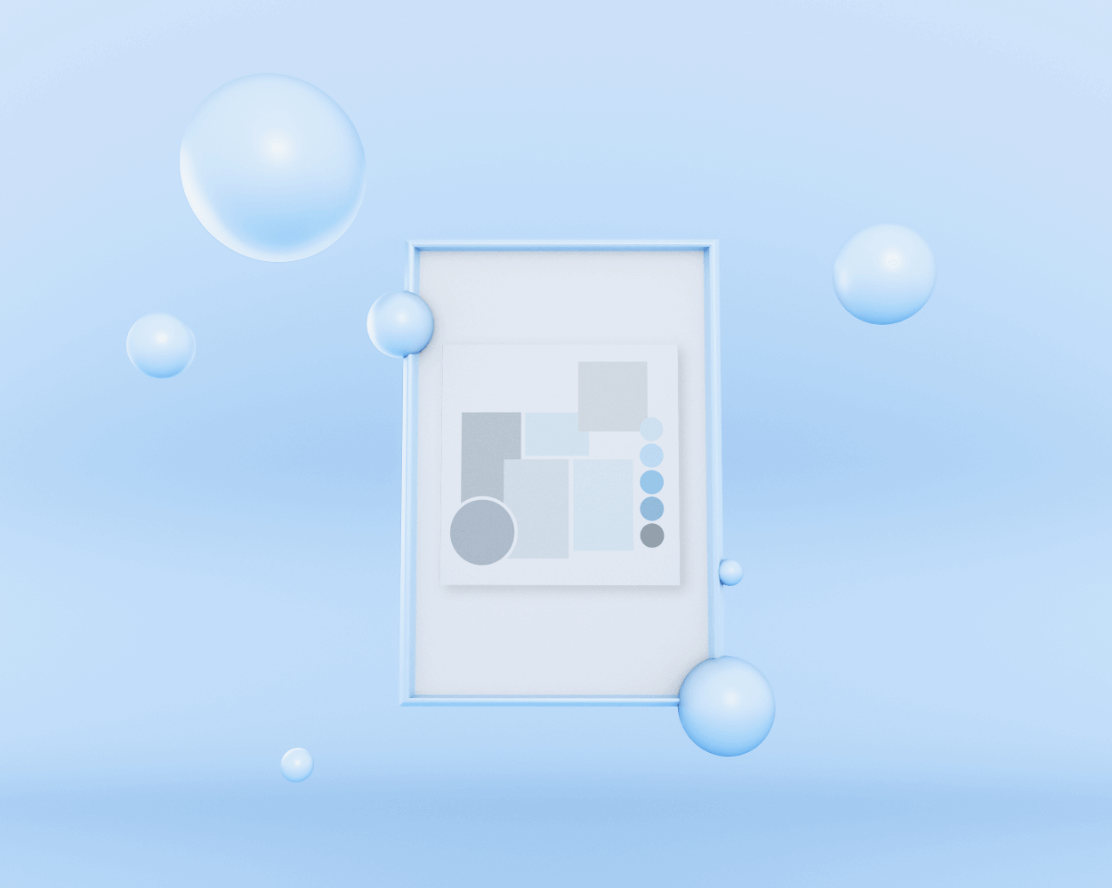 It's helpful to think of your branding efforts as a Jackson Pollock painting — a canvas full of splashing and pouring paint. A masterpiece for some and a joke to others. Yet it is the perfect analogy when it comes to your brand imagery and mockups because it allows you to consider your branding efforts from afar. And as you get that bird's-eye view over your branding materials, you'll be your own best judge: a masterpiece or a joke?
While these verdicts might be at opposite ends of the spectrum, it's important to settle on the positive end. You have worked hard to draw up all your branding elements, and they need to add up into a cohesive whole. Otherwise, you will not be able to conjure up a memorable brand image in front of your audience and build a loyal customer base. So getting to masterpiece level is the goal for your brand.
To help you measure up, read on to uncover everything you need to know about brand imagery and why mockups are important to assess and improve your branding efforts.
What is Brand Image?
The brand image represents the overall impression consumers develop of a brand. It includes what the brand stands for, what customers think about it, and what associations conjure up in their mind as they make a purchase.
For example, Apple is associated with innovation and simplicity while Nike is associated with athletic performance. The former sells technology products while the latter sells athletic gear, but both use their brand image to generate different feelings or associations in the mind of the consumers and determine them to make a purchase.
What Is Brand Imagery?
The brand imagery encompasses all the visual elements that you use in order to communicate your brand identity. These elements can have various formats, from billboards to social media posts, flyers to TV ads. Their purpose is to foster trust and confidence with your target audience through repeated exposure to a set of emotions or "brand feelings."
What contributes to the brand imagery are the elements that cater to the consumers' senses. So sight, touch, taste, smell or hearing. It's crucial to make the most of every touchpoint in order to consolidate your brand imagery and gain recognition in the market.
So, what is the difference between brand image and brand imagery? The brand imagery consists of the elements you use in order to communicate your brand, while the brand image is external and encompasses the way in which your brand is perceived on the marketplace. You can use imagery in order to influence that perception, but there are other things that feed into your brand image, including values, actions, and culture.
Brand Imagery: How to Do It Well?
Here are some ground rules that contribute to a strong brand imagery and help you reach your goals.
All your visual elements should have a point.
Considering our constant exposure to beautiful images on a daily basis, it's easy to pick one that is likely to catch the consumers' eye. But will it contribute to your branding goals? This is the most important question and sets the groundwork for all your visual elements. So before you get to work, ask yourself if the visuals are consistent with the values and messages you put in front of your audience.
Lead with your brand color palette.
Remember when we said that the brand color palette is likely to increase brand recognition by 80%? As a result, you cannot afford to neglect it. So lead with the brand color palette and find a way to integrate it in all visual elements — billboard ads, social media posts, website, you name it. The more distinctive your color palette, the more likely you are to increase brand recognition.
Keep it simple.
Most often than not, less is more when it comes to your brand imagery. The more elements you add, the more likely they are to get lost in the shuffle. To keep it simple, you can rely on straightforward shapes and outlines that are strong enough to appeal to the consumers yet simple enough to help them remember you.
When in Doubt, Start from a Branding Mock-up
Drawing up your brand imagery can sometimes be described as shooting in the dark. You abide by the rules and do everything right, but the elements might not add up. Just like some cannot see a Pollack painting from all the drips and splashes, you might not be able to perceive the bigger picture that is supposed to draw all the elements into a consistent whole.
And this is when a branding mockup could put everything together. It adds all the elements from your brand imagery next to each other so that you can easily spot if there are any disconnects and address them accordingly. A mockups also provides a realistic view of all your branding elements before they go out into the world. So you can easily assess your efforts and see them from the consumer's point of view.
The branding mockups can include all the elements you use for your brand: from the price tags on your products to the business cards, product catalog to flyers or social media designs. Use them to revise your branding collateral and conduct changes in a timely manner.
Whether you want to grasp the basics of branding for your new business, want to work on your brand strategy, are stuck with your brand visuals or want to find branding tips on how to grow your business, check out: