Real Estate Brochures Examples
When handed a brochure, most people will at least have a look at it. Especially if they look beautifully designed. Use this opportunity and create one with Xara Cloud. It's easier than you imagine!
Why Use Real Estate Brochures?
At Xara we always encourage real estate agents to take advantage of the online channels to generate more prospects and sales. We know that agents like you don't have the whole day to be thinking about what you post on Instagram Stories or resizing an open house post to different media standards. Our templates will help you to have modern content without spending the whole day creating it.
But of course, real estate marketing is not all about digital channels! Sometimes it will be easier to reach your audience with offline marketing, such as door hangers or brochures.
A brochure, when beautifully designed, is always valuable, and there's a high chance that people will actually read and keep them . You can bring them to your next open house, give them directly to people interested in your listings ,or send them to partners by post . The opportunity is huge!
If you thought it would be very difficult to create a brochure, think again! If you use one of our templates it can take just a few minutes to design your own real estate brochures, that look both professional and on-brand. We give you some ideas in this article that can help you get started, but remember that the options are endless!
Real Estate Brochure Examples
Elegant Brochure:
This brochure is perfect for both commercial and residential properties. Add your colors, fonts, images and text and you won't need to worry about where to place elements or what colors to use for each shape, text, etc. Your brochure will be automatically branded for you.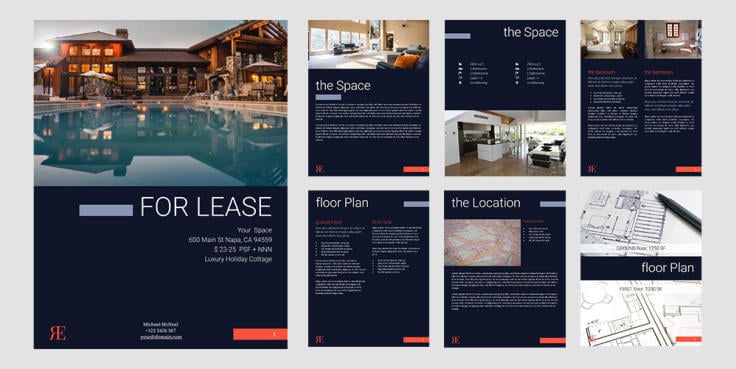 Visual Brochure:
Images are super important in any marketing campaign, but even more in real estate! Using high-quality photos will ensure people know the value of your property. This template combines big images with text and shapes to make it aesthetic.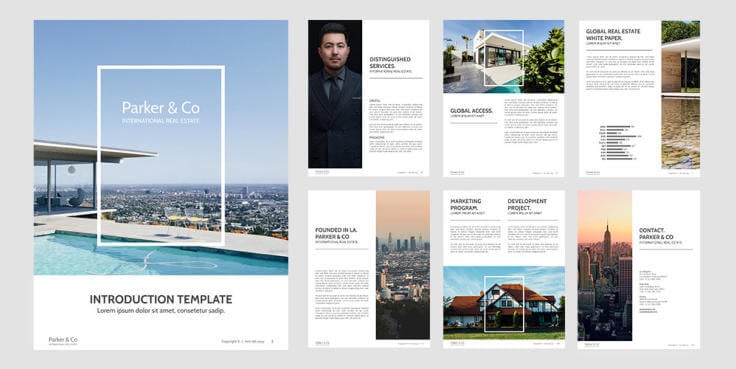 Exposé Brochure:
This elegant yet simple brochure can help you show one or several properties with ease. The stylish design will definitely entice clients into a viewing . It contains plenty of images and text to describe properties, and even maps and tables to give even more detail to potential buyers.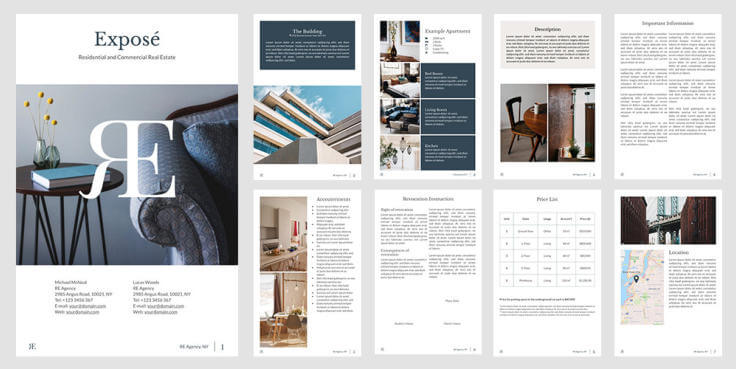 Corporate Brochure:
Impress not just your clients, but also your partners and other agents. This brochure offers the perfect opportunity to showcase your company . Include information about your properties, agents that work with you or even show numbers in a visual way.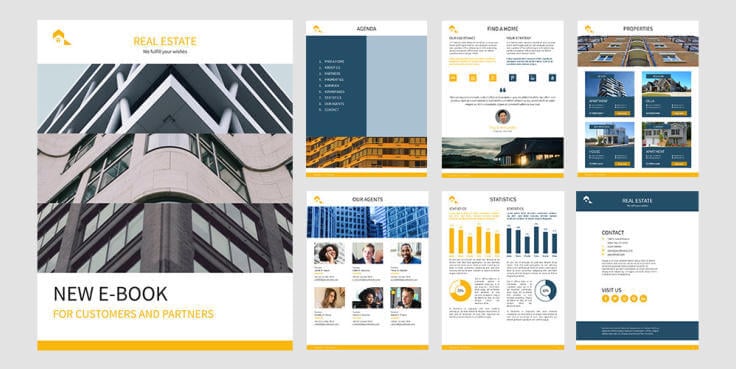 How to Edit These Templates?
All of these template brochures can be easily edited. Simply click on them and you'll be redirected to Xara Cloud. If you already have a Xara Cloud account, simply log in with your details and you'll land on the template. The first thing you might want to do is add your color palette, if you have one. If you don't already have a Xara Cloud account, why not create one now – it's easy and it's free! Once you are logged in, you only need to have your logo and the images and text you want to include:
Change the color palette of the document. You can use one of our combinations, but if you have your own brand colors, you probably will want to use them.
Replace the images to use your property pictures. Remember that you can play with the photo filters to make the images even more stunning, or you can even try adding a particular mood to them.
Add your text. You might also want to change the text styles to fit your brand You might use our templates as they are, or you can change as many things as you want and add new elements to them. By changing the color and fonts you will get a completely different look and feel. Simply play with our editor and have some fun creating your own marketing material!
Have a look at our brochure library
If you didn't find inspiration in this post, in our brochure library you will find more templates available for you to use:
✔️ They are easy to edit with drag and drop.
✔️ You can apply your real estate brand style with one click.
✔️ Download in high-quality commercial printing for a perfect look.