8 Open House Flyer Ideas
An open house flyer can be the first touchpoint with a potential customer. Your goal is to motivate people who are thinking about finding a better home to attend the open house and discover more about it.
Making sure that those flyers look both stunning and on-brand is a key aspect of the success of your strategy. The flyers should also contain enough information about the home, and the place and time when the Open House will take place.
Creating beautifully designed documents such as open house flyers doesn't have to be hard, expensive or time-consuming. With a tool like Xara Cloud, you can create stunning flyers starting from professional templates like the ones that follow:
Minimalistic Open House Flyer
Perfect for:
Agents that don't want to distract potential buyers from the important information: The property features, basic information, and quality photos.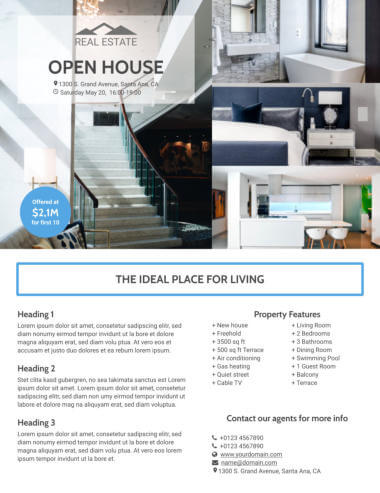 Benefits:
Potential buyers will see the photos and immediately understand why they might like this house. The images and features of the house take center stage and let the prospect easily decide if they are interested in attending the open house.
Single Image Open House Flyer
Perfect for:
Houses with a stunning garden and a beautiful front side. A single image of the house can definitely get the attention of many prospects.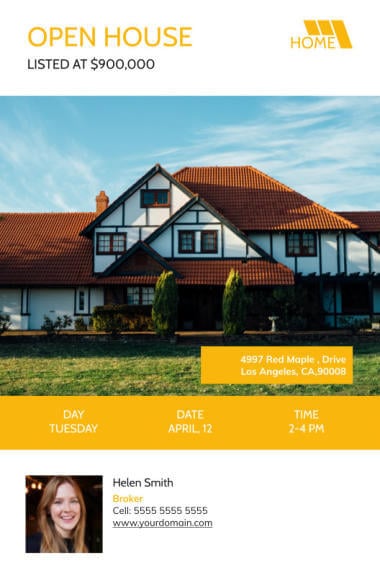 Benefits:
People will be very curious to see the interior of the house. The simple design and color palette will also ensure the main image of the house is the protagonist.
Feature Focus Open House Flyer
Perfect for:
Showing the features of the house in detail. Sometimes you might want to explain interesting facts about the house that images can't convey, such as details about the neighborhood, materials used for the house, if it was renewed recently etc.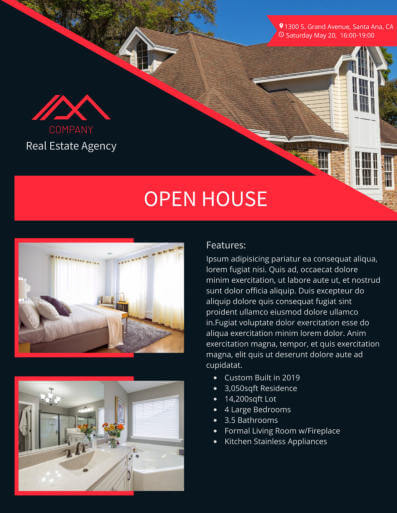 Benefits:
Potential buyers will have more information about the house than simply showing images.
Brand Colors Open House Flyers
Perfect for:
Agents that want the personality and colors of their business to shine through. Remember that you can change the color palette with a single click and get a completely different look and feel – more modern, elegant or premium, based on your main audience.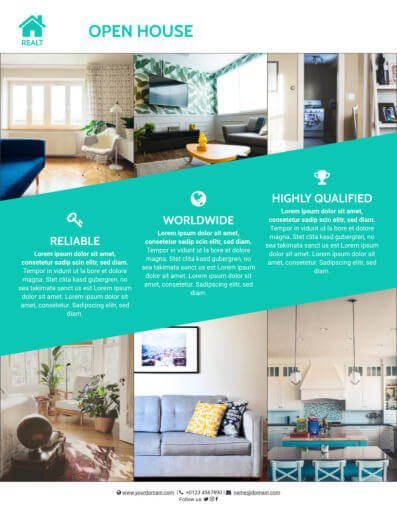 Benefits:
Because of its bright colors, you can't help but look at the flyer. There are also plenty of images that make it easier for prospects to imagine themselves living in the house.
1 + 3 images Open House Flyer
Perfect for:
Giving an overview of the whole house showing the main entrance and the most important rooms in the house.
Benefits:
The combination of photos of the rooms and some text is perfect to both show and tell people why they might like this house. You can add a stunning photo and additional information to complement it, such as square meters, materials etc.
Visual Open House Flyer
Perfect for:
Agents who believe an image speaks a thousand words. This template doesn't describe the house in words, it shows it from different angles and lets people dream about living there.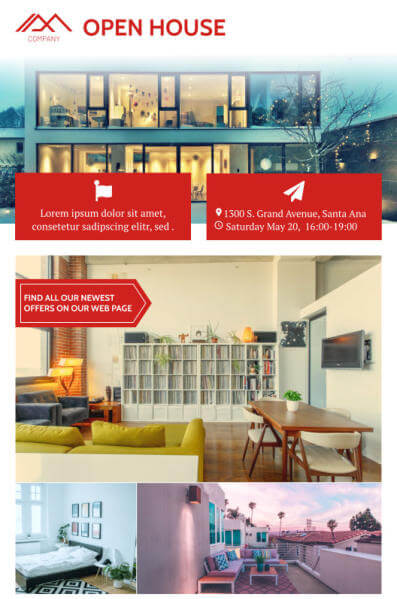 Benefits:
Many people don't read the flyers, they simply see the images and decide if the house fits them or not. This template is perfect to show how amazing the house is, and hopefully it will be enough to motivate people to attend the Open House.
Classic Open House Flyer
Perfect for:
Agents who want to keep it simple and safe with the design, or are targeting a more traditional audience that might not be convinced by new and modern styles.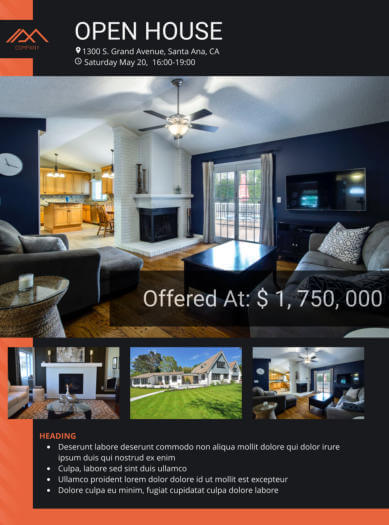 Benefits:
This template is a safe bet. Since you can add your colors and brand, you can make it your own and use over and over again for different properties. This can be done very easily in Xara Cloud, by simply replacing images and texts.
Modern Open House Flyer
Perfect for:
Agents that are concerned about aesthetics and want to be slightly unconventional to get the attention of young potential buyers. The original shapes make the flyer visually appealing.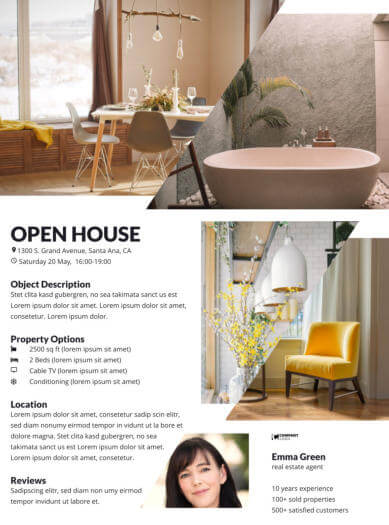 Benefits:
There are a lot of young people who want to buy their first house, and the approach to selling to them should be different. Using a modern design like this one can be the first step to attract this audience.
These templates are just examples of what you can create by yourself in Xara Cloud. Since you can change colors, fonts and everything, it is very easy to totally change the way our templates look. To see more real estate flyer templates or brochures and start creating your own real estate flyer, check out Xara Cloud.