What's new in Xara Web Designer+
Get the latest product changes on Web Designer+. Learn about new features and what we're doing to help you unlock more possibilities for your website.
New Update
4 September 2023
New Language Support
Web Designer+ is now available in Dutch, French and Spanish (in addition to the existing English and German), all in one convenient installer.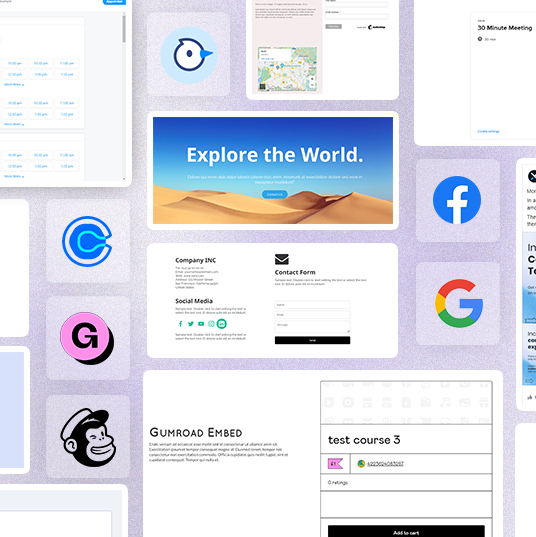 Create Better NavBars
2 Improvements
16 Fixes
75 New NavBar designs
We've added new options to help improve the look of your NavBar menus, and 75 all-new NavBar designs to the Content Catalog. Plus a clutch of useful web export improvements and fixes.
Web Blocks Extended
1 Feature
7 Improvements
7 Fixes
Our game-changing new Web Blocks will now work in your existing websites, amongst other web improvements in the latest update.
German Versions
1 Feature
4 Improvements
1 Fix
The installer now includes German versions, including a complete online user guide and knowledgebase.
New Web Block & Modular Website templates
12 Website Templates
92 Web Blocks
300 Background Styles
Great news if you're loving our new Web Blocks feature – we've added 12 new modular website templates, 92 new web blocks and almost 300 new page background styles. We guarantee that you won't find a quicker and easier way to create that showstopper website of your dreams, and with all the new templates you can be sure that we have the layouts you need.
Introducing: Blocks - A faster way to build unique websites
230 Web Blocks
16 Website Templates
Most no-code website builders sacrifice customization for ease of use. We give you both.
We are excited to announce the launch of Web Blocks – Pre-built web page sections and templates that can be fully customized and combined to build showstopping 'modular' websites in minutes.
Blocks come with layouts, functionalities like e-commerce, media, forms, appointment management, and the tools you already use so you can leave the hassles, hidden costs, and headaches of website building in the past.
Our YouTube playlist will help you get started in minutes!
1200 new Photo Filter Overlays
1200 Photo Filter Overlays
Another major addition to the Web Designer+ Online Content Catalog. We've added nearly 1200 new photo filter overlays in 4 new categories in Image Resources > Photo Filter Presets > Overlays (Light Rays, Night Sky, Rose Petal and additions to Light Leak). Photo overlays can be added to your photo, even on top of other photo filters, to provide a huge choice of creative possibilities.
Export tables to Word & Powerpoint. Unsupported characters and more
1 Feature
4 Improvements
3 Fixes
Tables created with the new Xara Table tool and exported to Microsoft Word (in docx format) are now fully editable in Word. Xara tables should now also look visually correct when exported to Microsoft PowerPoint (.pptx) presentations, although they're not currently editable in PowerPoint (text can be edited but the table won't update).
New Web Themes
12 Website Templates
4 Fixes
The template bonanza of 2022 continues with another 12 new website templates, all with the latest animation effects and SEO optimizations – and totally customizable to fit your business or personal website requirement:
All include mobile variants
A new wider 1280 pix wide main variant for the best possible results on your 4K monitors (but of course they auto scale to lower resolution on other devices)
Default image export is now WebP for faster loading, giving a better experience for your visitors, and better SEO results too.