What Is a Visual Communication Platform?
Content is king. Yet visual content rules them all. We've been using visual communication since the dawn of time. Cave paintings are living proof of that. And in the information age, visual content is more important than ever.
Besides written content, it's the first thing we see when we open Instagram, Facebook, or TikTok. And those who grab your attention, take a hold of your wallet. Every business and platform pushes visual content to their customers and prospects. Without it, chances of attracting customers and generating revenue drop considerably.
Yet, producing compelling, worthwhile content is a demanding task. Especially when you have a lot on your plate. Or if you have never done that before.
Luckily, technology has been evolving at the speed of light. You can now create visual content to communicate with your audience without being a marketer, designer, or Renaissance painter. A visual communication platform allows you to create stunning document designs, collaborate with your team, and track content.
Whether your goal is to produce visual marketing materials or to improve internal communication, these smart platforms make these tasks seem like a breeze.
The Basics of a Visual Communication Platform?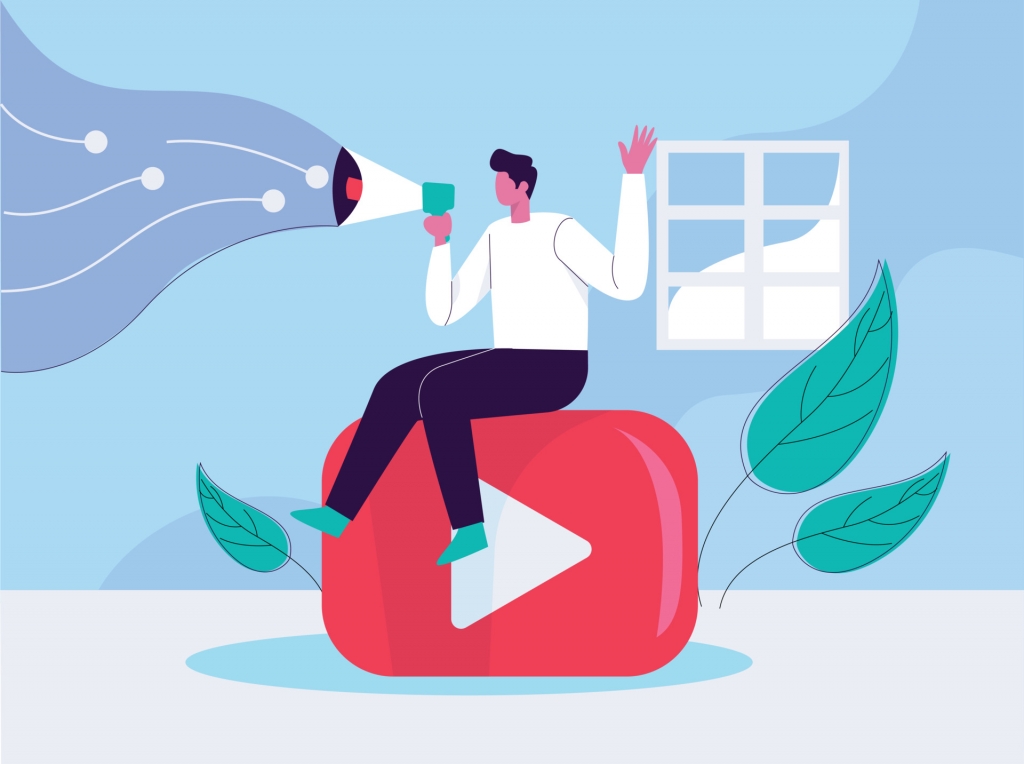 Source: Vecteezy
Every day, a new state-of-the-art tool emerges. With so many options and types to choose from, it's nearly impossible to keep up with which tool does what. Let's clear the air.
So, what is a visual communication platform? In short, it's a cloud-based solution that enables users to create and manage visual content in an intuitive virtual workspace. This can include everything from infographics and illustrations to brochures, presentations, and animations.
One of the coolest things about a visual communication platform is that it enables anyone in your team, no matter their background, to create stunning visual content. Additionally, it is a social technology, putting users in a collaborative position during the content creation process.
Ultimately, a visual communication platform provides innovative art tools to give business owners, team members, or freelancers an easy method of staying ahead of the curve.
What Are the Benefits of Using a Visual Communication Platform?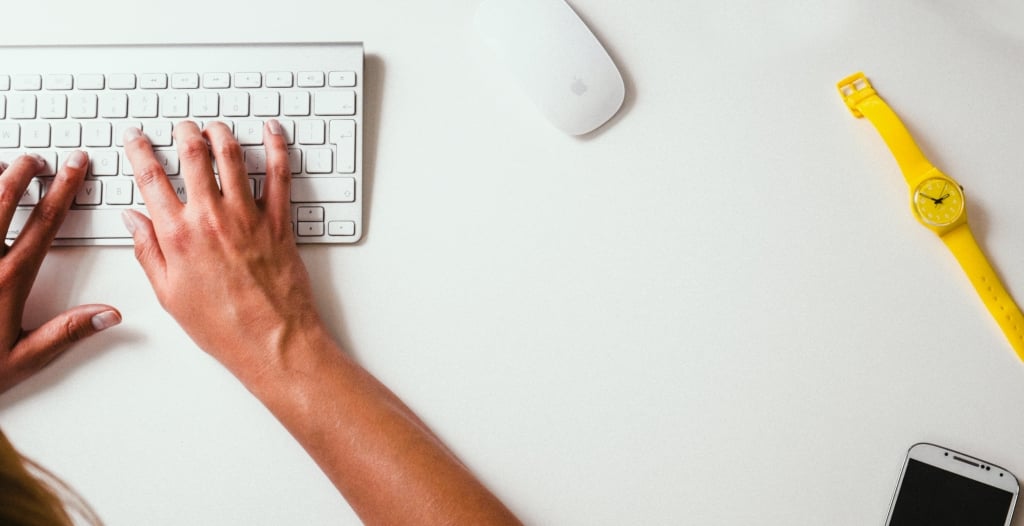 Photo by Damian Zaleski on Unsplash
Integrating a visual communication platform into your workflow comes with undeniable advantages. Whether you want to create visually engaging content for your audience, send out stellar business proposals, or enhance collaboration in distributed teams, these platforms make things run smoothly.
Create Visual Content With No Fuss
The leading benefit of these platforms is that they allow you to create any type of visual content without losing time or having a degree in design or fine arts. Do you have plenty of visual projects in mind? Do you wonder how to bring these ideas to life?
By using a visual communication platform, you have access to all the tools you need to create visual content that sells. As a bonus, the pre-designed marketing and business templates make it easier to get started. It's a cost-effective way of having full control over your content.
Convenient, right?
Scale Your Visual Marketing Plan
74% of marketers use visual assets in over 70% of their social media posts. Chunky blocks of text were just fine back in the day. Now, dazzling your articles and posts with attractive visual elements is the norm.
With a visual communication platform, scaling your visual marketing plan is a no-brainer. Since all documents are stored in one place, you can easily repurpose content by resizing or editing it to fit the channel of your choice. Also, its advanced management capabilities will make it easier for teams, departments, and partners to work together on creating content.
But any solid visual marketing plan needs a continuous stream of ideas to get it moving. Are you in a creative slump? No worries, the marketing templates can help you come up with tons of ideas.
Seamlessly Share Visual Content to Your Social Media Channels
The centralized nature of these platforms lends itself nicely to sharing content with others in a jiffy.
Whether you want to deliver positive communication experiences to your employees, create real estate marketing materials or upload beautiful job postings for your prospects, the download feature makes it simple and intuitive.
Easily Track How Your Posts Are Performing Through Document Analytics
Imagine this. Your sales and marketing teams have created compelling visual content. Or maybe you just emailed your business proposal to future investors. But how can you tell whether it's engaging and persuasive?
Following your gut doesn't suffice. You require a data-driven approach.
Well, the document analytics feature of a visual communication platform allows you to see which documents are engaging your audience and which might need some work.
Manage Internal Communication Efficiently and Enhance Collaboration in Distributed Teams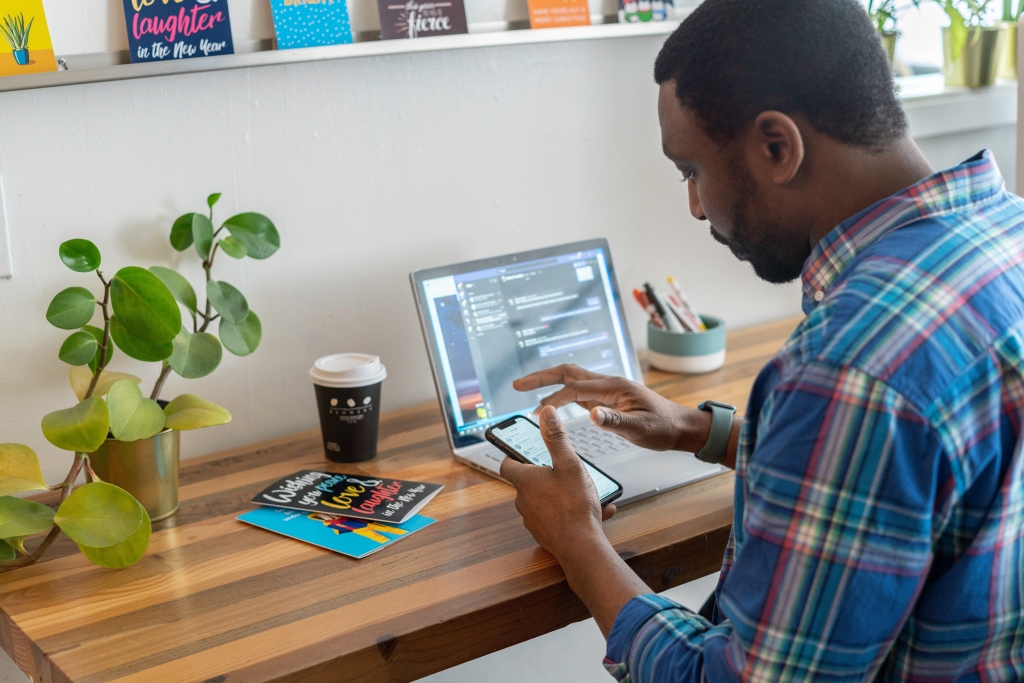 Photo by LinkedIn Sales Solutions on Unsplash
Hybrid and remote working models are the new normal.
For sound reasons, employees don't want to stress or waste time on the commute to work. More so, hybrid and remote work flexibility are associated with work-life balance, a heightened sense of well-being and productivity, and a stronger felt connection with the company.
This is encouraging news, yet these working models also bring forth some communication challenges. Using a visual communication platform, however, allows teams to collaborate and communicate effectively, no matter whether  they are in an office, at home, or in a rental on a tropical island.
These smart tools make it easier to access virtual assets and to give or receive feedback from anywhere in the world.
What's more, harnessing communication and collaboration through social technology leads to a 20-25% increase in productivity. Easy access to visual content about internal procedures can cut down search time.
Achieve Brand Consistency
There's no doubt about it: branding is vital to the success of any company. And consistency is of the essence here. It's what makes Apple stand out from the crowd. It's what gives this brand a reserved seat in your mind's eye.
And visual assets such as colors, logos, or fonts are the key ingredients to achieving brand consistency and an identity that makes you stand out. A visual communication tool lets you design your logo and add your branded assets to any document you want.
How Does Xara Work as a Visual Communication Platform?
Helps you create stunning document designs with pre-designed business and marketing templates and advanced tools.
Offers a wide range of brand management tools 
Allows for enhanced collaboration in distributed teams
It offers the possibility of document analytics
It gives you online-offline integration
Connectivity with Xara Design Pro for full design freedom
Easy distribution across multiple channels 
A Visual Communication Platform — Who Is It Good For?
Visual content has become a staple in most industries. It's an efficient way of building trust, educating, creating brand consistency, and, ultimately, generating revenue.
The following mini-tour will showcase some of the ways that you can use Xara Cloud, depending on your industry.
Real Estate Agents
Ask any realtor, and they will tell you about the importance of visual content in real estate marketing. Using visual elements such as property images or real estate logos conveys professionalism and captures attention. You can personalize pitches and list presentations to suit your target audience.
Here's where a visual communication platform comes in handy. It allows you to:
Use real estate templates to create jaw-dropping real estate brochures or listing presentations
Achieve brand consistency
Collaborate with other members of the brokerage so your visual content is consistent
Save time
Marketing and Sales Teams
Marketing and sales teams complement each other. Sadly, though, 25% of businesses describe their marketing and sales teams as "misaligned".
And that's not a good sign. Customer retention, win rates, and marketing revenue rise when these teams unite. The sales team can provide valuable intel about customers and what their sales objections are. In addition, marketers have information about what language or type of content is most preferred by leads.
So if you're not harnessing this opportunity in your company or business, you're sitting on a pot of gold.
Communication and lack of shared data are two main culprits for this misalignment. A visual communication platform can fix that. It:
Allows teams to collaborate and share valuable intel about leads and customers
Reduces informational silos and increases productivity
Lets you create content marketing materials that stop viewers in their tracks
Tracks the performance of your documents
Job Seekers
The days of the dull text-only resumes and CVs are long gone. Today, resume design matters.
It gives a competitive advantage, if properly crafted. With a visual communication platform, you can edit and design resume templates to create one that suits your needs. The design shouldn't overshadow your experience and achievements, but rather complement them. Play around with the editing tool until you find the right design.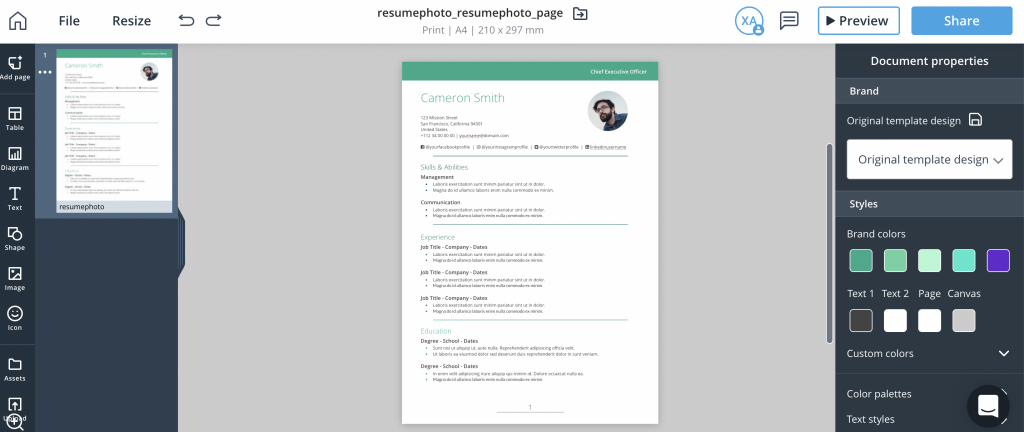 Source: Xara
Ditch the black-and-white resume for a more attuned design. Your chances of getting noticed might be higher.
Educators
Our brains have a knack for processing visual elements. We are visual learners after all. If your focus is on teaching and educating others, a visual communication platform is the right tool for you. Want to write an e-book? Make it stand out with some visual assets, or use the e-book templates on deck.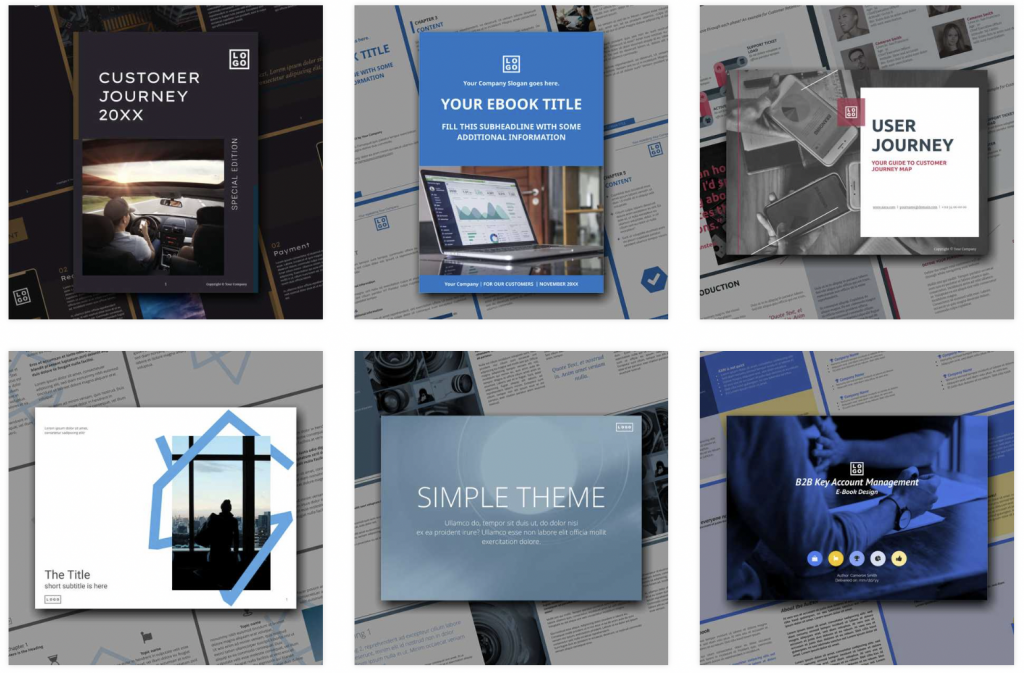 Source:Xara
Want to create engaging Instagram posts that catch your audience's attention? A visual communication platform will help you design them in mere seconds. Resize them with one click and repost them on Facebook. This type of tool allows you to focus more on what you value: teaching others.
Researchers and Science Communicators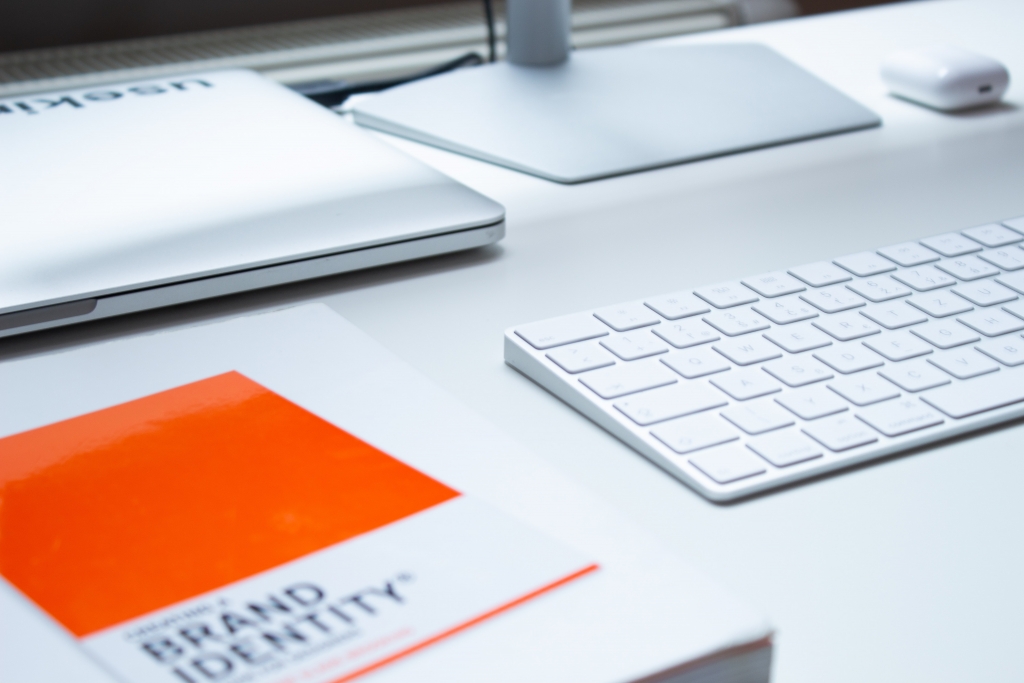 Photo by Towfiqu barbhuiya on Unsplash
Communicating scientific information is a tricky endeavor. An art, some might say. We have a hard time grasping statistical concepts, and our brains are pretty terrible at interpreting big numbers.
We live in a post-truth society, and scientific communication must be on point. But how do you get others to be interested AND retain the valuable information you're trying to convey?
By using data visualization techniques of course.
Data visualization tools and visual communication platforms are designed to help you create graphs, infographics, charts, and presentations that get your message across. Both researchers and business owners benefit from using techniques in their presentations.
HR & Internal Communications
Visual communication tools can smooth out the onboarding process and training period.  Just grant employees access to the onboarding and training materials you created, and fast-track the process.
As hybrid and remote work becomes the norm, visual onboarding becomes the solution. Visual content is also valuable for improving communication between teams.
Design & Branding
Photo by Patrik Michalicka on Unsplash
Branding is everywhere. To stand out, you want to make sure that your brand management strategy is on point.
While values and mission statements are crucial, so are the aesthetics of a brand. Logos, fonts, visual assets, and colors can attract or deter customers. A visual communication tool is a design platform, after all.
It helps you create your brand identity and achieve brand consistency without hiring a graphic designer.
What's the Difference Between a Visual Communication Platform and Other Content Tools?
The web is full of smart tools designed to make your life easier. When it comes to content and data management, there are dozens of tools out there. But why would you invest in a visual communication platform?
Well, a visual communication tool such as Xara Cloud acts as a content management system, design platform, and data asset management platform— all in one streamlined tool. This makes it extremely convenient for businesses.
A content management system helps users create and manage a website without having to code it themselves. It gives you the infrastructure to make your business shine.
In a sense, visual communication platforms resemble content management platforms. They, too, offer an infrastructure where you can easily:
Create beautiful document designs
Design websites without coding skills
Store them in one cloud
Add and manage your brand's visual assets
Comment and give feedback
Track the engagement of visual content
Just as a content management system offers users the space and tools to create a website and domain, a visual communication platform offers the tools to create the visual content you need.
While design platforms are more focused on elements such as logos, fonts, or brand identity, a visual communication platform gives you brand management tools AND content creation tools. All within a user-friendly interface.
Visual communication platforms let users securely store visual assets in one cloud. In the same way digital asset management platforms do.
Unlike digital asset management platforms, they also allow you to create visual content and manage your brand. You can also easily distribute content to internal or external stakeholders and track usage across all channels.
How Much Does a Visual Communication Platform Cost?
Visual communication platforms can be a very valuable asset for organizations that want to create engaging visual content. They reduce informational silos, enhance collaboration in distributed teams, and let you track every piece of content you produce.
Basically, a VCP is a bit of everything: a design, digital asset, and content management tool — all in one streamlined platform. This will increase productivity and save you time.
But how much does it cost? Well, this depends on what you use it for. For instance, you may opt for a free or a pro-individual plan. This might be suitable for you if you create occasional marketing documents for your business. It might not be as appropriate if you want full design freedom, or if you want to help your teams collaborate in the content creation process.
No matter what plan you have in mind, you can try them for free or book a demo with Xara Cloud.