5 Benefits Of Social Media Marketing For Any Business
Social media has taken the world of online media by storm. And no online weather forecast could have predicted the potential size, speed or strength of it!
For example, when it was invented by Mark Zuckerberg in his college dorm room, Facebook was kept well below the meteorological radar. In 2004 when launched it was simply designed to help connect students by creating an online profile.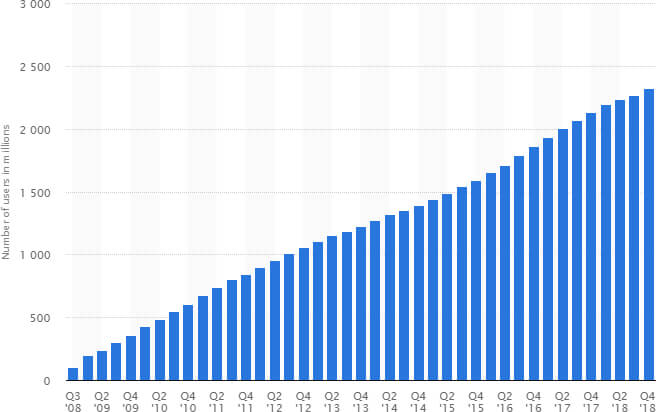 Fast forward 15 years since inception and Facebook has almost 2.5 billion monthly users. It's how we connect, post whimsical updates, shop, search, like, comment and generally hang out. Social media is now (almost) unavoidable. If you do avoid it, you'll risk suffering the latest major social contagion FOMO (Fear Of Missing Out) – and that applies to businesses as much as to individuals!
Here are 3 impressive social media metrics that you should really know and care about:
The Top 5 Benefits Of Social Media Marketing
Using a case study of Coca-Cola, let's look at the phenomenal and unique opportunities a social media platform like Facebook has provided to one of the world's biggest brands: none other than Coca-Cola: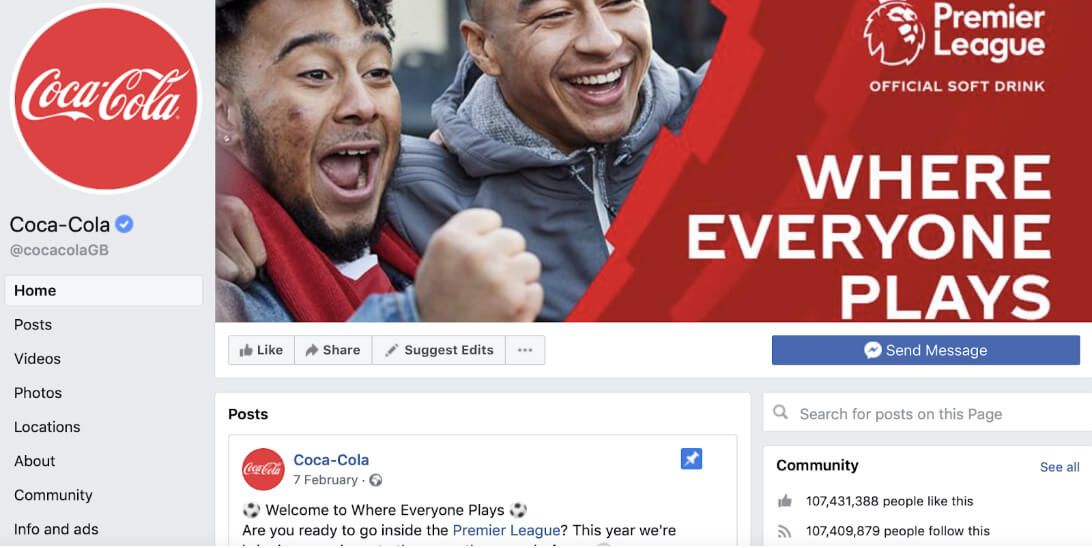 Some years ago, two Coca-Cola fans felt that Coke was not properly represented by their official company page — so they made their own! In a brilliant PR move, the company then decided to adopt and develop the page as its own instead of shutting it down, according to Business Insider.
Since then, the soft-drink retailer has established itself as one of the most popular companies on Facebook with the super-cool status of reaching over 100 000 000 followers as of 2019. Their transformational success can teach us 5 lessons for social media marketing:
1. Increased brand exposure
Coke leveraged the online social media space to massively extend their marketing reach. With 100 million followers, that kind of traction means millions of people across the world will be viewing, liking, commenting and sharing the posts you put on your page. That kind of 'captive audience' is the stuff of a content-marketer's dream.
2. Great return on investment (ROI)
You can produce great results relatively cheaply using online methods. That's because social media platforms are often free to set up and use. This is a unique privilege that is made possible because the costs of running the platform are already paid for – in this case of Facebook- first by start up capital funding, and then later, by advertising.
That means that social media platforms let businesses start their accounts on social media for free. They do this because they want more businesses to populate the online ecosystem. They also hope that businesses will use the option to pay for more exposure by, for example, 'boosting' a post or creating a paid advert or promo. We're not sure what Coca-Cola's Facebook marketing budget is, but whatever they invest in social media is bound to see a positive return in higher sales down the line.
In short, it's a win-win scenario for your business to be on social media!
3. Better Listening
Good marketing requires even better listening. Without listening you are deaf to your most important stakeholder- your customer. If you don't know what your customers want, you can't beat your competitors to continue providing for them. So like Coke, learn to listen, then speak using social media as a mouthpiece.
4. Tools to be Innovative – 'Out Of The Box' Marketing
Facebook gave Coca-Cola the tools to be able to innovate in their marketing approach by breaking the conventions. This confirms the old adage "fortune favours the brave!" right? Of course it does!
For example, the ability for users to generate their own content adds authenticity to a brand because the comments, reviews, recommendations and promotion comes from satisfied customers/fans who are real people with real thoughts and experiences to share. That will make for ultimately more emotive and better quality content. Excellent!
5. Viral Video Marketing Opportunities
Coca Cola makes great use of video marketing on Facebook. Their Holidays Are Coming video has racked up over 5 million views on Facebook alone with over 5k shares: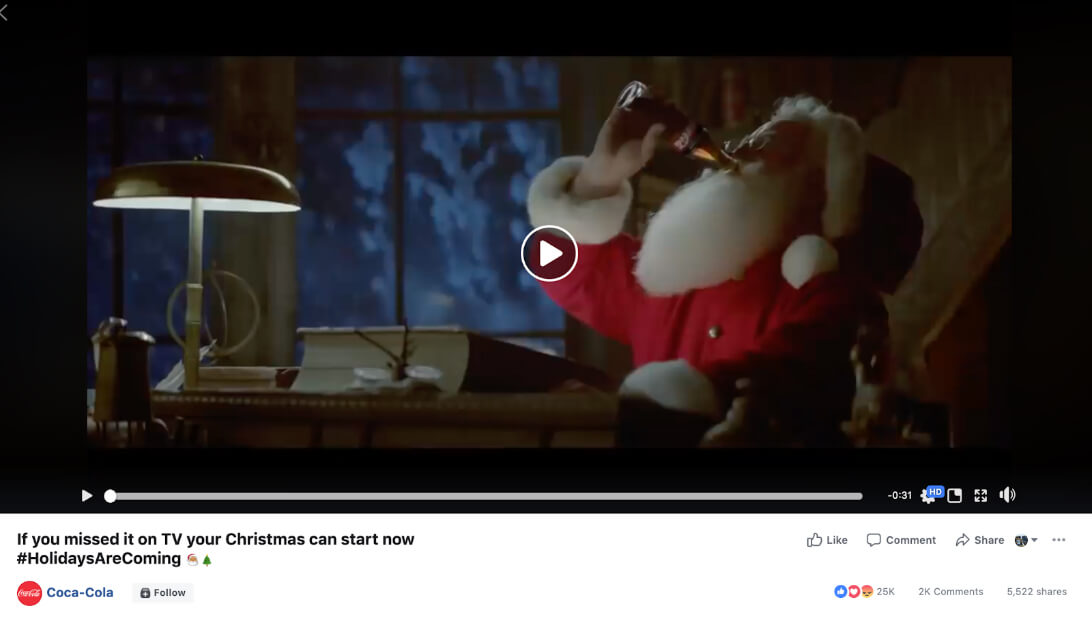 So massive opportunities for video marketing are made available across all social media platforms.
The Role Of Video In Social Media Marketing
Video is the ultimate tool for helping turn viewers into buyers online. Just have a look at this graphic taken from www.renderforest.com/blog/video-marketing-statistics-2019: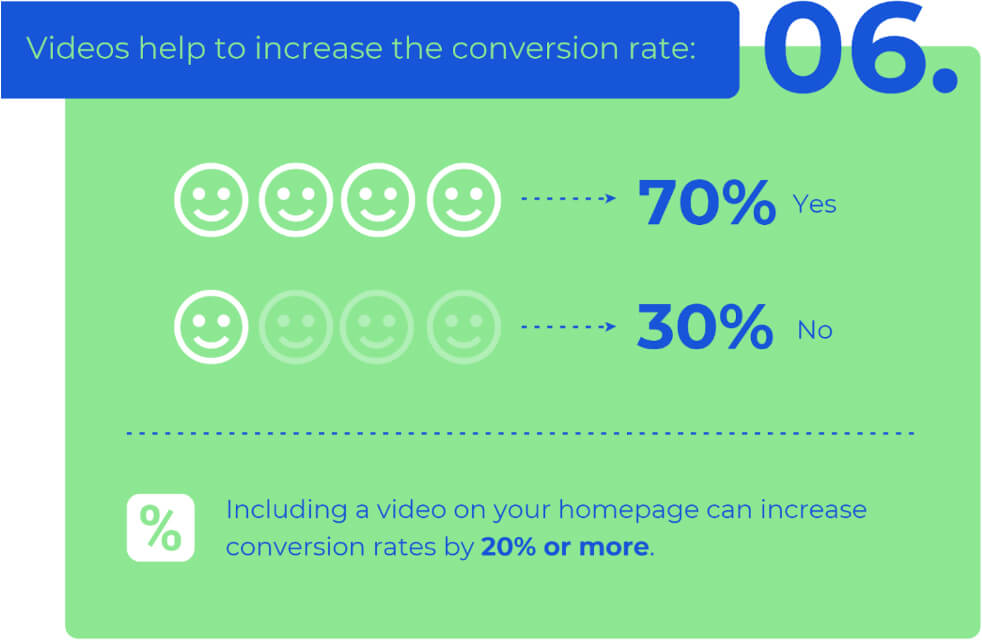 A whopping 70% of users can't be wrong when they say that video helps boost online conversions. With a potential 20% lift in sales by adding a video to your homepage, this is one tactic you can't afford to ignore!
Video is the best media format to build a brand and share information that sells products because it helps to connect with your audience in a way that is more dynamic than most alternatives. The rate of information transfer is quicker, and it has the ability to present a brand in a more human way.
Branded Content – Case Study
Branded content is a great type of video marketing that can leverage the benefits of social media video marketing we've mentioned! Branded content is simply a video that tells a story that relates to your brand in some way.
This example of branded content for Gatorade tells the inspirational story of Usain Bolt in an animation style. It has garnered over 15 million views on YouTube, making it one of the most successful branded content videos ever: www.youtube.com/watch?v=6b03jWW70kc.
Tips on Social Media Marketing With Video
Make your social media 'video first'.
'In other words prioritize the creation of quality videos that can be published on social media networks, because this is the content that will be viewed the most according to the stats!
Later in this article we'll look at a quick and easy to make quality videos from scratch using Renderforest, so keep reading!
Make your social media shareable.
You should make it easy to share your videos online across social channels. The most shareable videos have captions for when people are watching without sound, contain emotive content and are in a square format to cater for viewers watching with their phone in portrait (upright) orientation which is the most convenient.
Short is sweet!
We recommend keeping the video to under 2 minutes in length. That's because attention spans of most people don't last much longer when viewing most videos.
Catch your audience, hook, line and sinker!
We suggest giving your video a 'hook' at the start that inspires the viewer to keep watching. A hook could be anything.
Use Tags and HashTags.
Social tagging is a great way to increase the reach of your videos on social media, e.g. by tagging companies that are partnered with you, or inviting readers to 'tag a friend'. That way, the readers' friends will receive a notification that they have been tagged and will most likely view your video also.
Use an easy Call To Action.
Get viewers to interact with your brand – using 'calls to action'. These can make or break your marketing success. There are many examples of great calls to action that will enhance your marketing success. On YouTube, invite viewers to 'Subscribe' to your channel so that they'll get notified when you publish new content. On Facebook, encourage people to comment or react to your video. This will help the post stand out in other people's Facebook feeds.
How to Make an Epic Social Media – Optimized Video
Here is one example of a versatile video template from Renderforest. It can be used to create slick, branded social media posts from scratch. A handy place to start is on the social media toolkit template here: www.renderforest.com/template/social-media-toolkit where you can customise social media-optimised video templates from over 300 scenes to craft your brands' unique story:

You can easily make your own videos on the site – just follow this link www.renderforest.com/intro-video and you can be publishing your social media video straight away. The quick and easy steps have been designed to make it intuitive to produce professional quality videos. No expertise in video editing is required and no software downloads are needed. With no time wasted, this is a streamlined solution that takes advantage of advances in AI and machine learning to match content with your needs. Once you've uploaded your logo, edited the text and layout, you'll be able to publish the video straight to social media which saves even more time and effort.
Conclusion
So then, social media marketing using video is a win-win for your business, whatever the economic climate. After all, where else would the coolest brands in the world like Coca-Cola and Apple hang out except on social media?
Jokes aside: brands, as we've shown, do more than just hang out on sites like Facebook, Twitter and YouTube. They are helping create an interactive landscape that is a virtual stage. The benefits of utilizing this platform are huge and we've looked at five of the biggest ones. Those upsides include everything from an amazing return on investment to generating authentic and engaging content.
For your business, we bet that the most engaging social media content type is video marketing. So if you want to maximise the benefits of social media marketing, take a 'video first' approach. Make videos using a platform like Renderforest and set up your social media sites for success where your business and amazing products are the stars of the show.