When Xara X¹ was released a while back it retailed at $179, and so the big news this month is that we have a time limited offer that any Xara customer can buy X¹ for just $19 . If you received this newsletter, that means you! The first 500 orders will have the option of the CD version for that price too (the others will be download only version). Crazy, mad, yes, and quite possibly stupid too. But the reason we're doing it is to spread the word and enlarge the user base of course.

This offer expires on 28th September - that's Thursday this week. So don't hesitate - Click here for more info.

There's some more great inspirational art this month (most of these examples were created with Xara X¹, so you can see it's capable of producing truly outstanding graphics even before it became Xara Xtreme) and there's some new tutorials too. Oh and if you've already got Xara Xtreme we've also got an offer for you on the Eye-Candy set of plug-ins - see below.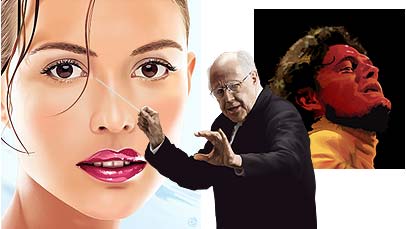 This month we have three pieces of inspirational art created with Xara Xtreme. They show off not just the capabilities of the software, but demonstrate again the skills of some of the many really talented artists and designers that choose to use Xara.
Find out more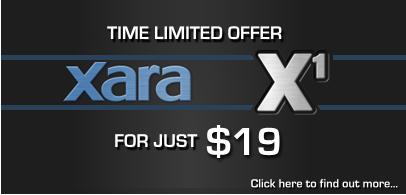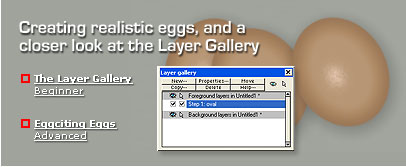 The Xara Xtreme Live Effect feature lets you use Photoshop plug-ins with vector graphics. What's more they remain completely live and editable. So this example, produced with the Drip Effect from the Eye Candy 4000 plug-in collection, can be applied to any vector object or text and you can still edit the image - the drip effect is automatically re-applied to the text (or shape) after you've edited.
The Eye Candy 4000 collection of 23 plug-ins is normally sold by Alien Skin for $129, but we've negotiated a discount for all Xara registered users, so you can purchase this for just $59!

Find out more
You are subscribed to the Xara Outsider newslist. To change this visit

xara.com/news

Let us know if you have any suggestions on how we can improve the Outsider Newsletter.

Contact us

.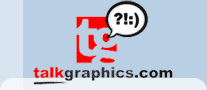 Visit the Xara graphics forums to discuss or find answers to your graphics needs. Our pick of top talk this month:


Xtreme tip: Push Tool
How many people know the wheel on their mouse is also a clickable button? There is a sort of Windows standard that says this should be a short cut to a push tool, and Xara Xtreme uses this. If you want to push the page around, just press and hold the mouse-wheel, and drag the document around.



Graphic Studio News
We've repackaged Xara Graphic Studio - the great value bundle of our 3 most popular products - into a slick new slimline DVD style pack. Now is the perfect time to check it out, since we have a special offer this week which bundles 3 Webstyle template packs, worth almost $50, at no extra cost with every Graphic Studio sold. Ends Sept 26th.
Xara Xtreme LX
Not much news this month - but progress continues. The recent 0.7 release remains the current recommended 'stable' release, but for those that wants the absolute latest build, that's available from the download website as well, and in fact appears to be as stable, if not more so, than the recommended 0.7.


Do you have DVD drive in your computer?



3 simple photo movies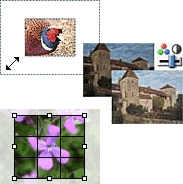 Resizing photos
Resize your photos easily, with no loss of quality.
Enhancing photos
Enhance your photos in seconds using the Xara Picture Editor.
Cropping photos
Crop your photos to any shape, add a border and shadow.