After last month's upgrade offer we welcome many new 3.2 owners this month, and so we've decided to continue with the Flash theme in our tutorials for one more month. And on the subject of upgrade offers, we felt we shouldn't miss out those owners of Xtreme who might want to upgrade to Pro - so this week all Xtreme (and Xara X¹) owners have a chance to upgrade to our top of the range Xtreme at a special price. More details below.

There's a free CD patch for both Xtreme and Xtreme Pro 3.2, you can find out more and download it now from our download page.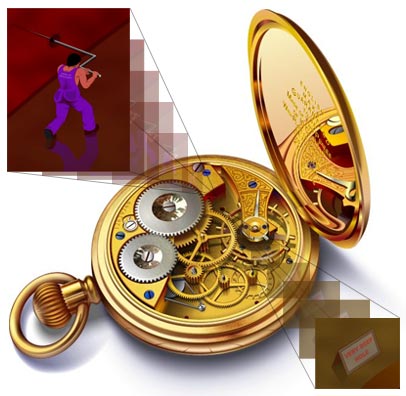 Xara artists are famous for their drawings of cars, but there's also a pretty impressive collection of clocks and watches. This month we feature a classic from Alan Burns.

Find out more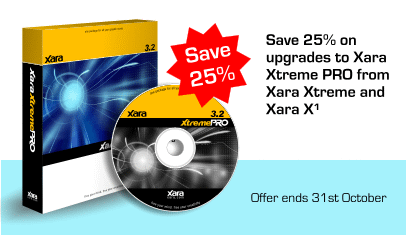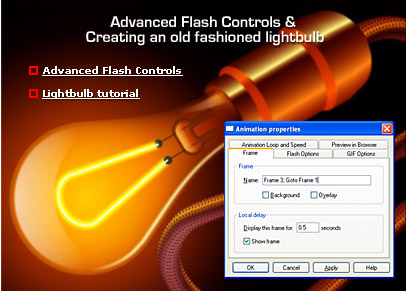 The Xara Xtreme Live Effect feature lets you use Photoshop plug-ins with vector graphics. What's more they remain completely live and editable. So these examples, produced with the puzzle effect from the Xenofex 2 plug-in collection, can be applied to any vector object or text and you can still edit the image - the puzzle effect is automatically re-applied to the or shape after you've edited.
The Xenofex 2 collection of 14 plug-ins is normally sold by Alien Skin for $129, but we've negotiated a discount for all Xara registered users, so you can purchase this for just $59!

Find out more
Let us know if you have any suggestions on how we can improve the Outsider Newsletter.

Contact us

.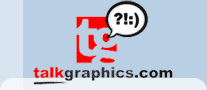 Visit the Xara graphics forums to discuss or find answers to your graphics needs. Our pick of top talk this month:


Xara Xtreme 3.2.4 Patch
There's a free patch that updates Xtreme 3.2.3 CDs to 3.2.4. Download it
here
.
MAGIX Xtreme in French
October 8th, MAGIX released a French version of MAGIX Xtreme Photo & Graphic Designer (roughly equivalent to the standard version of Xtreme in terms of features).
Find out more
.
Xara Graphic Studio Offer
Don't miss the autumn offer on Xara Graphic Studio (Xtreme + Webstyle + Xara3D). All copies purchased during October include the complete Webstyle Template Pack bundle for free, worth $50. Find out more on the
Graphic Studio homepage
.


Easy Rotate
Another excellent productivity feature new to 3.2 is the easy rotate feature. Instead of doing a second click to go into rotate mode, you can now rotate objects even in resize mode. Simply move the pointer just inside the corner handles, and the pointer changes to show you can rotate. Onnce you get used to this, there's no going back to the old way.
Set Line Color
Some customers have said they prefer the pre-3.2 way of setting line colors (ie right click on the color line). In 3.2 this brings up the new color menu. But if you want the old behavior back, open the options dialog, View tab, and you'll see an option at the bottom to set the right click to 'Set line color' instead of opening the color menu.


How do you prefer to purchase music?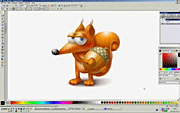 Happy Squirrel
Yes, it's another of those amazing high speed illustrations/icons created by iconkaru. This time he's creating a happy squirrel!