The 3.2 upgrade has proved very popular, which means there is now a great number of you waiting very patiently for your new Xtreme CDs. The good news is that Pro 3.2 is due in stock tomorrow and we will start to ship in date order immediately. The standard 3.2 CDs will arrive next Wednesday (8th). In the meantime the download of both was updated to v3.2.2 on 2nd July, and we recommend that you download this latest version. It will overinstall the older v3.2.x. You can find more details on TalkGraphics.

We have several current offers for you - on Webstyle and the Xara Graphic Studio bundle, see below. Don't forget we're also running an offer for all Macromedia Freehand owners, who we know are looking for a new graphics tool (since new owner Adobe has cancelled it); so if you're not already an Xtreme Pro owner but you do own a copy of Freehand, or of course if you know any Freehand owners, check out xara.com/freehand.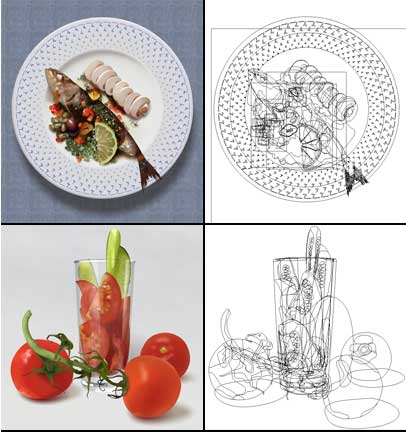 This month we have two images that are good enough to eat, from the master of photo-realistic drawings, Valery Kouleshov.

View more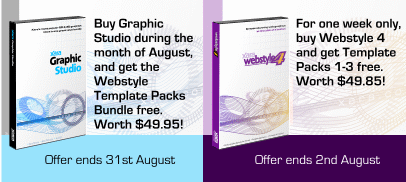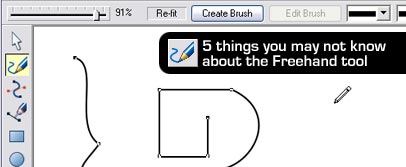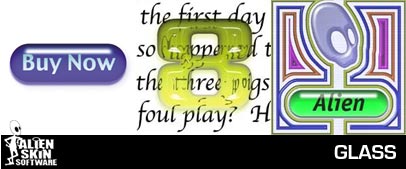 The Xara Xtreme Live Effect feature lets you use Photoshop plug-ins with vector graphics. What's more they remain completely live and editable. So these examples, produced with the glass effect from the Eye Candy 4000 plug-in collection, can be applied to any vector object or text and you can still edit the image - the glass effect is automatically re-applied to the text (or shape) after you've edited.
The Eye Candy 4000 collection of 23 plug-ins is normally sold by Alien Skin for $129, but we've negotiated a discount for all Xara registered users, so you can purchase this for just $59!

Find out more
Let us know if you have any suggestions on how we can improve the Outsider Newsletter.

Contact us

.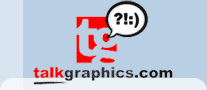 Visit the Xara graphics forums to discuss or find answers to your graphics needs. Our pick of top talk this month:


Tip 1
In 3.2 we made significant improvements to the zoom in / out feature. Holding the Ctrl key and scrolling the mouse scroll wheel now zooms more smoothly.
Tip 2
And there's new Zoom shortcuts. In the zoom tool simply press 1, 2, 3 or 4 to get 100%, 200% etc. 5 is for 50%.
Tip 3
Also new to 3.2 is the feature that lets the scroll wheel do a zoom, instead of a scroll (instead you can scroll the page by pressing the scroll wheel down while moving the mouse). So that means just using the mouse, no keys required, you can scroll and zoom in and out. Try it. Once you get used to it, you'll never do it any other way. In the Options dialog, Mouse Tab, select the mouse wheel to 'zoom in / out'.


The Outsider
We've gathered the Outsider back issues together at
xara.com/outsider
. So if you've missed an issue, don't fear, you can find them here. And if you know anyone who doesn't receive a copy, point them to this page - they can make it all right immediately by subscribing!


Do you own an MP3 player?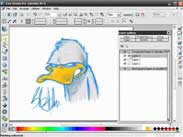 10 minute doodle
This month we'd like to draw your attention to another of Bob Hahn's great YouTube videos - and don't miss the shorter, louder 'remix' version.