Pack 1 includes 3 brand new web page themes with up to 18 layouts each, meticulously created by professional designers. Plus there's a new category of web clipart with 20+ miscellaneous graphics/text panels that are useful for every site. And of course you can easily customize every template to suit your site, including our unique instant theme color change, creating an infinite variety of possibilities.
The templates in this pack are suitable for Web Designer 5 and later, Web Designer Premium 7 and later and Designer Pro 5 and later in any language version.

TEMPLATE PACK 1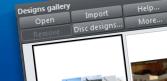 VAT at 20% will be added to the price shown above on any orders delivered to countries in the European Union (EU).